Knives come in all shapes and sizes and the reasons for needing one are plentiful. Ropes can be sliced in half, obstacles in the wilderness overcome, and some are just nice to have in a pocket for self defense purposes. The knives range everywhere from pocket to zombie at KY Knives. The store recently partnered up with OC Designs Online for a new sharp design. Now their custom eBay store design allows knife enthusiasts and online shoppers the chance to browse store inventory with ease. No one has to take a stab in the dark at finding the perfect blade!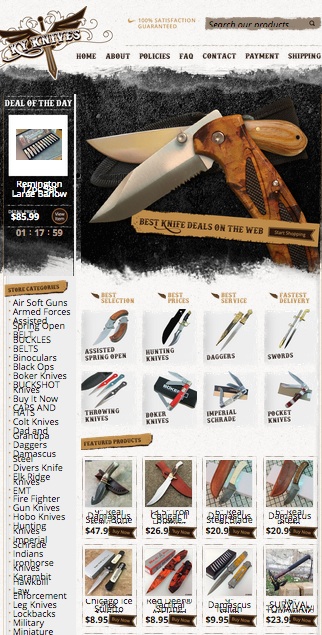 The header of this eBay shop design sets the mood of the store with a rustic, vintage design. The logo of a sword with wings has the store name branded across it in the top left hand corner. Directly to the right are a satisfaction guarantee and custom search tab. The search tab allows customers to find products with keywords. By simply clicking the miniature magnifying glass results for the keyword(s) will pop up in seconds!
An information panel lies in the off white header as well. Online shoppers can review store polices, FAQs and payment information. This sections gives potential customers a peek into the store and what they can expect!
Categories and images of the products fill up the midsection on this custom eBay store design. The store carries a few other items other than knives as well. Binoculars, stun guns and belt buckles can all be found in the store category list. Larger tabs hold images to represent the categories making the products stand out at first sight.
The footer of this eBay shop design is designed to showcase products on the main page. Whether it's new inventory, items easily overlooked or blades on sale, it's the perfect section to engage customers to view more. Each tab holds a high resolution image of the item, a brief description and a price in a bold font. If at first glance the customer knows it's exactly what they want at the price they desire they can click the Buy Now tab to purchase the product!
Partner with OC Designs Online for unique eBay listing templates that meet your needs as well as the needs of your customers. Take some time to browse our portfolio of sleek store designs and request a free quote.
Also, don't forget to find us on Facebook, follow us on Twitter and check out our Google+ Page!