The arena is full. The crowd is anticipating an unlimited amount of thrills. The clocks are watched hoping the performance begins at any moment. In order for a concert to run smoothly there is a lot of work done behind the scenes. Lighting has to go to the beat of every track, sound has to flow through the crowd on a clear note and the artist has to be a magical vision. It's at CCI Solutions that events come to life! The store recently voiced their need for a customized shop and reached out to the graphic artists at OC Designs Online. The shop now has a new custom eBay store design that makes shopping for visual, sound and lighting technology a cinch!

The header of this eBay shop design sounds off at the perfect volume. The logo and store name can be found in the top left hand corner. The headline, "Be seen. Be heard" lies underneath the store name and strengthens the brand identity with the shop!
A red information panel stretches across the screen leading customers to need-to-know information about the store. Online shoppers can browse the store's guarantee policy, review the shipping policy and find a page of FAQs. Customers can't miss the perks with shopping at CCI Solutions. The noteworthy advantages are voiced in the customized volume tab in a white font that beam off of the orange background.

The midsection of this eBay store design gears up online shoppers for a custom search! A vertical panel lies on the left hand side of the page for easy category browsing. Video, lighting and recording equipment are only a click away with the custom category tab. Customers will be in tune with their favorite products all at a deal of a price.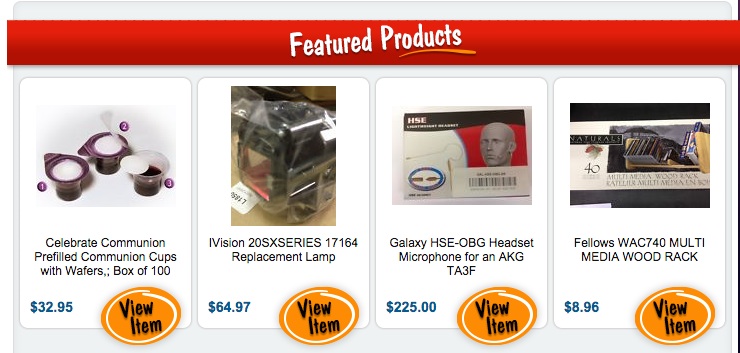 The footer of this custom eBay shop design throws chosen products into the spotlight. Each tab makes purchasing the product a cinch with the "View Item" tab. The vibrant yellow tab directs customers to their item of interest. Customers can find a lot of their questions answered in the tab as all of them show a price in a bold font and a brief description of the item!
OC Designs Online has a variety of eBay templates for any occasion. You choose the layout and OC Designs Online brings a new exciting presence to your shop. Take some time to browse our portfolio of store designs, and then request a free quote. If you have any questions feel free to ask!
Don't forget to find us on Facebook, follow us on Twitter and check out our Google+ Page!