Taking on a new endeavor and opening a restaurant can cook up a heavy task. Everything from cooking equipment and food preparation have to be considered and implemented in the best way possible. Minor things like bar equipment and ice machines can make a long day a lot simpler. It's at L&L Restaurant Equipment that daily tasks are pieced together in order to make a restaurant run smoothly. The store recently took on a custom eBay store design with the help of OC Designs Online. Now, the shop has a warm feel and browsing store inventory is as easy as preheating the oven!

The header of this eBay shop design has a grey, black and vibrant red layout. The red really pops from the screen behind the two neutral colors! The logo can be found in the top left hand corner in a red design, A plate, dinner fork and spoon have been incorporated into the logo itself to tie it in with the store theme and image.
Neighboring the logo is a midnight black information panel. It's here that online shoppers can read up on the shop, shipping and return policies and find access to customer support! Beneath the logo and information panel is a larger panel with all three colors. This panel broaches the subject of why it's best to shop at L&L Restaurant Equipment and can't be missed!

The midsection of this eBay store design enables customers to browse items of interest and specific inventory with ease and direction. The left hand side hosts a vertical panel with store categories listed out in recipe form. For a more visual approach to search, circular tabs can be found to the right of the vertical panel. Ice Machines and warewashing items come with an image to make searching more compelling and engaging.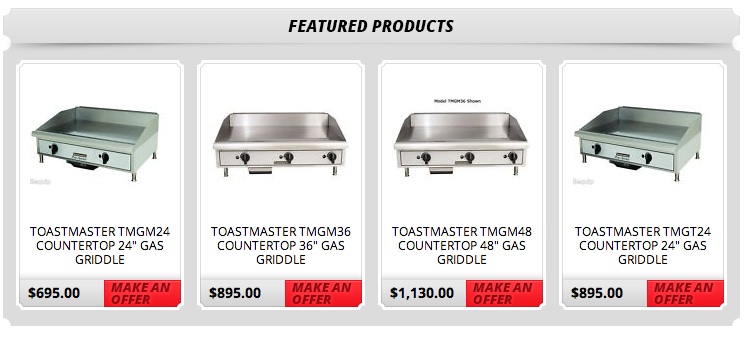 The footer of this eBay shop design is excellent for placing products in the spotlight. Customers can browse sale items, new inventory or items easily overlooked in the featured products section. The red "Make An Offer" tab entices the customer to look further and bid on the product. There's nothing left to question with a price and product description in the tab!
OC Designs Online has a variety of eBay templates for any occasion. You choose the layout and OC Designs Online cooks up a new exciting presence to your shop. Take some time to browse our portfolio of store designs, and then request a free quote. If you have any questions feel free to ask!
Don't forget to find us on Facebook, follow us on Twitter and check out our Google+ Page!