Many people will tell you that accessories make the outfit. Before going out on the town earrings go on, bow ties get straightened and polished shoes are slipped on feet. Making a good impression is easy but making a lasting impression is in the scent. The phrase "less is more" can easily be accomplished with your favorite fragrance. One or two sprays of a memorable perfume can not only turn heads but leave the room waiting on your return! Scented Monkey, a fragrance specialty store, has recently taken on a new eBay store design! The shop partnered up with OC Designs Online for a custom look that makes monkeying around even more enjoyable.

The header of the eBay shop design makes shopping for a memorable fragrance fun and exciting. The store logo incorporates a monkey into the look to keep with the store theme. A lush, green backdrop adds a jungle theme to the shop keeping an exciting vibe while online shopping. Below the foliage graphics shoppers can find a green panel that expands across the screen. This panel holds various tabs that allow customers to become more acquainted with Scented Monkey. Shipping, FAQs and eBay listings by the shop are easily accessed through the panel. However, if the customer doesn't see what they're looking for they can scroll to the top right hand corner. This custom design comes with a search tab that allows online shoppers to look for specific products and questions.

The midsection of this eBay store design showcases products along with daily deals. An inviting welcome from the shop can be found in a soft, blue script in the middle of the picture. Below the text customers will find a bold blue "Shop Now" tab that invites them to browse the inventory. However, if the customer has an idea of what they're looking for they can go to the panel on the left hand side of the midsection. There they will find store categories listed out with each tab providing a quit solution to their online search!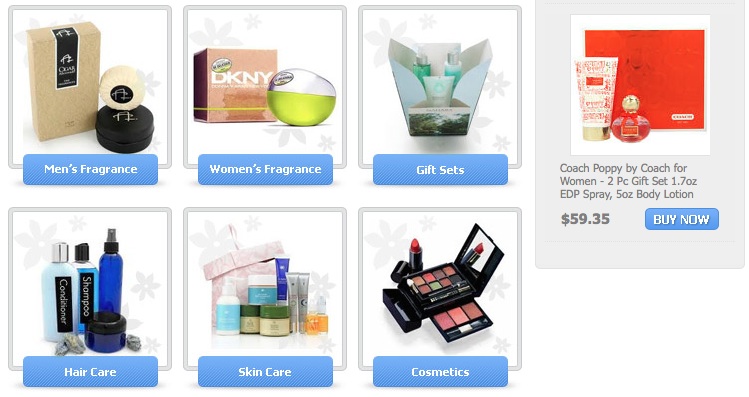 The footer of this eBay shop design allows online shoppers to view inventory instantly! Six tabs are aligned in with an image of the product and the store category in a light blue box. This simple, uniform layout can easily grasp the attention of shoppers and leave them shopping for hours.
OC Designs Online invite you to browse our expanding portfolio of eBay templates and request a quote to learn more. We customize each one and make it specific to your shop! Don't forget to look us up on Facebook, follow us on Twitter and check out our Google+ Page, too when you have a moment!