When the stork takes flight we know that great news is on the way! Before the first child a due date is simply a deadline at work or for a school exam. There's a lot to consider when a new addition is added to the family. A nursery is incorporated into the house, the surrounding areas are baby-proofed, and items slowly build up to make sure the new girl or boy have everything they need to feel comfortable and happy. Barney's Toy Box Baby Boutique has paired up with OC Designs Online for a baby proof storefront! The custom Australia eBay store design makes shopping easy and fun!

The welcome pane of this Australia eBay shop design is playful and easy on the eyes. The store layout is in grey and peach colors which add a softness to the shop. The boutique's store logo can be found at first glance in the top left hand side of the store. An image of a stork carrying a gift plays into the text and cleverly adds an apostrophe in "Barney's".
To the right of the logo are simple reminders as to why it's easy to shop at Barney's Toy Box Baby Boutique. The 30 day money back guarantee, next day shipping option and wide range of organic products are some of the important reminders on display. A peach panel in a fun abstract design reaches from one end of the page to the other highlighting different tabs. Shoppers are able to read up on shipping and return policies, listings and more information about the store.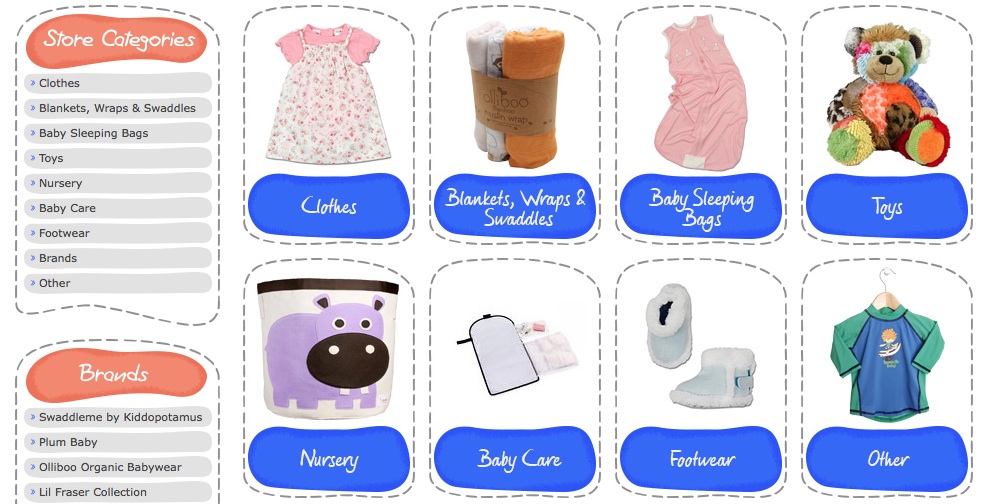 The midsection of this Australia eBay store design puts store categories and products in the spotlight. Eight tabs with a custom stitched border hold a blue box displaying the category name and a picture of a product that accurately represents the theme. Two custom panels can be found on the left hand side to help browse store categories and brands more quickly too!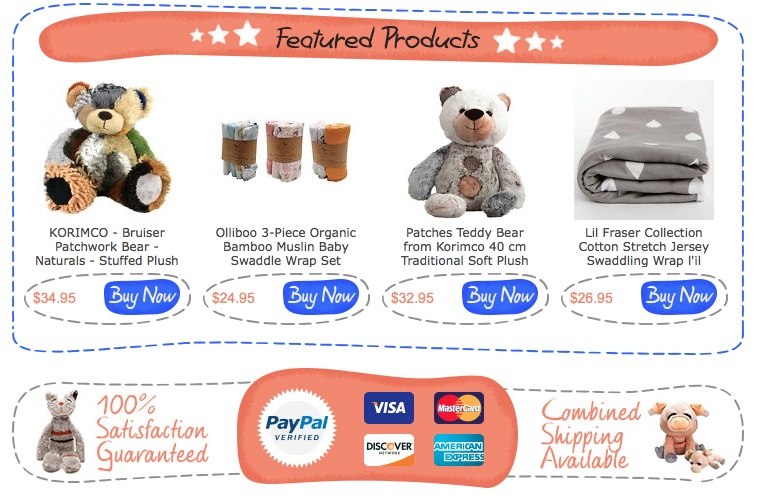 The footer of this eBay shop design shows off featured products and the shop's multiple methods of payments. A custom featured products section is a fantastic spot to display items on sale or products that you think people may easily overlook! Each tab can come with a high definition picture of the product, a description, a price and an option to buy the product!
OC Designs Online have a full deck of eBay templates for any occasion. Whether it's a baby boutique or a fine line of jewelry! Take some time to browse our portfolio of classic store designs, and then request a free quote.
Don't forget to find us on Facebook, follow us on Twitter and check out our Google+ Page too!