With August coming to an end and the warmest month out of the year behind us it becomes easier to focus on cooler temperatures. Autumn and Winter seasons are just around the corner and with that comes a change in wardrobe. Finding a one-stop-shop for clothing and accessories may be difficult until you browse ClothesOutKings. The Bigcommerce store houses an array of popular brands and designer items and at an affordable price. The ecommerce shop partnered up with OC Designs Online for a custom shop design. Not only is the storefront customized but it has a full Responsive Web Design making the store browsable on devices including desktops, laptops, tablets and smartphones. There's no hang ups to shopping now except for what's hanging up on the store racks!

The header of this Bigcommerce store design makes finding store information and clothing categories a cinch. The top panel in a charcoal grey font hosts tabs to access more information about ClothesOutKings. Topics such as store policies, FAQs and general store information can be found in the first panel. Below the simple-yet-classic store logo is a second panel in white. Each tab directs online shoppers to the section of the store that they're most compelled to browse. The Responsive Web Design enables shoppers to have a clear view of the tabs on smartphones just in case someone is shopping on the go! The social media tabs in blue on the right hand side can even sync with open applications making liking and following the store a breeze!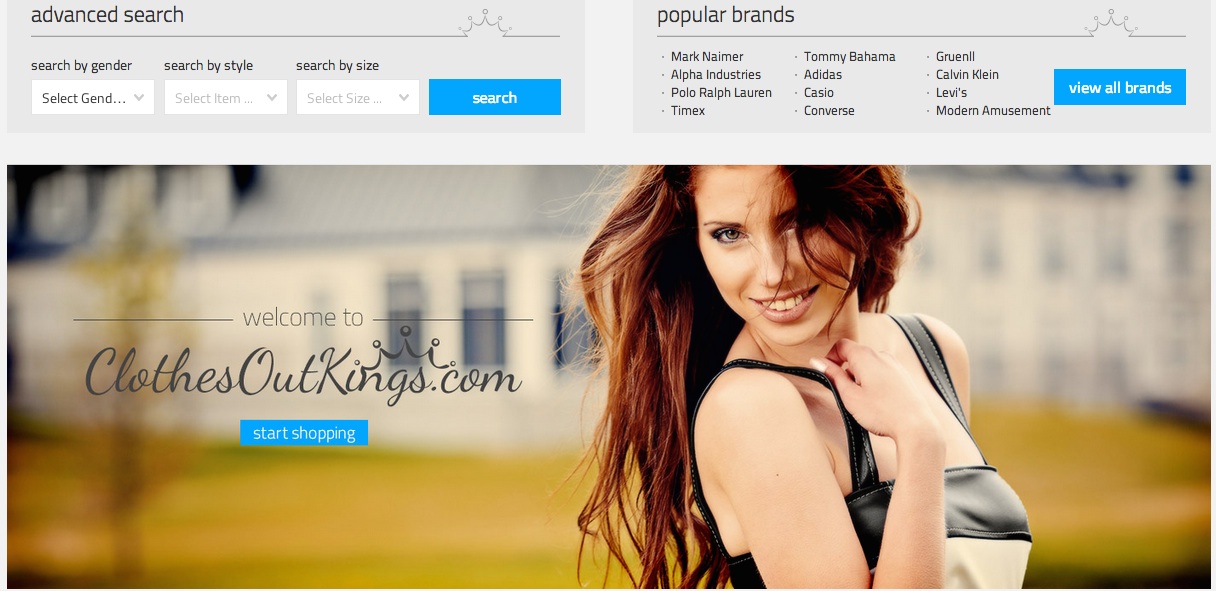 The welcome pane of this Bigcommerce shop instantly greets online shoppers. Above the welcome graphic are two sections dedicated to make browsing the shop simple and easy. The advanced search section enables online shoppers to search by gender, size, and style. Finding that stylish garment that's a perfect fit for a house warming party is just a few simple clicks away. Some of us know what style suits us best and in that case just hop over to the next search tab. The popular brands area let customers shop for the brand items they love most!

Store categories are found with ease in this Bigcommerce store design. Each category has it's separate tab with the category name accompanied by a stylish high resolution picture. The tabs are easily viewed on tablets and mobile devices with each picture maintaining its high quality resolution and fixed proportions.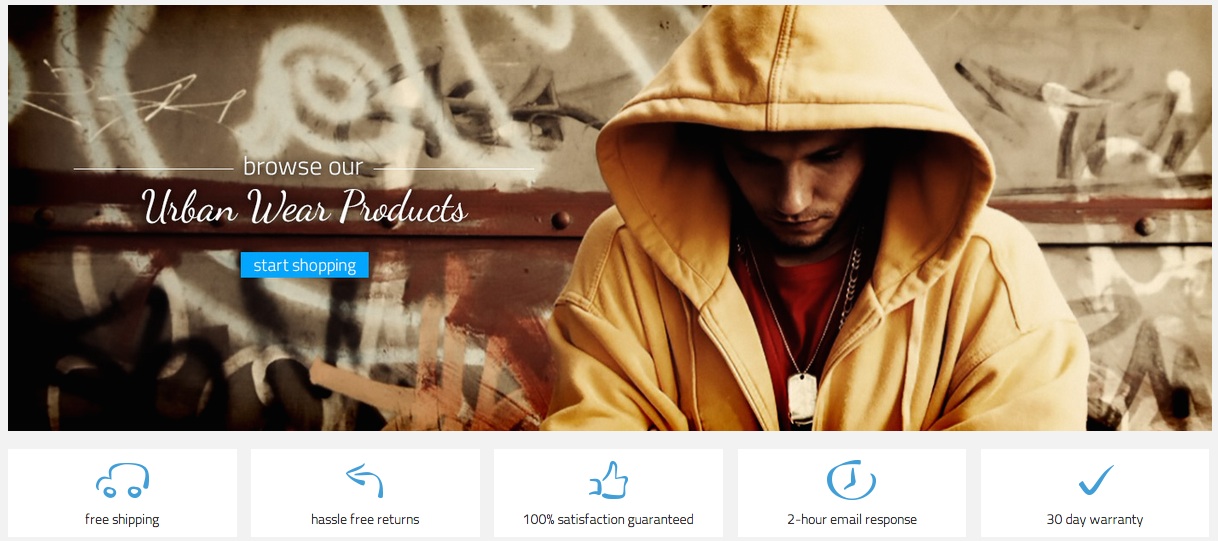 The store footer leaves every customer with a reminder of why ClothesOutKings is the right store to shop. The footer tabs highlight the benfits of free shipping, hassle free returns and the shop guarantee policy. Whether is clothing, watches or luggage you can find something perfect for any getaway!
Partner with OC Designs Online for a Bigcommerce shop design that's RWD compatible with desktops, laptops, tablets and smartphones. The more reach you have with a clear and easy-to-navigate website the more sales you generate! Take some time to browse our portfolio of RWD store designs, and then request a free quote.
Don't forget to find us on Facebook, follow us on Twitter and check out our Google+ Page!