"Classic." It's a word that doesn't have any negative connotations and is used to describe some of America's most favored products. Coca- Cola, the world's most popular soda refreshment, associates itself with the word without hesitation. It can also be heard when describing some of the most beautiful models of automobiles made in the 20th century. Mark's Finds 4 Less modeled it's custom eBay store design after the items in his shop. He went for a classic appeal by teaming up with the experts at OC Designs Online!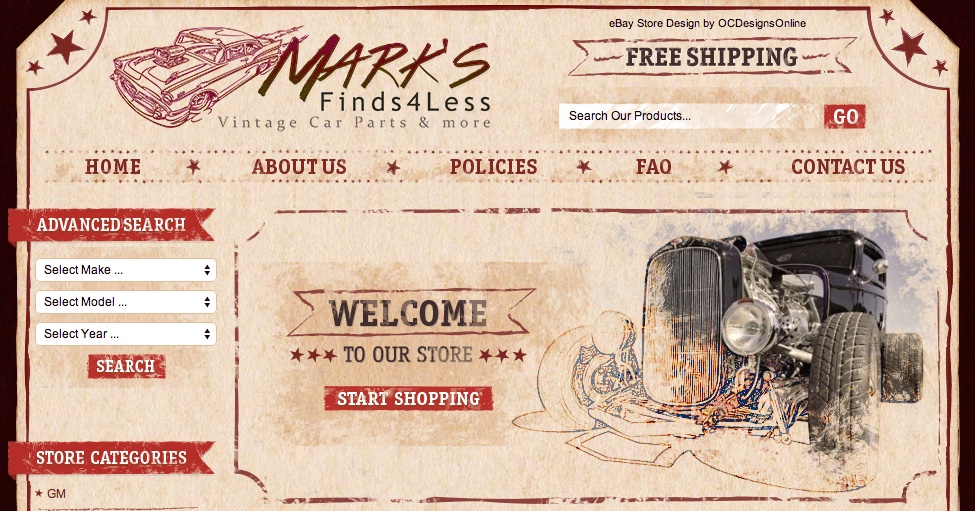 The welcome pane gives a first glance into the old-timey eBay template selected by the shop. Mark's Finds 4 Less shows off their stylish hotrod logo in the top left hand corner of the page. Stars border the top corners of the site along with the greeting, "Welcome to Our Store" located in the center. Every vintage car enthusiast is welcomed and can fuel their needs at Mark's!
A rustic red tab titled "Start Shopping" appears below the website welcome so customers can get straight to shopping Mark's vintage car parts. A tab stretches across the top of this eBay Shop Design to enable online shoppers to become more familiar with the shop. Topics such as "About Us" and "Policies" introduce customers to the shop and how Mark's Finds 4 Less drives their business!
The eBay store design incorporates a custom inventory search tab on the left hand side beneath the store logo. Customers can select their automobile make, model and year and search for parts specific to their vintage car. These tabs keep searching easy and make finding the perfect part a cinch!

The midsection of this eBay template showcases top brand names found in Mark's shop. Oldsmobile, Buick and Chevrolet are just a few of the brands highlighted above. Online shoppers can click on the brand they're most interested in and instantly be driven to products in that brand category.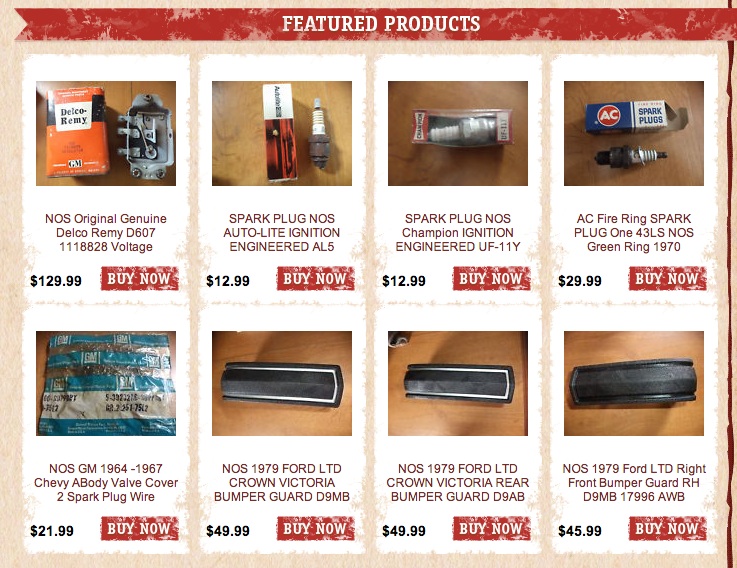 The footer of Mark's Finds 4 Less showcases products on the site not by brand but by popularity and most views on the site. Eight tabs highlight the product with a picture and an option to, "Buy Now" to make checking out through eBay speedy and efficient.
Partner with OC Designs Online for a shop design that will be sure to drive your customers wild! Take some time to browse our portfolio of store designs, and then request a free quote.
Don't forget to find us on Facebook, follow us on Twitter and check out our Google+ Page!