Scientists still ponder whether or not humans can detect more than the five basic taste sensations: umami, sweet, sour, bitter and salty. The average person can have anywhere from 500 to 10,000 taste buds with each one amplifying the sensation of biting into your favorite treat. We're forced to eat in order to survive but enjoying it is a privilege gifted by the Gods. The techniques behind cooking vary with different locations and cultures, but all start with the fundamentals. This is where e-Chef Store comes into the recipe! The e-commerce store specializing in cooking and restaurant supplies has teamed up with the experts at OC Designs Online for a tasty new look to their eBay Store Design. Cooking up things in the kitchen have never been more simple.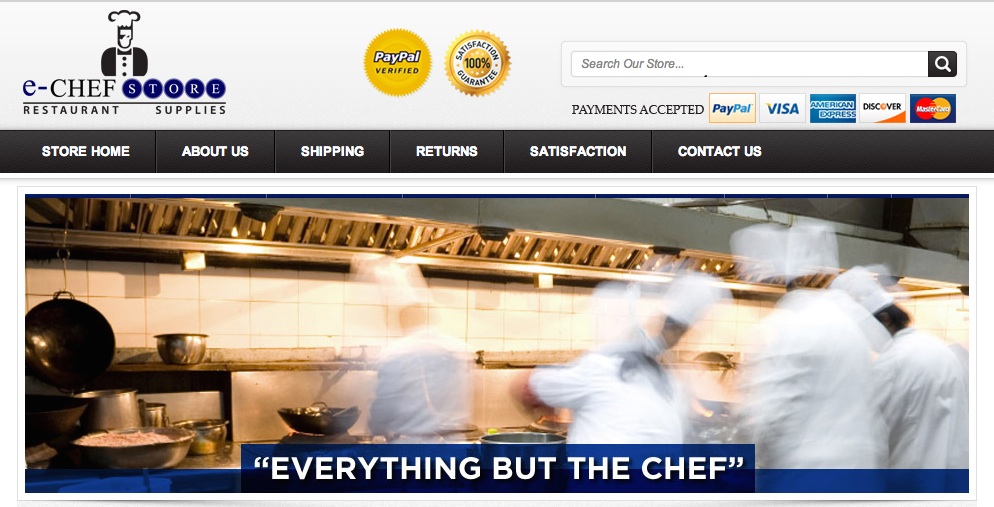 The ambience to your favorite restaurant might be relaxing and inviting to most onlookers but behind the kitchen doors things can heat up! The welcome pane for this eBay Shop Design features a picture of chefs in motion. The headline at the bottom of the photo, "Everything But the Chef" introduces online shoppers to what the store inventory holds.
In the top left hand corner of this eBay template customers can find the shop logo. The blue and black font keeps a classy appeal to the store while the black and white chef overlooking the name helps bring an identity to the shop. Below the logo customers can find a charcoal grey tab that keeps navigating the store quite simple. The tab includes categories such as shipping and satisfaction to help meet every customer's culinary needs in a prompt and simplified manner.

The midsection of this eBay Store Design features two separate tabs. One is dedicated to the eBay shop's Daily Deal. Each day of the week e-Chef Store posts a different product that is accompanied with a discounted price. The eBay template makes the post simple for the store and makes purchasing for the customer just as easy! The four tabs to the right of the Daily Deal enable online shoppers to view the top product categories within the shop. Each tab has a picture and title making kitchen equipment only a click away!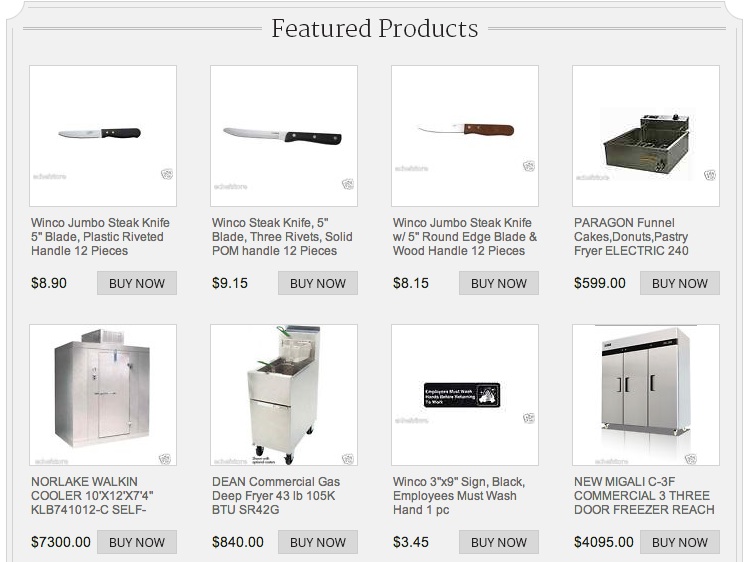 The footer showcases 8 products keeping the store's top products in clear sight. Each tab is accompanied with a "Buy Now" button making checking out through eBay a cinch!
Partner with OC Designs Online for a one-of-a-kind design that meets your needs as well as the needs of your culinary connoisseurs. Take some time to browse our portfolio of spicy store designs, and then request a free quote.
Don't forget to find us on Facebook, follow us on Twitter and check out our Google+ Page!