There's nothing quite like being tossed a pair of keys to a motor bike for the first time. There's a moment when the handle bars become one with your fingers and the rev of the engine matches the speed of your heart. Passing cars and taking curves would take to the back seat if there were one. Catalyst Cycles has paired up with OC Designs Online for a custom, steel-plated look to their e-commerce store. The store is peeling off into a new direction where shopping for cycle parts is easy for everyone with the need for speed!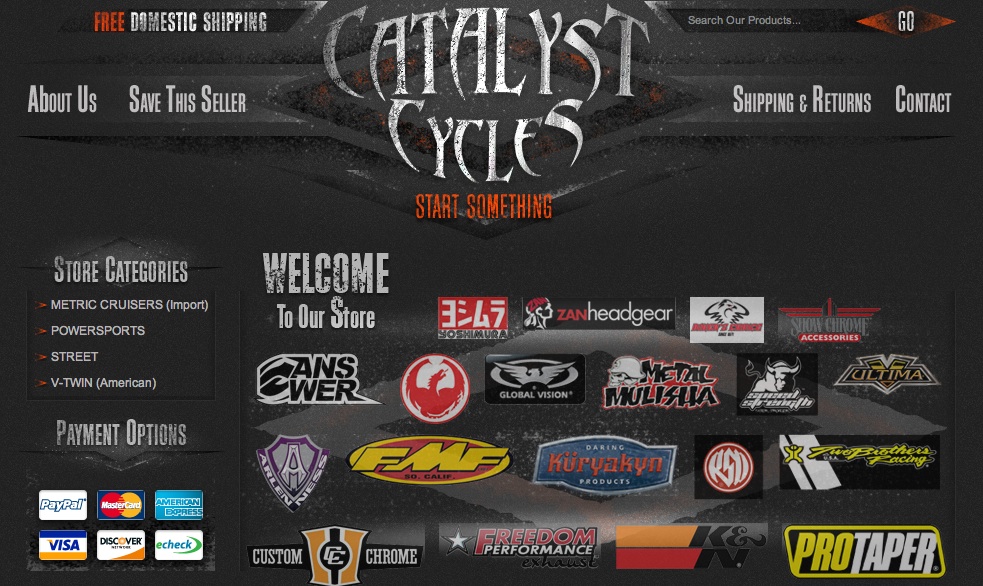 This eBay template offers a welcome pane that showcases the shop name front and center. Four tabs neighbor the store logo to introduce online shoppers to the store. The font stays true to the rugged, fast-paced theme by keeping a silver tone to match the Catalyst Cycles logo. The second tab to the left of the store name is titled, "Save This Seller." The eBay Store Design implements this tab specifically for eBay shops to make it easy for customers to favorite their most visited retailers.
Below the store logo one can find a greeting from the site along with top brands showcased along the welcome pane. A tab on the left hand side is placed near the top of the site to make browsing store categories a cinch. Both brand names and categories can be clicked on for instant access to shop inventory. This eBay Shop Design makes browsing for the perfect product for your cycle a breeze.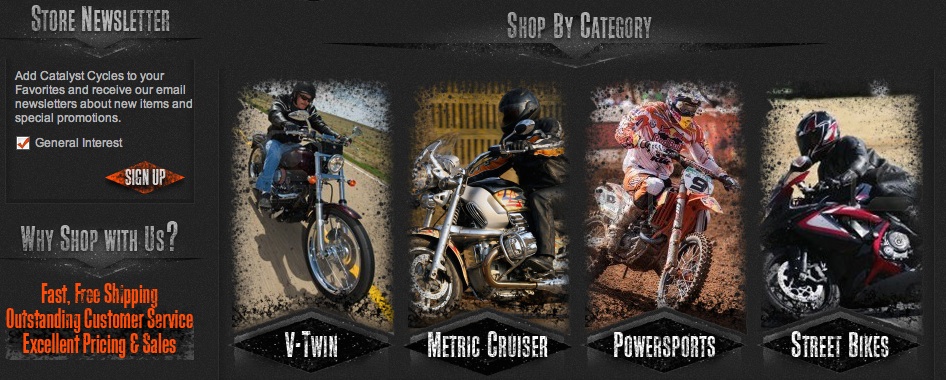 The midsection of this eBay Store Design gives visuals for the top four categories on the shop. OC Designs Online recognizes that online shoppers need visuals and each eBay template delivers that to the customer!
A store newsletter tab is placed directly to the left in the midsection to keep customers regularly informed on product promotions and sales. This tab keeps online shoppers actively reminded of the store through emails and keeps them coming back for more! Along with newsletters the store reminds customers of their fast, free shipping and customer service policy. If there are any unanswered questions the customer can refer back to the "Contact Us" tab in the welcome pane and Catalyst Cycles will respond with a timely reply.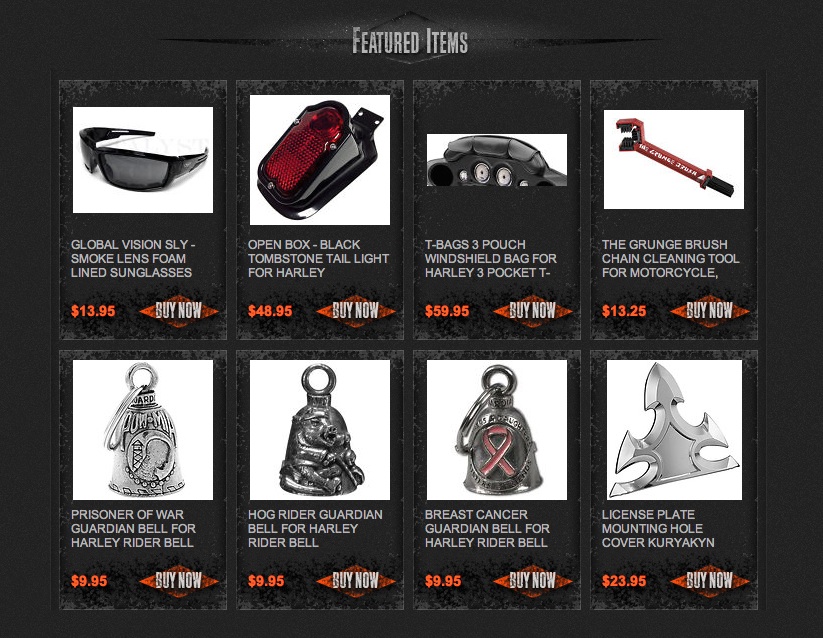 The store's footer keeps products in clear sight. The "Featured Items" section informs cycle enthusiasts of top sellers on the site and may introduce them to a product they weren't familiar with beforehand. The "Buy Now" button instantly adds the item to the shopping cart allowing the customer to check out with ease.
Team up with OC Designs Online for a custom design that meets your needs as well as the needs of your customers. Take some time to browse our portfolio of store designs, and feel free to request a free quote.
Don't forget to find us on Facebook, follow us on Twitter and check out our Google+ Page too!