A couple's anniversary only comes once a year but showing your love is timeless. Leon's Jewelry offers an array of options when it comes to turning heads and feeling glamorous. Antique jewelry, bangles and diamond pendants are only a few statement pieces found in this highest-of-quality jewelry shop.
Now, thanks to the experts at OC Designs Online, shoppers are a click away from buying what their bare fingers and necks yearn for through this custom eBay Store Design.

The sleek and gold tinted web design welcomes customers looking for the highest of quality jewelry. Upon first glance at Leon's Jewelry shop, online shoppers are able to see the store's Hassle Free Return Policy, 24 Hour Response and Warranty. Next an "Our Feedback" tab offers true testament to the top notch, quality customer service.
In the top right hand corner is a toll-free telephone number for customer support. Below a "Contact Us" option makes it a cinch for shoppers to communicate with staff by emailing the support team.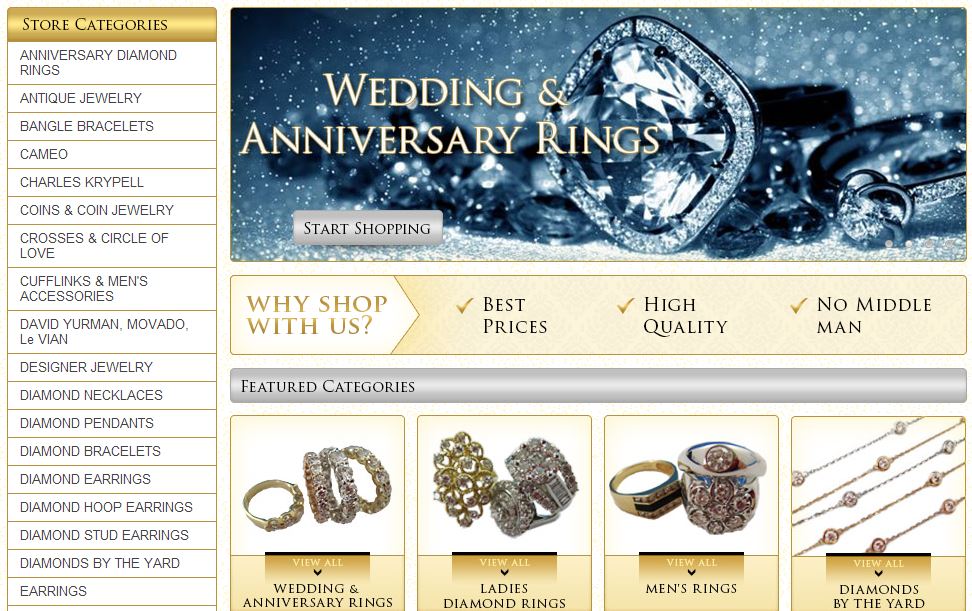 The left hand column next to the welcome pane enable shoppers to peruse everything from wedding rings to tennis bracelets thanks to the custom eBay Shop Design's vertical store category listings. By clicking on the category of choice, shoppers will be guided to pages with the full inventory stock and sparkles galore.
Within the middle of the page the online shopper is greeted by the store's "Featured Categories". This eBay Template features top searches and categories including Wedding & Anniversary Rings, Lady's Diamond Rings, Men's Rings and Diamonds by the Yard. This feature brings browsing for jewelry to an ease.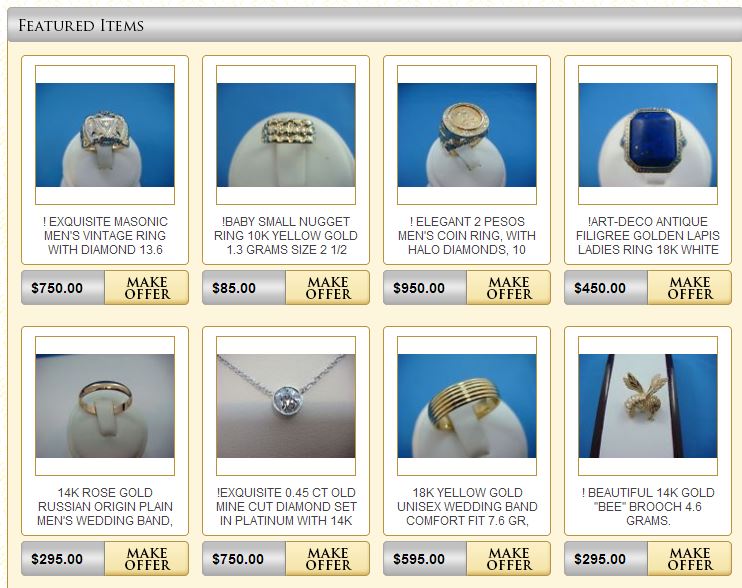 In the midsection of the site, the buyer is able to browse "Featured Items" within the eBay Store Design. This section brings buyers to the site's more popular jewels and gems for both ladies and gentlemen.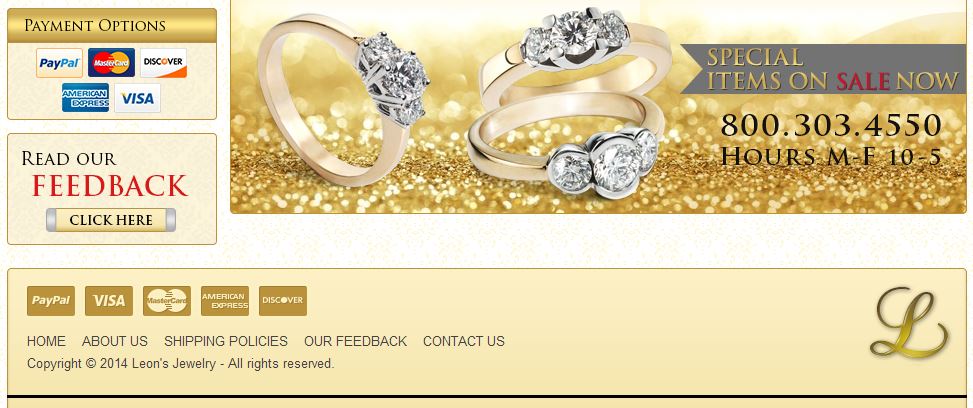 Finally, in the footer of the site, three ravishing diamond rings lead the buyer to sale items inviting them to select the, "Special Items on Sale Now" prompt. Below this option is the toll-free number for any questions or concerns the shopper may have before purchasing along with store hours to keep matters easy and convenient.
In the left sidebar, shoppers can clearly see accepted payment options in the bottom left corner where a variety of payments are accepted including PayPal, MasterCard, Discover, American Express and Visa.
There are many eBay Shop Design options, but if you want a layout that truly catches your eye, consider OC Designs Online.
We invite you to browse our expanding portfolio of beautiful designs and request a quote to learn more. Don't forget to look us up on Facebook, follow us on Twitter and check out our Pinterest boards, too when you have a moment!