Pepé Le Pew taught many of us a lesson as a child; it's all in the scent! A first impression can go much further when the perfect perfume is graced upon the wrist of an elegant woman or cologne falls on the chest of a charming man. Pheromones take a back seat to the aroma of your choice at Perfume Outlet Net.
The shop turned to the experts at OC Designs online to create a custom (and some may say odor-able) eBay store design. It was the best and most efficient way to bring shoppers to quality designer perfumes at prices that can't be beat!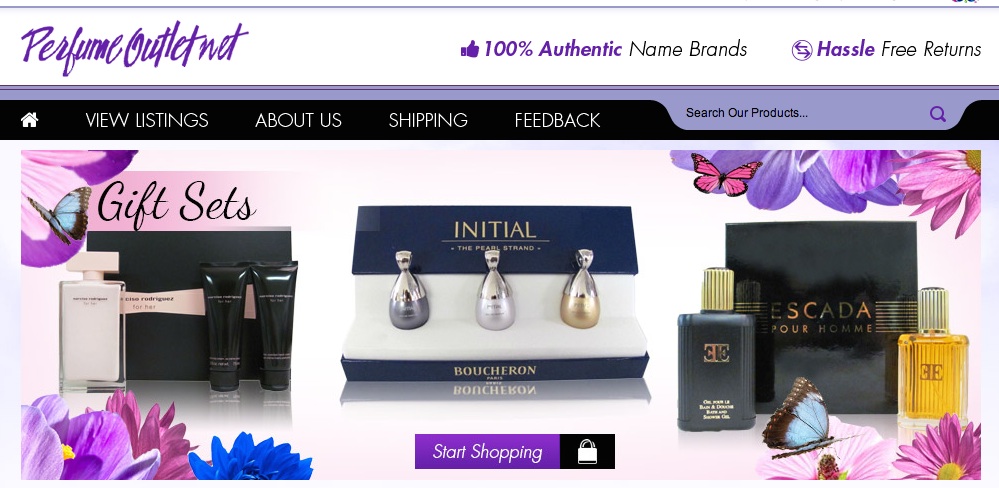 The lilac background accompanied by the floral border brings a soft, inviting appearance to the shop. The welcome pane scrolls through various images introducing the shopper to various categories they may be interested in but not limited to: a greeting from the shop, hard to find fragrances, new fragrances, and gift sets. At the footer of each passing photo a "Start Shopping" tab can be found for convenience to the customer.
This eBay shop design also includes a handy, custom search bar in the top right hand corner to allow shoppers to search designer names, brands and perfumes of their choice. Upon using the search bar the potential customer can be reminded of the store's quality service by seeing "100% Authentic Name Brands" slightly above the search field.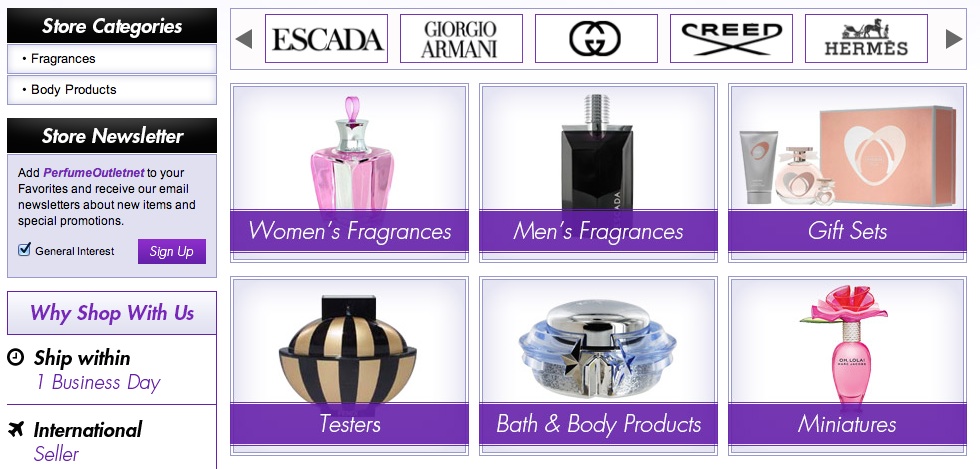 The midsection of this custom eBay shop design also employs a scrolling branding bar beneath the welcome pane. The branding bar is graced with top brands such as Hermes, Dolce & Gabbana, and Lacoste. This scrolling section allows for easy access to favorite brand names without having to use the search bar. Upon clicking the brand the customer will be guided directly to their brand of choice making finding a specific fragrance that much easier.
In the left side bar, our eBay template offers online shoppers a chance to peruse various tabs of their interest. In a convenient box on the left hand side the consumer can gain membership to the store newsletter which will encompass a variety of topics ranging from new items to special promotions. A "Store Categories" box can be found directly above the newsletter field to make shopping for something besides a fragrance easier for those looking for products more geared toward the bath and body.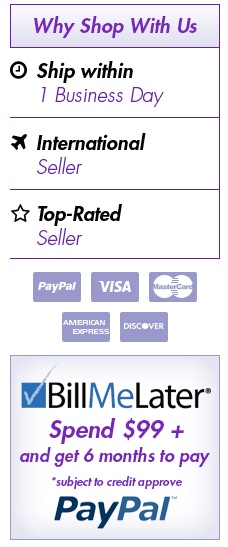 Next, a section dedicated to quality customer service for Perfume Outlet Net provides shoppers easy access to company representatives. Nearing the bottom and at the end of the welcoming homepage customers can find more information regarding shipping and seller feedback. Beneath this section customers can easily see what forms of payment are accepted making online payment a cinch.
Partner with OC Designs Online for a one-of-a-kind eBay shop design that meets your needs as well as the needs of your shoppers. Take some time to browse our portfolio of dazzling store designs, and then request a free quote.
Don't forget to find us on Facebook, follow us on Twitter and check out our Google+ Page!