After running a successful brick and mortar hobby shop in Dallas, RCZoneDFW decided to expand their business by selling online. After all, what little boy (or girl for that matter) doesn't go crazy for remote controlled model cars, planes and boats? Kids and adults alike have long been fascinated with the pastime. It also offers families a fun way to connect over an activity everyone can enjoy!
OC Designs Online has created a number of successful hobby sites over the years. When RCZoneDFW began their search for a web creator, they were the obvious choice. Now, they have a fun custom eBay Store Design from which to sell their many remote control toys.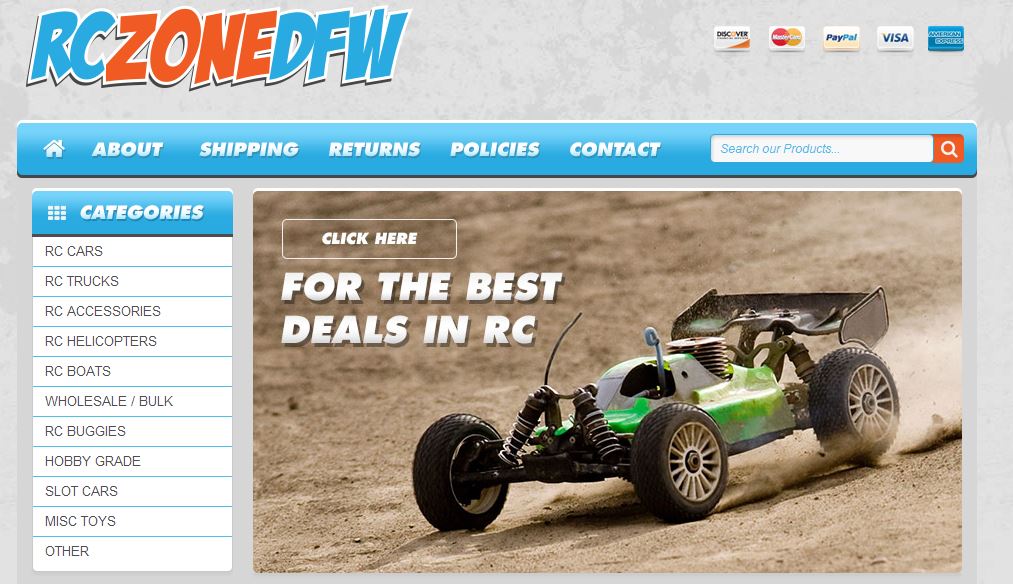 The storefront kicks off with a pop of red in the logo, and a list of accepted payments nestled in the top right corner. Below, a clean navigation bar houses five tabs giving shoppers convenient access to company background information, specifics on shipping, returns and other store policies, along with ways to get in touch with RCZoneDFW.
For those that aren't in a browsing mood, this custom eBay Shop Design was built with an easily accessible search bar offers customers a way to seek out specific products or toy models simply by typing in keywords, phrases or brands.
Next, a list of vertical store categories links shoppers with inventory stock, starting with remote controlled vehicles and watercraft, then moving on to wholesale, slot cars and more.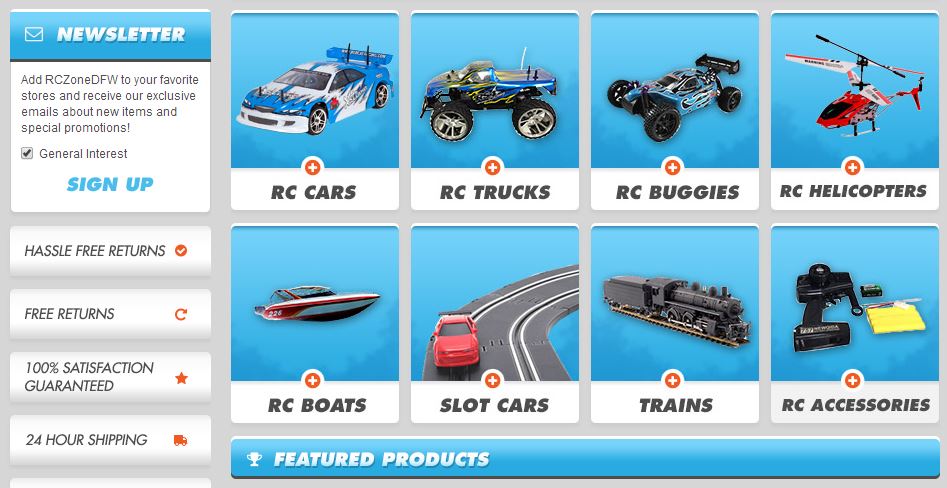 Store categories continue in the midsection where a 4 X 2 spread of remote controlled offerings are underscored with photos, encouraging those with an eye for visuals to dive in.
In the left sidebar of this custom eBay Template, an invitation is extended to RCZoneDFW patrons to join the company newsletter. By doing so, avid collectors can ensure they never miss out on new items or special promotions.
Since shipping takes place within 24 hours, customers won't have to spend time waiting for their purchases, and if for any reason they're dissatisfied, the store promises hassle free and free of cost returns as well as a 100% satisfaction guarantee.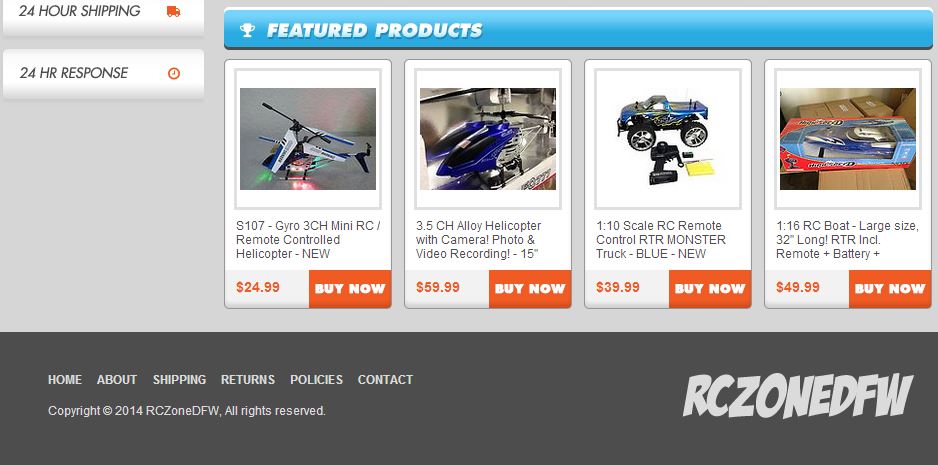 In the featured products section which follows, four highly sought after models are highlighted on the high-traffic homepage. Here, shoppers may read up on the item assess the price discount, then buy directly from the main page.
Finally, a custom footer closes this custom eBay Store Design by repeating the logo, and roping in the company info listed in the main navigation bar.
Want your own RC or hobby custom eBay shop with eBay templates? Get a quote—you'll be surprised at how affordable we are—and all online retailers need to advertise, brand and make the best online presence if they want to be top-rated PowerSellers!
Don't forget to find us on Facebook, follow us on Twitter and check out our Google+ Page!