The Hope Diamond is one of the world's most recognizable stones. Its currently housed in the Smithsonian Museum of Natural History in Washington DC and valued at $350 Million. However, even with its staggering price tag, it ranks fourth among the world's most expensive diamonds- the top two being appraised as 'priceless'.
While you can't purchase the Hope or Heart of Eternity Diamonds online, you can access an array of statement pieces, and shoppers who are after top quality jewels turn to JA Diamonds. Now, thanks to help from the web experts at OC Designs Online, they have no shortage of options on this custom eBay Store Design.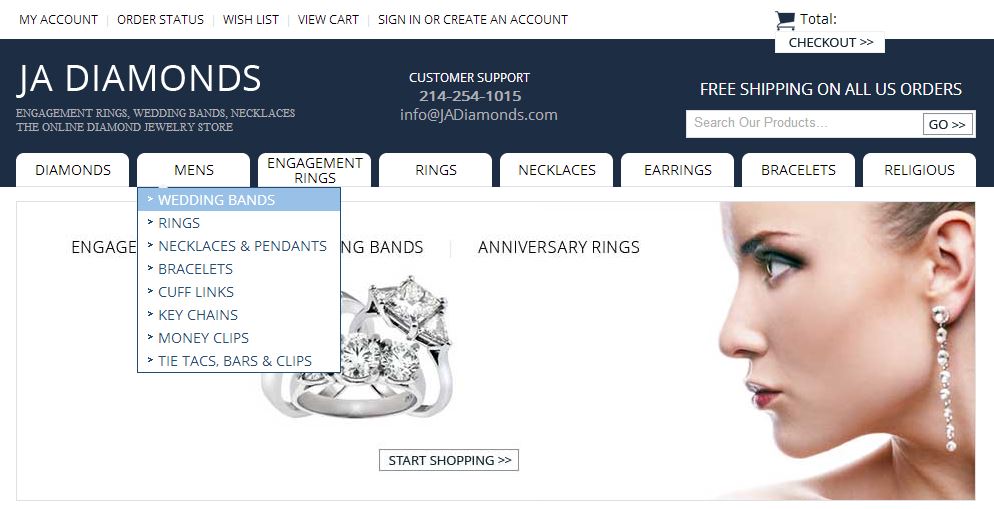 The simple, yet elegant navy and white color scheme sets the tone for this high class storefront. At the very top of the shop customer account information, order statuses, wish lists, and a shopping cart can be accessed, leaving ample room for all the gems within.
Customer support is available by calling the number or emailing staff as detailed in between the logo and custom search bar.
Directly below, eight individuated tabs make it a cinch for shoppers to navigate this custom eBay Shop Design with ease. By hovering one's cursor over any of the designated categories, a vertical list of additional options emerge.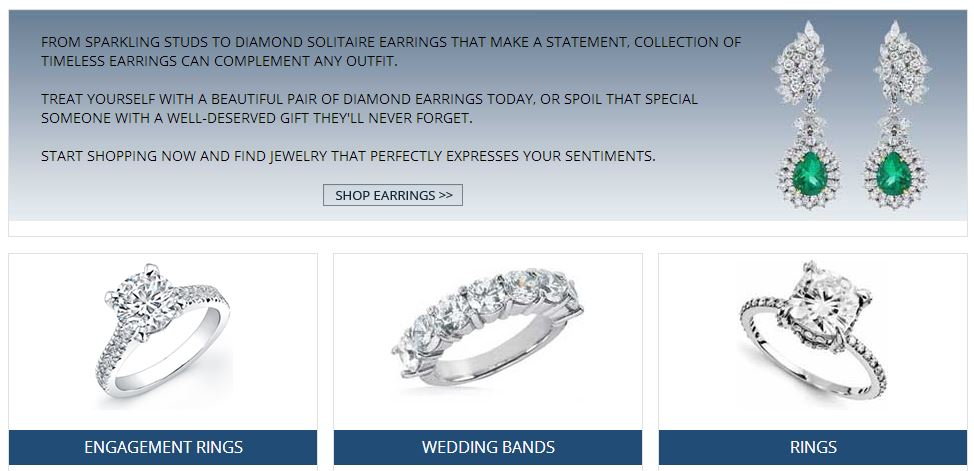 A dazzling shot of emerald and diamond encrusted drop earrings sit along side compelling copy, detailing the store's many options to help you 'express your sentiments'.
Next, the eBay Template promotes a 3 X 2 spread of categories to entice shoppers, each underscored with hi-res images of engagement rings, wedding bands, rings, bracelets, necklaces and earrings.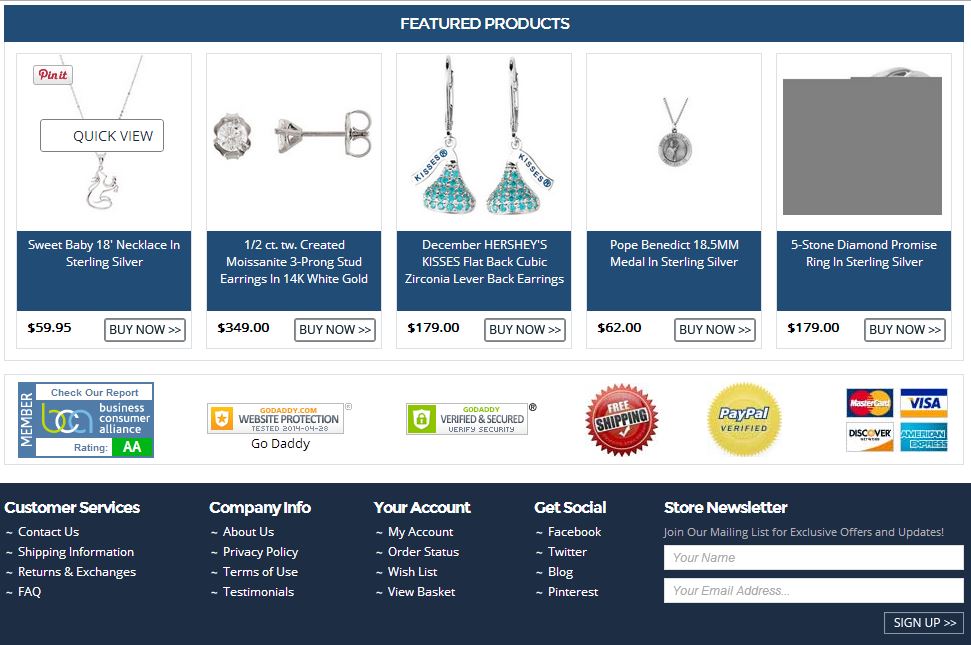 In the bottom part of the midsection, a list of five featured products stretch across the buyer's screen, offering additional discounts on some of the shop's most popular items.
As an added safety feature, our designers made sure to include business consumer report ratings, Go Daddy Website Protection and verification, free shipping, PayPal verification and a list of accepted payments. After all, if shoppers are going to drop thousands of dollars online, they need to know their payment is secure.
Finally, a custom footer brings the eBay Store Design to a close, offering customer services, company info, account details, social media links and an invitation to join the store newsletter.
There are many eBay Shop Design options, but if you want a layout that truly sparkles, consider OC Designs Online. We invite you to browse our expanding portfolio of stunning designs and request a quote to learn more.
Don't forget to look us up on Facebook, follow us on Twitter and check out our Pinterest boards, too!