In Season Jewelry is constantly scouring for the latest and greatest in fashion jewelry- especially those which are appropriate for children and babies. They pass up no corner, going the world over to continuously update their inventory. With so many new products being uploaded on a regular basis, they needed an organized eBay Store Design that could keep up with all their new wears. Enter OC Designs Online. Now In Season Jewelry is dominating their online market, reeling in traffic and selling like never before. Check out this custom storefront and see for yourself: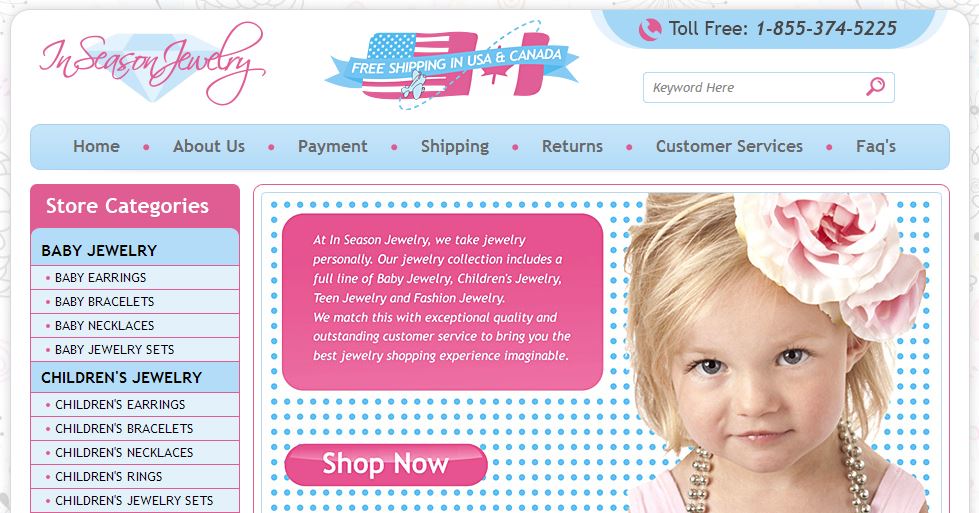 The soft pink and light blue color scheme set the tone for the shop's primary clientele: the little ones! Along side the custom logo, the American and Canadian flags merge to form a banner advertising the store's free shipping policy. Above, a toll free number and custom search bar make it easy for shoppers to single out specific items. Next, seven tabs comprise the main navigation bar of this custom eBay Shop Design, directing shoppers to store policies, customer services, frequently asked questions and more. The bright blue eyes of a toe headed, cherub-faced young girl sparkle from the main welcome pane, inviting customers to 'shop now'. Next to the polka dotted backdrop, a sprawling list of store categories detail the seemingly never ending options in store. Our designers used this method of organization to ensure customers could easily navigate through the large inventory selection.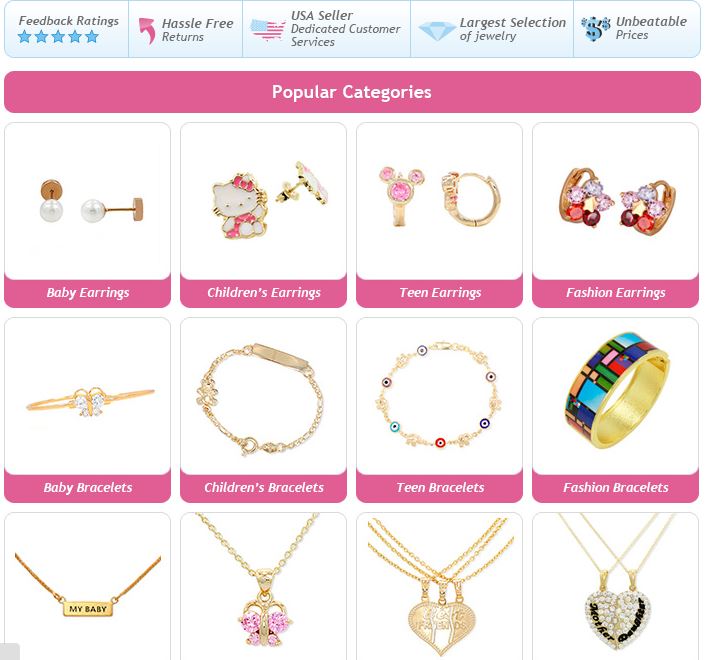 Below, the custom eBay Template aptly includes a section illustrating the store's feedback ratings, promise of hassle free returns, USA seller designation, and unbeatable prices. The midsection maximizes listings in a 4 X 4 spread of popular categories which range from baby earrings to teen bracelets to chains & necklaces.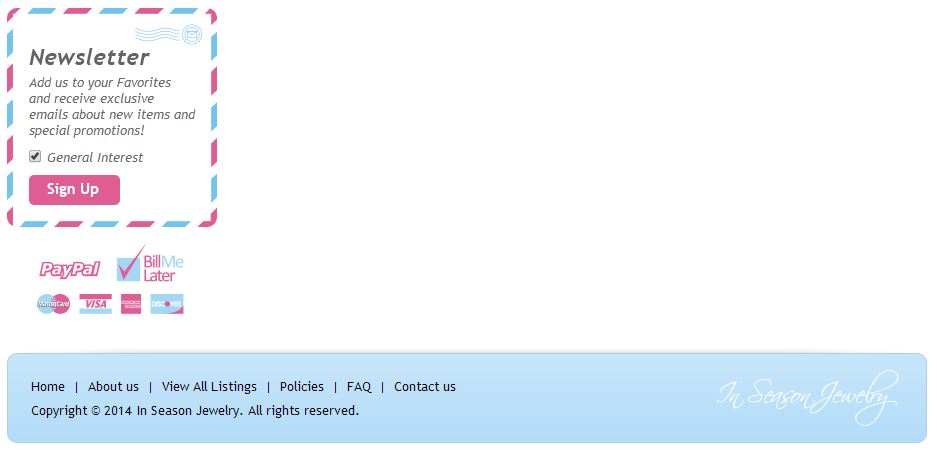 Helping shoppers keep abreast of new items and special promotions is an invitation to sign up for the store's newsletter. Designated by a pink and blue candy can striping, the section is made independent from the list of accepted payment options which follow. Finally, a custom footer rounds out the eBay Store Design with a soft water stamped imprint of the logo on a swatch of pale blue. Partner with OC Designs Online for a one-of-a-kind  eBay shop design that meets your needs as well as the needs of your shoppers. Take some time to browse our portfolio of dazzling store designs, and then request a free quote. Don't forget to find us on Facebook, follow us on Twitter and check out our Google+ Page!