There's a reason why companies still give out gold Rolex watches upon retirement. Timepieces are a classic, even 'timeless' way to show someone you care about them. A piece of jewelry suitable for man, woman and child. However, unlike the cold screen of a mobile phone, watches are very much tied to one's personality. When making your selection, variety is essential.
Aspen Luxury Timepieces understands this need, which is why they looked to the web experts at OC Designs Online to build them a custom eBay Store Design to house their wide array of designer watches and high-end timepieces.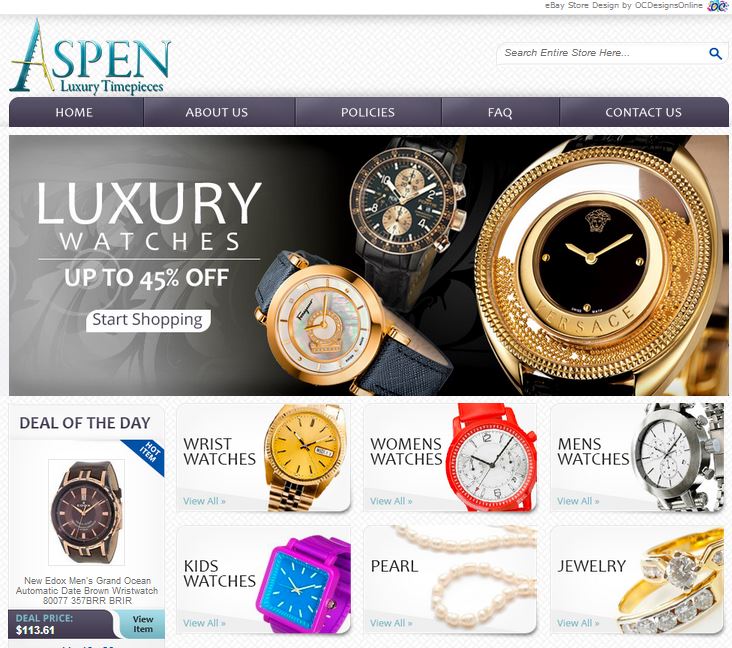 To search the store without browsing to make a selection, shoppers may refer to the custom search bar in the upper left hand corner next to the shop's clean logo.
Customers who wish to review the company back story, store policies, frequently asked questions, or contact information may do so in the grey individuated tabs along the custom eBay Shop Design's navigation bar.
The main welcome pane features a wide angle shot of hi-res luxury watches advertised at up to 45% off retail price. Directly below, a deal of the day details a specially selected inventory item with clearly marked 'deal price' indicating additional savings.
Six individual store categories including wrist watches, women's watches, men's watches and kid's watches as well as pearls and jewels make it easy for customers to peruse the items which appeal most.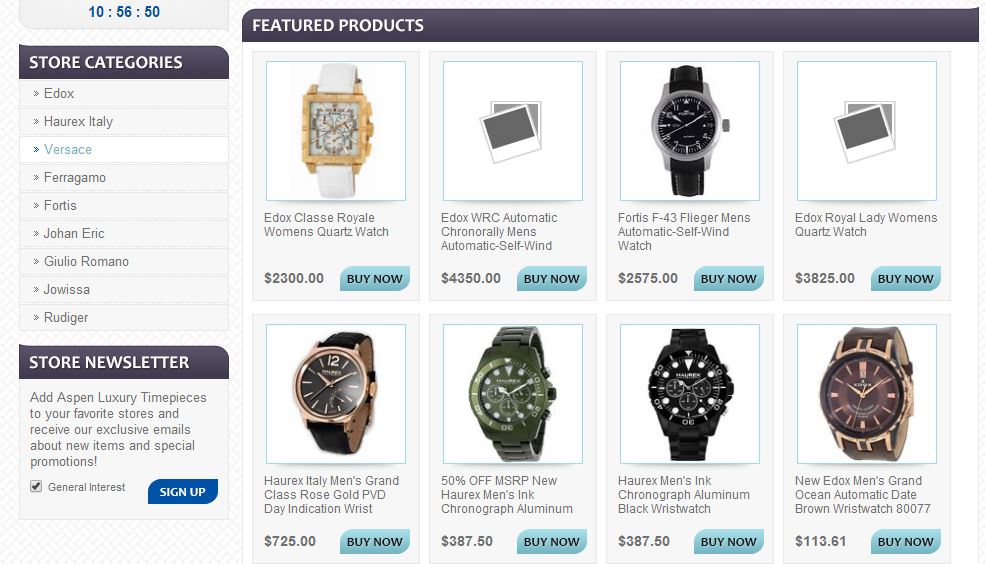 Additional store categories located in the left sidebar include recognizable names such as Versace and Ferragamo, while a 4 X 2 spread of 'featured products' showcases special offerings in the prime real estate of the midsection. Each is complete with a short description of the piece, and closeup image of the watch's face.
As a standard in our eBay Templates, an invitation to join the store newsletter brings the left sidebar to a close and allows Aspen Luxury Timepieces to keep up with their top clients via email marketing.

Finally, a custom footer closes out this eBay Store Design with a mini sitemap, and list of accepted payments to include all major credit cards and PayPal.
There are many eBay Shop Design options, but if you want a layout that is anything but vanilla, consider OC Designs Online. We invite you to browse our expanding portfolio of stunning designs and request a quote to learn more.
Don't forget to look us up on Facebook, follow us on Twitter and check out our Pinterest boards, too!