The south has produced some of the U.S.' musical greats over the years- think Elvis, Patsy Cline, Dolly Parton and the like. It has a culture of music that is seemingly infused to the very air we breathe. Perhaps that's why so many of us grow up with aspirations to make or play music.
Even if you haven't been fortunate enough to make music your career path, that doesn't mean you can't play it to your heart's content, gracing those around you with a soothing cord or catchy tune.
Now, thanks to Great Southern Music and OC Designs Online, you can easily make your musical selections online with this fantastic eBay Store Design.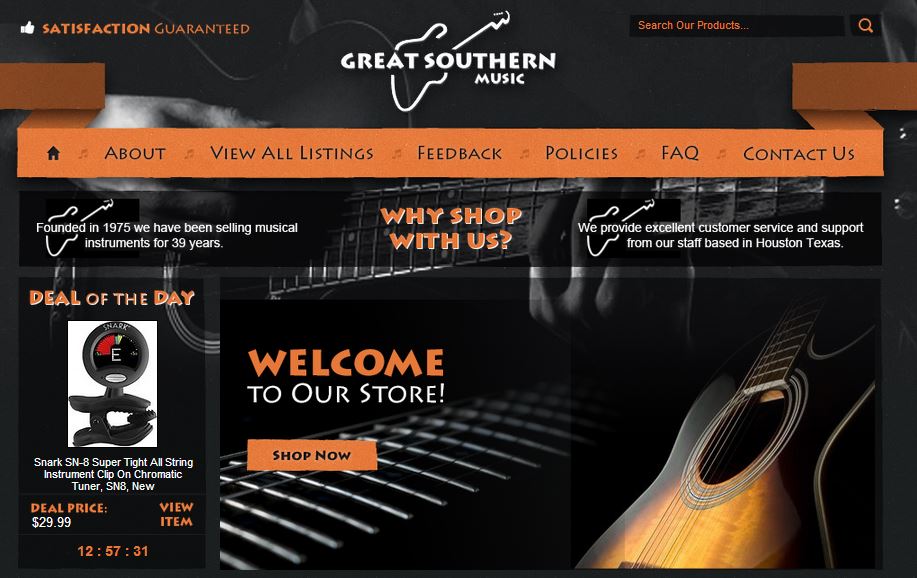 A custom search bar in the top right corner makes it easy to single out specific instruments, replacement parts or accessories. In the burnt orange ribbon below the logo, a main navigation bar alerts shoppers to tabs displaying all available listings, feedback, store policies, and contact information.
Next, short information panels ensure customers know they are working with true professionals and southern gentlemen (and women!) who have been in business over 39 years from their Houston, Texas home base.
The left sidebar of this custom eBay Shop Design boasts a 'Deal of the Day' with an essential product being offered at a discounted rate. A digital clock at the bottom of the pane counts backwards to the time the deal will reach its expiration. This encourages shoppers to take advantage before the clock runs out!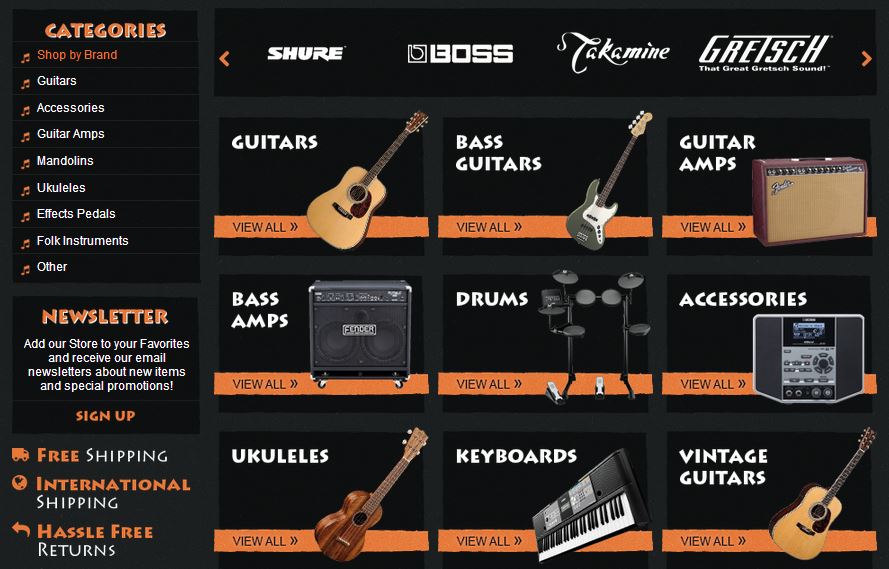 Next, a vertical list of store categories link customers to many stringed instruments while an invitation to join the store newsletter- a standard among our eBay Templates– ensures they'll never again miss out on any new items or special promotions.
Directly right, a black and white list of the top industry logos scroll from right to left. This brand recognition is great for shoppers with loyalty to a particular company.
Below, a 3 X 3 spread offers an additional list of organized store categories from guitars to drums to keyboards.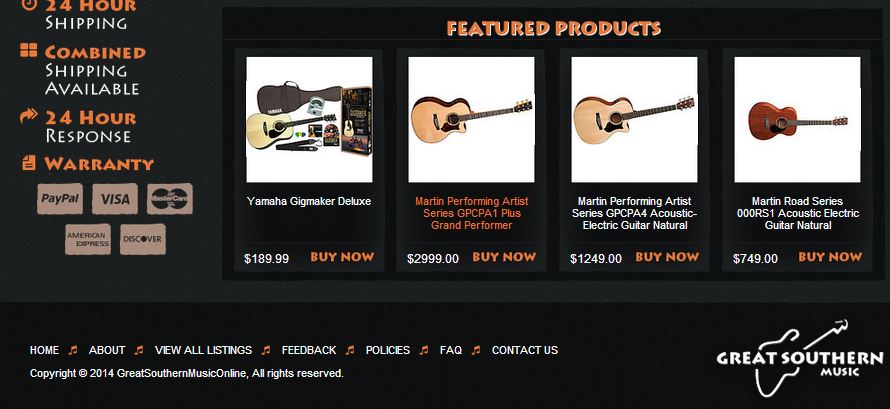 Finally, four featured products are displayed in the prime real estate of the midsection, and accepted payments ensure shoppers know all their options including PayPal, while a custom footer closes out this custom eBay Store Design in style.
Having a stand-out eBay Shop Design is a must-do in this competitive e-commerce arena and if you think your storefront could use a little help, simply Request a Quote from OC Designs Online and be sure to browse our portfolio to gain a better idea of what we can do for your eBay store!
We also invite you to follow us on Facebook and Twitter. Find us on Google+!