When it comes to decorating your home, what may seem like a small finish out can make all the difference! In fact, the primary difference between your interiors looking like something out of a magazine as opposed to an unfinished, sloppy mess rest in the details such as lighting- more specifically in the fixtures!
Be it chandeliers for your ceiling, sconces for your wall or lanterns for any other part of your home, there's only one place customers need to turn: Antique Lighting. With a custom Volusion Store Design, they're shining like never before thanks to the web experts at OC Designs Online.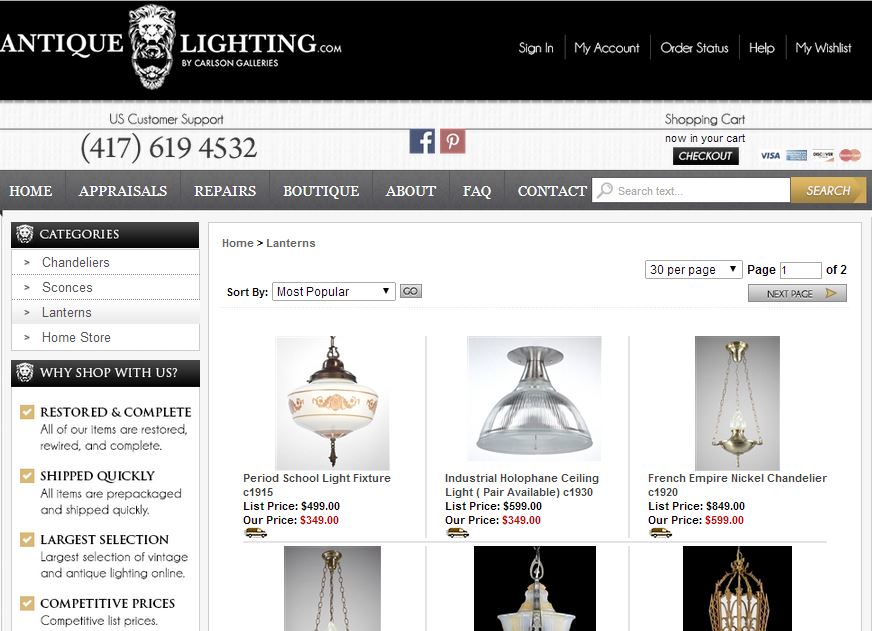 A solid black header distinguishes itself from the inventory below, boasting the logo and easy access to customer accounts, order statuses and wishlists.
For US customer support, social media accounts, or a quick check out, shoppers need only visit the section immediately below. They can also elect to peruse the tabs in the main navigation bar or single out specific products by entering text into the search bar.
In the left sidebar, products are organized into four overarching sections including chandeliers, sconces, lanterns and home store. Next, our designers aptly included reasons to shop such as complete restorations, quick shipments, large selection and competitive prices.
The body of the storefront is peppered with gorgeous period light fixtures which include the country of origin and circa era year where possible. By highlighting the list price in black and Antique Lighting's price in red, shoppers are alerted to the deep discounts offered by buying with the store.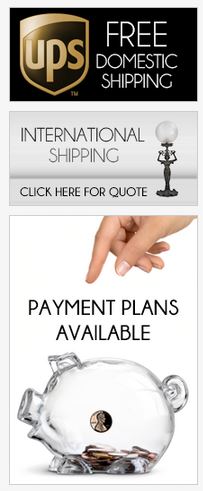 As a gentle reminder to customers, we've included a UPS branded, free domestic shipping graphic.
The name recognition of such a large package delivery service instills confidence as shoppers get ready to complete their purchases.
For international shipping rates, customers need only click the image provided to generate a free quote.
Finally, with more costly products requiring some investing on the part of the consumer, payment plans have been made available for added convenience.

Bringing the storefront to a close is a thorough footer with headers for store categories, general information, account specifics, ways to connect and an invitation to sign up for the store newsletter as well as a list of accepted payments and the Antique Lighting logo.
If you think the Volusion ecommerce platform may be right for you, why not browse some of our awesome designs in our portfolio? It's easy to request a free quote and we hope you'll like us on Facebook and follow us on Twitter!