Did you know that some of the most expensive shoes on record cost as much as new car? For example, according to Sneaker Freaker– the Nike Air MAG clocks in at $37,500. However that's small potatoes compared to the Diamond Encrusted Air Force 1 Social which will cost you a cool $50,000. Even without precious stones, some kicks, such as Michael Jordan Worn Air Jordan 12 (Flu Game), sport a price tag that's are easily comparable to a small house…$104,000 bones!
Fortunately, AV Shoes has one of the largest online selections of brand name footwear that won't break the bank. Browse this easy to navigate custom eBay Store Design and see for yourself!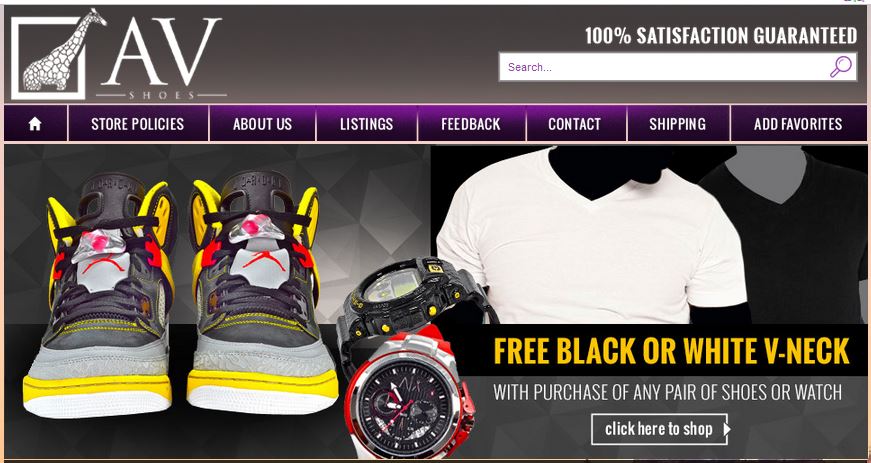 AV Shoes leads with its unique logo complete with giraffe craning its neck out from the header and a search bar allowing shoppers to seek out brands or specialty items on their wish lists.
A purple navigation bar below links customers to key company information such as store policies, listings, feedback, ways to contact the store, and an option to add the shop to their favorites.
The welcome message in this eBay Shop Design segments the header from the inventory stock to follow, and promotes a free black or white v-neck shirt with the purchase of either a pair of shoes or a watch.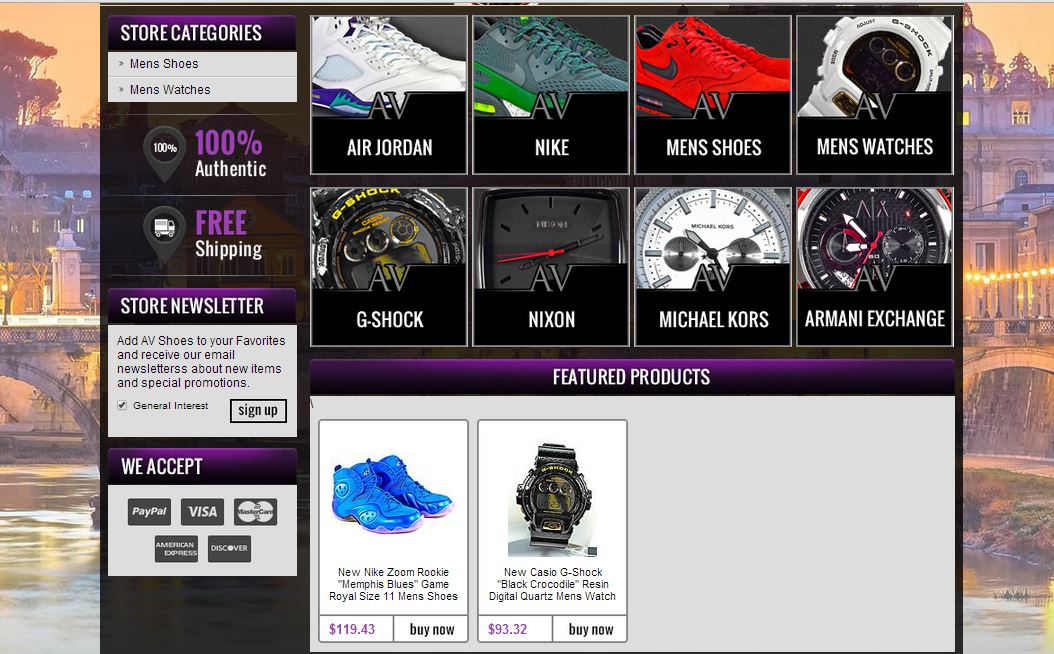 The real magic happens in the midsection. Whether you're in the market for Air Jordans, Nikes, G-Shocks, Nixon, Michael Kors or Armani Exchange all you need do is click the hi-res category images in this custom eBay Template.
Want to make sure your purchases are 100% Authentic? What about free shipping? AV Shoes has you covered on both fronts and includes reminders to keep customers assured they're in good hands.
Next, an invitation to join the store newsletter, list of accepted payments and section of featured products bring this section to a close, which is all nestled against a gorgeous, sun drenched backdrop.

To wrap it all up, a mini sitemap appears in the slate grey footer, where customers again have easy access to company essentials.
Learn how OC Designs Online can help you drive sales by building you a stunning "must-shop-in" eBay Store Design where shoppers can easily find what they want while experiencing a sharp and crisp design.
Request a free quote and be sure to browse our massive eBay store design portfolio and learn more about our storefront solutions.
Don't forget to like us on Facebook and add us to your circles on Google+!