Whether you're a dealership looking to get the cars and trucks on your lot ready to sell or a car owner who takes pride in their vehicle's interior, BioTech USA has got you covered! Their concentrated selection of professional detailing supplies and the market's best reconditioning products are now available under one "roof" thanks to the experts at OC Designs Online.
Check out this custom Volusion Store Design they're using to reel in traffic and lock down sales in their niche market.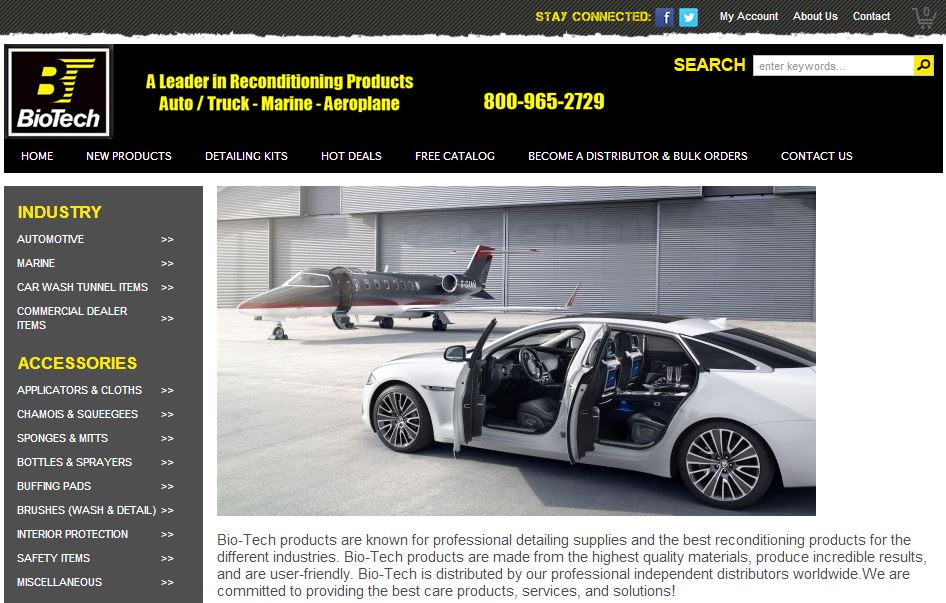 Upon entry, our designers aptly give visitors a means to stay connected with social media plug ins from Facebook and Twitter. Tabs linking to customer's personal accounts, company info and ways to contact follow to the right.
Next, BioTech identifies themselves as a leader in reconditioning products and offers a custom search bar where shoppers can single out specific items or brands by typing keywords into the field.
The full navigation bar displays easy access to new products, detailing kits, hot deals, a free catalog offer, bulk orders, and contact information. In the right sidebar, four store categories classify dozens of products by industry, accessories, equipment & tools, and support, making it a cinch for shoppers to quickly navigate their large selection.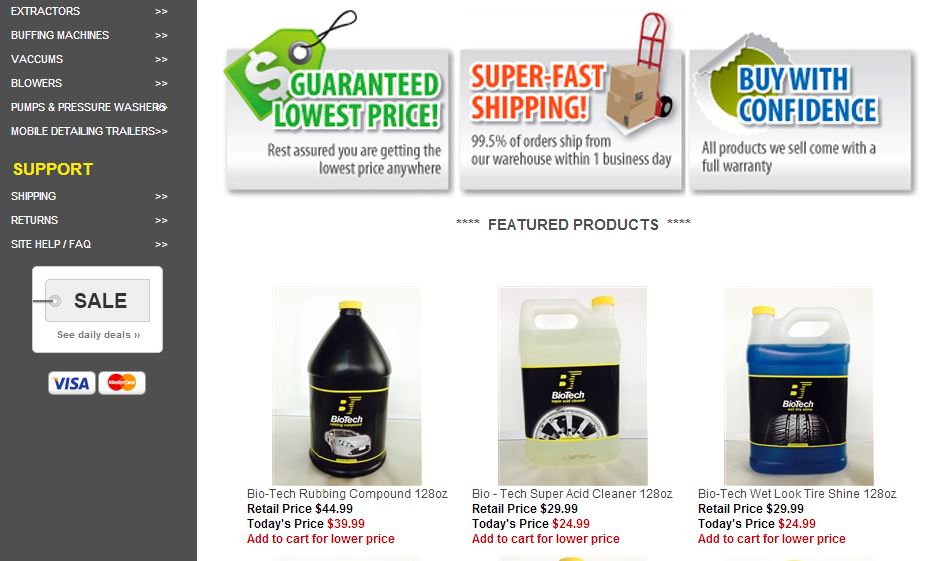 In the midsection, three graphics break up the storefront and remind customers of BioTech's lowest price guarantee, 1-day shipping option and full warranty promise. Below, a section of six featured products offer sale and discount items which have been specially priced for the day. With encouragement for buyers to 'add to cart for lower price', shoppers are motivated to act quick and save!
Back in the right sidebar, the section comes to a close with a section of daily deals and sales, alongside Visa and Master Card logos.

Closing out the storefront, our designers have worked up a custom footer complete with an email signup, about us link, access to account information, product listings and helpful info such as shipping and returns, the store's privacy policy and terms and conditions.
Are you ready to start selling more by offering your products on an ecommerce platform? Let OC Designs Online show you how we can turn your Volusion store into something stunning and memorable with one of our custom designs.
Be sure to browse our Volusion store design samples in our portfolio and find us on Facebook. Follow us on Twitter to stay up-to-date on ecommerce trends!