While the term man's best friend generally refers to a pooch, your family pet is no doubt the jewel of your eye, be it a cat, bunny, reptile, or even fish!
Recognizing the deep bond that exists between pets and their owners, PETSporium sought help from the experts at OC Designs Online to craft them a dazzling eBay Store Design to showcase their quality pet supplies.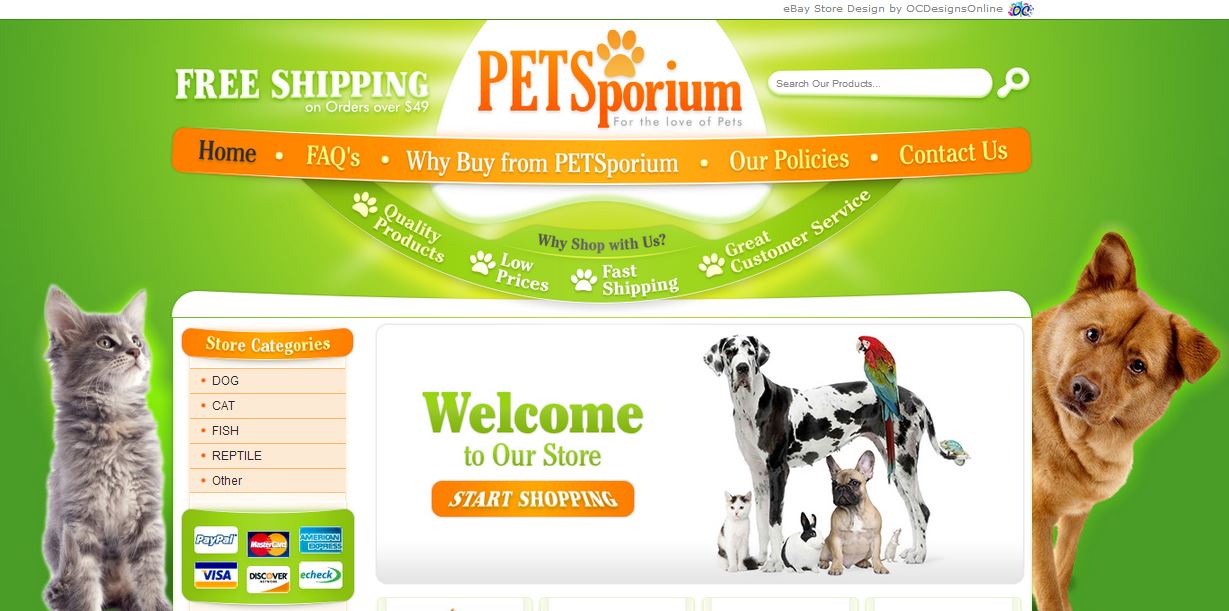 Glowing front and center is the PETSporium logo, radiating the site's love of pets. To the left, a graphic alerts shoppers to the free shipping policy. On the right, buyers are invited to target specific products with the custom search bar.
This eBay Shop Design employs a bright, lime green background infused with hi-res animal images. A contrasting orange navigation bar sports FAQs, store policies and contact information, while an arc of compelling reasons to buy sit just below.
The welcome message broadcasts a menagerie of adorable furry friends, letting customers know all breeds and creeds are welcome here!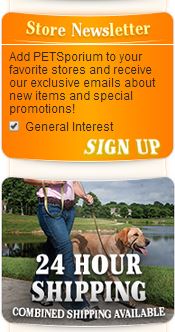 In the left sidebar pet owners are able to shop by category and view all accepted methods of payment.
Below is an invitation for the most loyal buyers to sign up for the store newsletter.
The subsequent emails that follow the subscription detail new items and special promotions which can be targeted to the type of pet.
Since shipping is so vital when ordering online, the next graphic highlights a promise of 24 hour and combined shipping availability.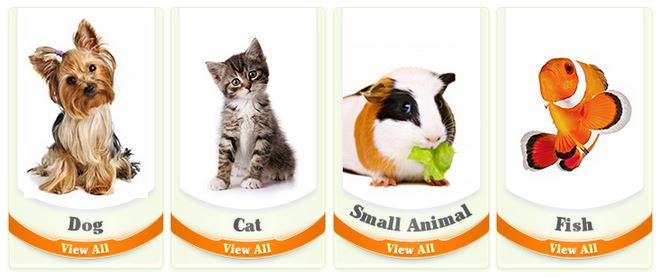 This custom eBay template isn't above using delightful images of adorable pets to grab buyer's attention. In fact, store categories are organized and laid out in easy to navigate panels, underscored by photos sure to make you say "awww"!

In the midsection, a featured products display can help call attention to popular merchandise. Complete with brief descriptions and clearly displayed price tags, customers can easily add these items to their carts by selecting the 'buy now' link in the bottom right.

Finally, as is customary with all our eBay Store Designs, a custom footer closes out the site and includes the PETSporium logo for the purposes of establishing brand recognition.
Investing in a custom eBay store design that gets noticed and stands out is not only easy, it's also affordable! OC Designs Online is your top choice for custom eBay Shop Designs and we invite you to browse our portfolio of stunning store designs and then request a free quote.