Since roughly the turn of the century our lives have been simplified and enhanced by the multitude of household appliances which have now become standard in our western society. Without them we'd be in jeopardy of walking around in dirty clothes and eating rotten, uncooked food off dirty dishes.
However these time savers don't run cheap! To help buyers stock, replace or repair household appliances, PartsAway.com enlisted the experts at OC Designs Online to create an eBay Store Design to showcase their supply of parts for fridges, washers, dryers, microwave ovens, and more.

Upon entry, customers are greeted with the logo which appropriately fuses a cog graphic to represent the "part" and fades from lime green to a classy navy blue. Directly right, the eBay shop design offers shoppers a custom search bar where they can enter keywords or phrases to target their search. A 100% satisfaction guaranteed promise oversees the feature.
In the main navigation menu below shoppers can choose to elect tabs to view company information, store policies, FAQs or ways to contact Parts Away.

The welcome message and graphic proudly displays the promise of "discount online appliance parts with fast and free shipping", while the left side bar permits the shopper to sort by model with two additional drop down menus for the appliance and part type.
Additional store categories are listed in a vertical, clickable spread, taking customers to the full line of inventory for each appliance.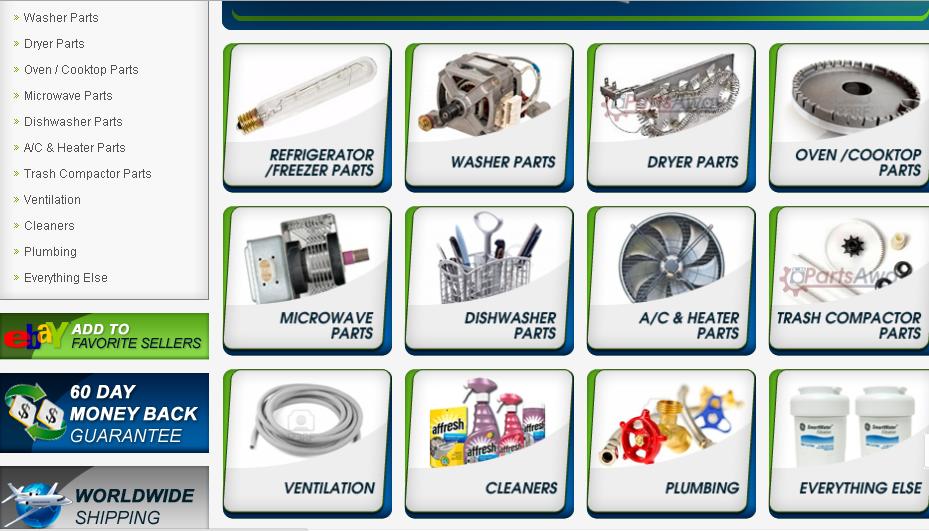 The midsection of this custom eBay Template is devoted to displaying the store categories in a visual manner, underscoring each type with an image of the part in question.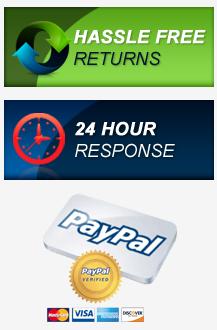 To the left, additional store policies are graphically represented alerting shoppers to the store's 60 day money back guarantee and worldwide shipping offers.
Couple these with hassle free returns and a 24 hour response system and your customers will have every confidence that their purchases are in good hands.
By highlighting accepted methods of payment, you can easily bring novel platforms such as PayPal to the table, providing further conveniences to your valued buyers.
Closing out this sleek eBay Store Design is a custom footer, distinguished from the rest of the storefront with a navy panel and a mini sitemap mirroring the main navigation options and logo at the top.

If you desire an eBay shop design that combines quality and creativity, consider OC Designs Online. We invite you to browse our portfolio of imaginative designs and request a free quote to learn more.
Please look us up on Facebook, follow us on Twitter and check out our Pinterest boards too!