Did you know that according to a recent NYU research study, within the first seven seconds of meeting someone, eleven major decisions are made about about a person? This critical seven seconds could determine whether or not you get that dream job you've been chasing, that date you're pursuing, or client you are trying to woo.
While they can't do anything about that spinach in your teeth, Studio Adorn has all the hottest trends to help you dress the part.
Check out their gorgeous new eBay Store Design courtesy of OC Designs Online.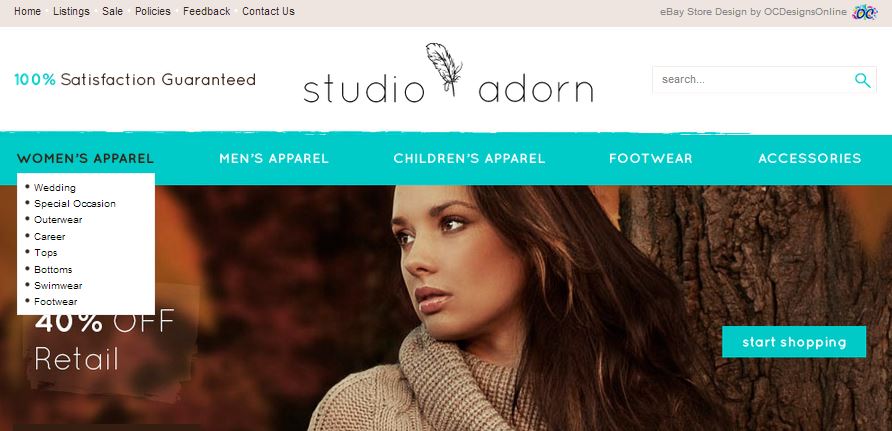 First, to make way for the quality threads below, this custom eBay Shop Design positions the main navigation panel at the very top of the landing page. Here, customers have the option to explore listings, sale items, store policies, feedback and contact information.
The hip, classic logo sits sandwiched between a satisfaction guaranteed graphic and custom search bar where buyers can target merchandise with keywords or phrases.
Men, women and children are all represented in the sky blue bar spanning the next section. By hovering one's cursor over any of the five links, subcategories emerge to help effectively organize all product listings.
In the mainstay below a hi-res welcome graphic is put to work, sporting a 40% off and 'start shopping' featurette.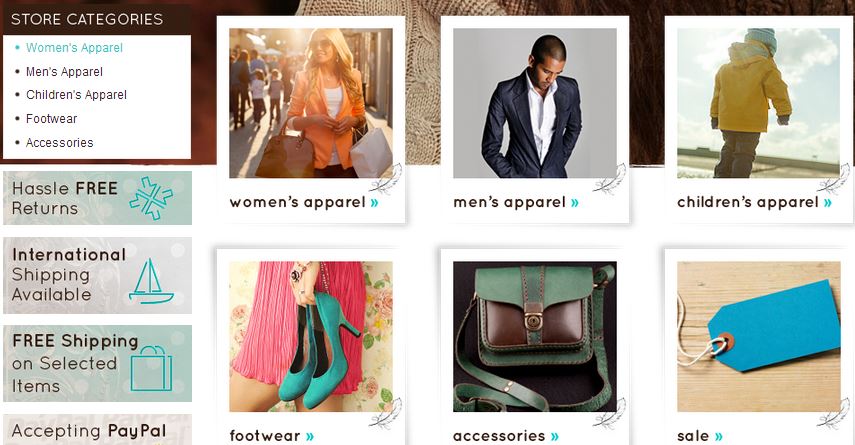 The site's mid-section is devoted to re-emphasizing the store categories in a supremely easy to navigation fashion.
Men's, women's, children's, footwear, accessories and sales merchandise are outlined in the left sidebar in vertical clickable links as well as underscored visually to the right. The clever use of a feather mirroring that in the Studio Adorn's logo is used throughout to promote brand recognition.
This custom eBay template utilizes the remaining space in the left side bar to highlight the store's policy of hassle free returns and international shipping options which are free for selected items.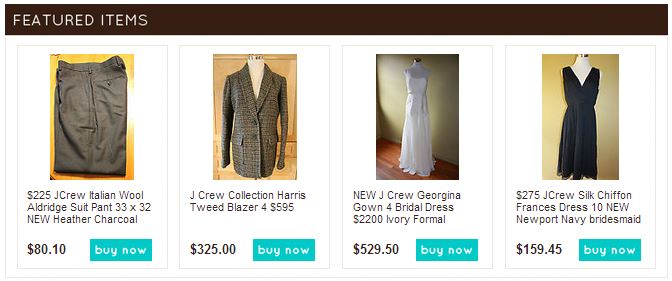 By featuring selected items, you can easily put your most unique or sought after merch in the limelight.
This four panel feature also allows for easy change out once an item has been sold.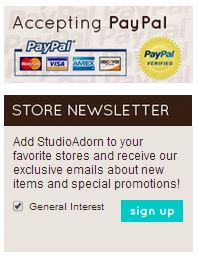 Listing your accepted methods of payment and highlighting the option to complete purchases using PayPal ensures shoppers an easy transaction come time to buy.
Want to keep your most interested buyers informed of sales and promotions?
Doing so is easy with an invitation to sign up for your company newsletter!
Finally, all our eBay Store Designs come with a custom footer to help your customers navigate and locate important company information.

Are you looking to gain an edge with a stunning and noticeable eBay Shop Design? Let us show you how! Browse our portfolio and then request a free quote.
Let's be social! We cordially invite you to follow us on Facebook and Twitter. For Pinspiration, wander over to our Pinterest boards and take a peek.