When you sell the most sought after top-notch products on eBay like SitewideSavings does, a custom eBay store design is a necessary must do!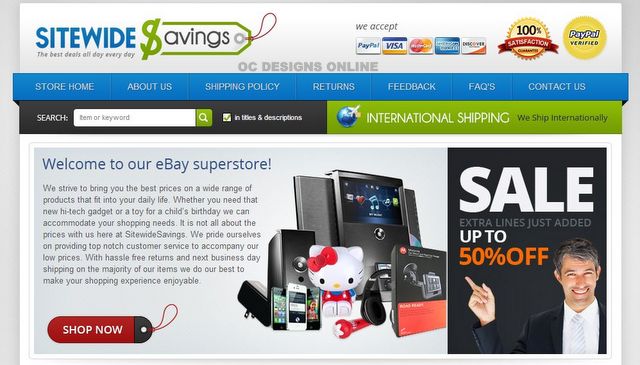 At SitewideSavings, their goal is to offer the best prices on a wide variety of products such as that new hi-tech gadget or popular child's toy. And with the many products they offer, shoppers can indeed take advantage of "side wide savings!" Even with expert customer service, SitewideSavings knew the best way to make their mark on eBay and compete with the big boys was to turn to OC Designs Online for a custom eBay store design.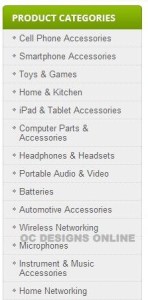 For this eBay Superstore, we placed their logo at the top left—a great brand building tool especially because it's a logo shoppers will remember. To the right top are the types of payments SitewideSavings accepts—a great way to reel in shoppers. The 100% satisfaction guarantee badge and PayPal verified badge reinforce this eBay retailers' commitment to customer excellence.
Next comes the store's navigation bar in awesome blue that matches their logo design. With this bar, shoppers can learn more about SitewideSavings, read their shipping and return policies, check out their FAQ page, contact this eBay seller and read their feedback.
Beneath the top navigation bar is the must-have search the store tool and in a green color that also matches their logo and an announcement of their International Shipper service.

The welcome section is next and for this eBay store design, we placed a sampling of their wide product inventory with an easy-to-see shop now button. To the right of the welcome box is a clickable box for SitewideSavings that is all about their 50% off sale items.
Under the welcome section are essential why buys like how SitewideSavings offers combined shipping, free shipping and hassle-free returns—all with colorful images. To the left is the sidebar navigation menu where shoppers can easily find what they're looking for by browsing the subheadings.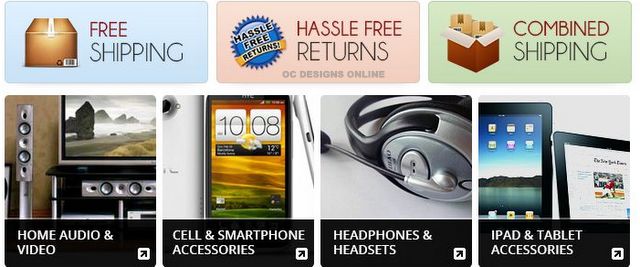 Below the why-buys are popular category items for home, audio and video, smart and cell phone accessories, headphones and headsets and iPad and tablet accessories all with product imagery inserted in the clickable boxes.
Next is their featured products section with blues and greens to match their logo design and to the left of that, shoppers can sign up for a free store newsletter. The bottom of this eBay store design is wrapped up with a repeating logo to help them build their brand and a mini sitemap for easy navigation.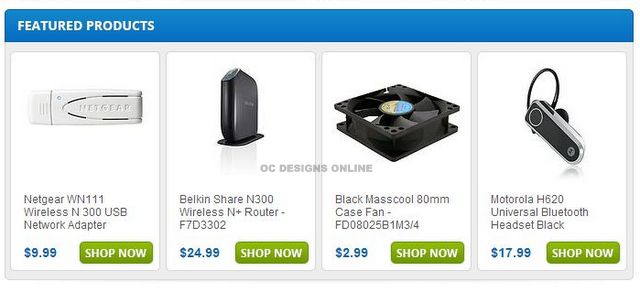 eBay retailers that sell a variety of items compete better when they invest in a custom eBay store design that gets noticed and stands out. OC Designs Online is your top choice for custom eBay store designs and we invite you to browse our portfolio of stunning store designs and then request a quote.