Jewelry is not just an accessory choice, it is a personal decision of how you want to represent yourself to the world. Do you prefer to accentuate your beauty with simple and delicate jewelry, or would you rather have a dazzling sparkling piece to draw attention to how you shine? It's up to you, and we were glad to help Gold Reef with an ebay store design that accentuates those options and encourages sales. See how below.
We created a value-adding header to share benefits at a glance
The header of a store is incredibly important. Because of that we created a banner that not only helps customers navigate this store design but also shares what values this store can bring to their clients. Buzz statements we included in this banner include their eBay shipping and return policy, satisfaction guarantee, and quick response times.
Other important features we included was what payment options were available. These options include purchasing through PayPal, as well as a convenient search bar.

We used tones that resonated with their brand to help share their brand story
The color of the store is reminiscent of Tiffany Blue but edited to hold a darker gradient at the top. This helps draw the eye. It then lightens to hold warmer tones. The orange buttons are shown in this storefront contrast to the blue, bringing more attention to calls to action.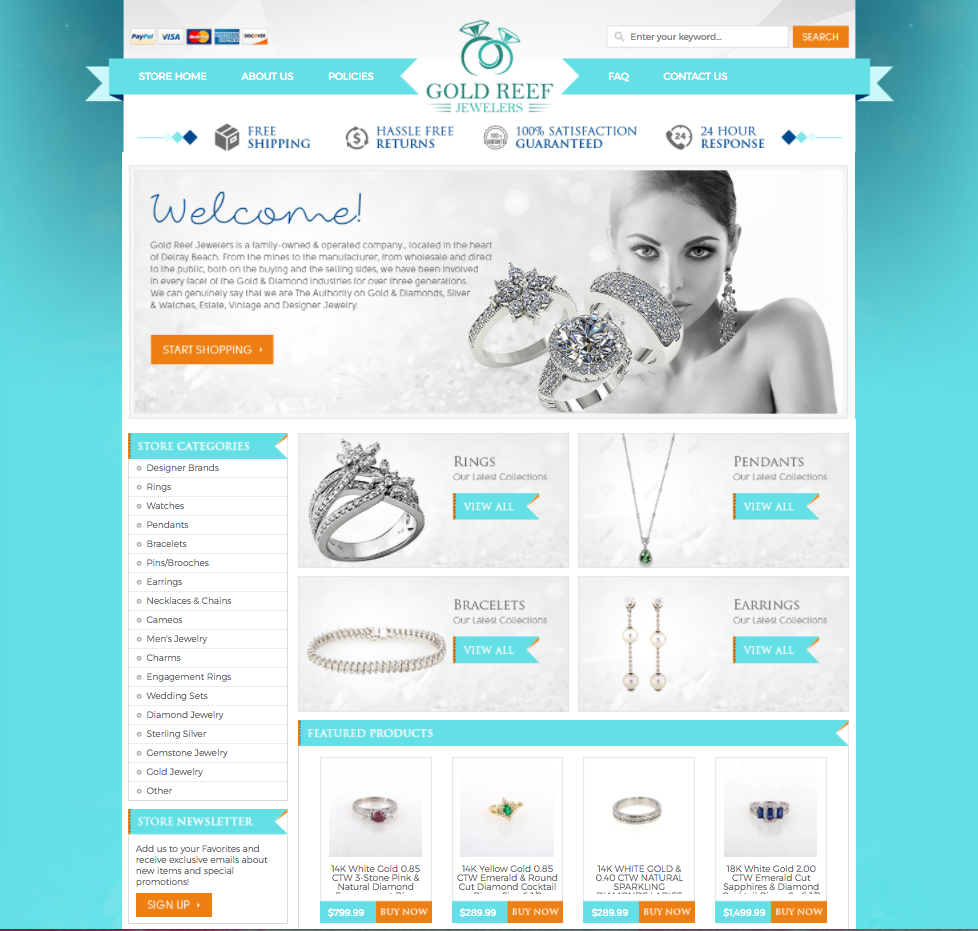 Gold Reef's online ebay jewelry store is not just a fresh newly designed store, it's one that really cares about their customers. Check out their about page for more information about this family owned and operated business. We're glad our design, paired with their beautiful silver and gold estate jewelry, is helping such a wonderful family prosper.
Like what you see? Read more of our posts below:
Request a free quote now to get started
OCDesignsonline has a large portfolio of clients, spanning several years and platforms, so browse our portfolio to get a feel of our quality of work and then request your free website design quote to see what we can do for you. Don't forget to also follow us on our social media accounts: Facebook, Twitter, Google+, and Pinterest for more updates.