The BigCommerce ecommerce platform offers a lot for online retailers and when The Golf Source asked OC Designs Online to tackle their BigCommerce store design, we were excited to start working on a stunning and functional design to make shopping at The Golf Source easy, fun and profitable for this ecommerce retailer!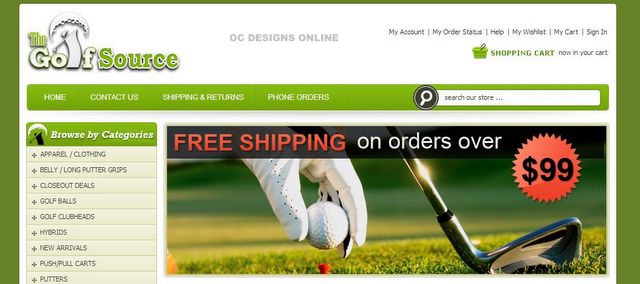 At the top of this BigCommerce store design we inserted their eye-grabbing logo at the left and to the right are part of what makes BigCommerce a great platform for selling online—shoppers can view their account, order status, get help, fill out a wish list, and immediately see what's in their shopping cart.

Next, in this cool and crisp BigCommerce storefront is a green navigation bar where shoppers can contact the seller, make a phone order and read their shipping and return policies. Also, to the right is a must-have search the store tool, an essential element for all online retailers.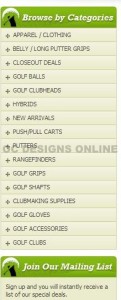 The left navigation bar allows shoppers to browse items by category with subheadings and notice how The Golf Source's logo is embedded into this and other menu bars throughout this BigCommerce store. Consistency in themes are great for brand building and when professionally designed, they also offer an attractive element to online stores.
The mid-section is what we call the welcome section and includes golf imagery and shoppers learn instantly they will get free shipping on all orders over $99. All of our BigCommerce store designs include welcome sections and our graphic designers work with our retailers to ensure the imagery placed within the welcome section is stunning and attention-grabbing.
Below the welcome section is the shop by category section—all with clickable boxes for easy browsing or shoppers may choose to view all listings within each category.
Beneath the category boxes are what we call brand builders—a place where The Golf Source shows off all of the brand name products they carry like TaylorMade, Graphite Design and Callaway to name a few—each with their own logos for brand recognition. Shoppers will remember this section of The Golf Source's BigCommerce store design, especially if they are looking for a certain golf brand name.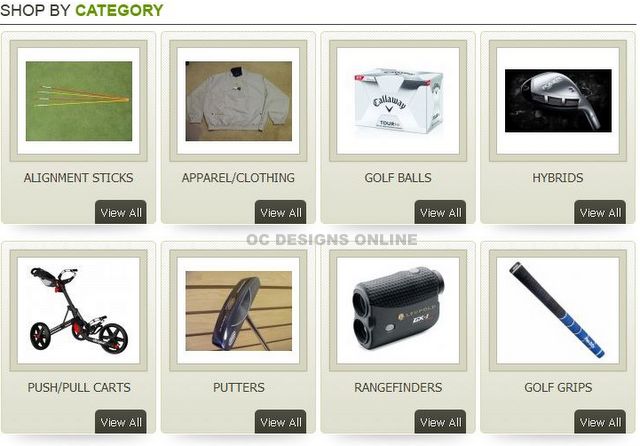 To the left of the brands are what we at OC Designs Online call essential "why-buys." These include a place for an email signup to receive great deals and a prominent telephone number to reach this retailer. Also included in the why-buys is their Tee Off With Savings box where shoppers can see what's on sale and another clickable box where shoppers can easily browse new arrivals to the store. Shoppers also learn the BigCommerce retailer ships items within 24 hours—a must do in the competitive world of online selling.
The bottom of this BigCommerce store design features a repeating logo—great for brand building and a great sitemap for the entire store. The BigCommerce platform allows for repeating navigation at the bottom and what we like best about BigCommerce—social media links for popular venues like Twitter an Facebook. Shoppers even find a link to their blog!

The BigCommerce platform offers tons of features for online retailers and OC Designs Online and our expert graphic designers have created many BigCommerce store designs.
Think the BigCommerce is right for you? Let us show you the features and turn your online store into something special that will stand above your competitors. Feel free to browse our portfolio and be sure to find us on Facebook and Twitter!