Even if you have a company website for your brick and motor store where you sell products or services online, you can reach more customers by adding an ecommerce store to boost sales. That's just what Phone Fix Pro did by asking OC Designs Online to create their new Big Commerce store design!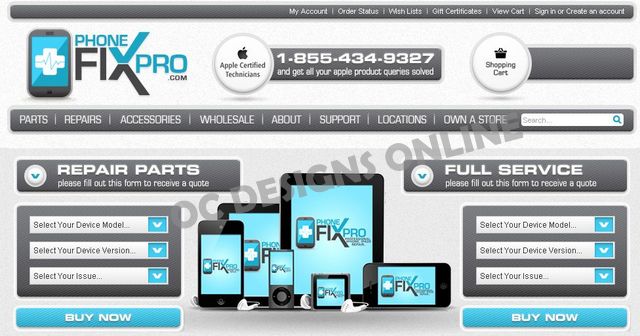 A while back, OC Designs Online also designed an eBay store for Phone Fix Pro and now with their brick and mortar store in Sunrise Florida and two ecommerce stores, this retailer is building a brand that will soon be a favorite of all iPhone, iPad and iPod users!
The Big Commerce Store Design
Big Commerce offers a lot of solutions for online retailers including the ability to link directly to their eBay store and item listings. For this Big Commerce store design, we wanted to ensure shoppers would recognize this seller no matter what venue they reached—their website, eBay store or Big Commerce store. That's why we utilized their corporate blue colors on their Big Commerce storefront—similarity helps to build a brand and stand out from the rest.
With the Big Commerce platform, sellers gain the advantage of must-have shopper tools right at the top of the store like a shopping cart, order status link, wish list and options to view their account or login and create an account. These subtle linked bars help give the feeling of not just another ecommerce selling venue but of a real, trusted website.

Next, we inserted Phone Fix Pro's logo and a badge announcing they employ certified Apple technicians along with their toll-free telephone number. The grey navigation bar below the logo offers links where shoppers can easily search for parts, repairs, accessories, wholesale options, learn more about Phone Fix Pro, see their locations and find out how they too can own a store as well as an easy to use search the store tool.
To help shoppers quickly find the products or service they need, the next section allows them to get a quote on repair parts or the cost to quickly repair their Apple product. This section makes obtaining the quote easy as it offers drop-down menus for the type of Apple device and the model version. Finally, the drop-down asks shoppers to select the issue they are having with their Apple iPhone, iPad or iPod.
Between these drop-down menus we inserted colorful imagery of the types of Apple devices they are experts in repairing and supplying parts for as well as "buy now" radio buttons. Next are clickable product boxes for easier shopping also with images of Apple products and that this ecommerce retailer offers fun stuff like iPod socks!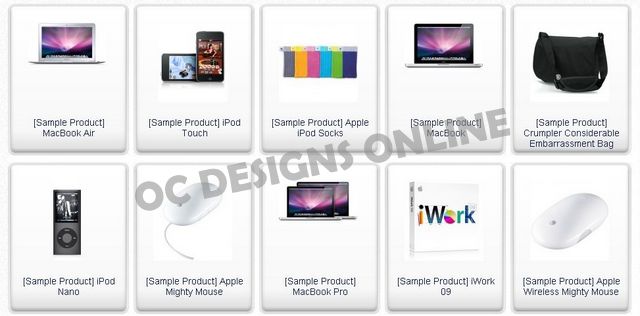 We rounded out this Big Commerce Store design by inserting text on their 90-day warranty and a place for shoppers to sign up for their free newsletter. The why choose us is a must-have for all Big Commerce stores and includes a menu list of why buys including that they offer 24 hour immediate response, certified Mac technicians, their #1 in customer service confidence information and how shoppers can engage in live chat. We also included big and bold links to their social media pages.
At the bottom of this Big Commerce store design are Media, Info Support and Payment Options with sub-headers that connect shoppers to useful ecommerce selling tools like Phone Fix Pro's blog, media news links, privacy policy, FAQs and social media sites like Facebook, YouTube and Instagram.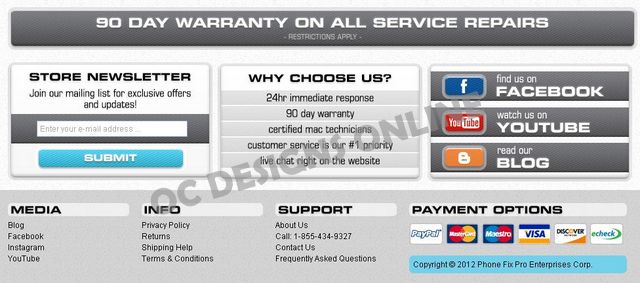 Having more than one ecommerce venue to sell your products or service is simply smart in these days of tough online sales competition. Now, Phone Fix Pro has a wider reach to online shoppers and is building a brand identity.
OC Designs Online offers all sorts of ecommerce combo store solutions including eBay store design and matching listing templates and eBay stores and matching Big Commerce Stores that can all link together to make online selling easy and more profitable.
Contact us to today for your affordable ecommerce store design quote and be sure to check out some of our combo store solutions offerings as well as Facebook page and custom Twitter designs!