Calling all DIY mechanics, body shops, woodworkers and auto collision centers—AB's Gloves and Abrasives has a new eBay store design and as they say, they are "Your Sanding Source!"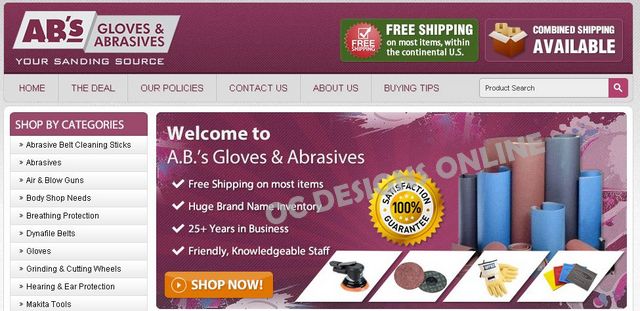 All types of mechanics and woodworkers know buying sanding sheets, abrasives, shop supplies and tools and equipment can be tough, especially when you have Big Box stores and vendors coming at you from all directions! How do you know you are really getting the best price? Fear no more because AB's Gloves and Abrasives are now on eBay and ready to lower your supply costs!
They say you can sell just about anything on eBay and that may be true but when you sell to a specific audience like AB's Gloves and Abrasives, you really need to reach your target market and what better way to do that than with a custom eBay store design from OC Designs Online?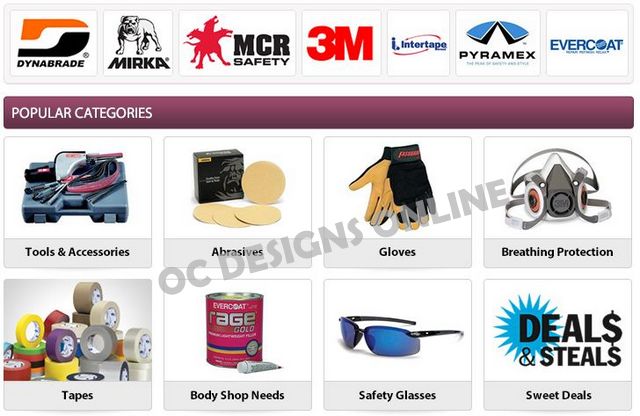 For this eBay storefront, we used a colorful purple background for the top bar and inserted the corporate logo along with the important message that they offer free shipping on most items in the continental U.S. along with helpful combined shipping—a must for those needing supplies or tools in bulk.
Next, comes the must-have top navigation bar where shoppers can learn more about this eBay seller, their policies, find great deals, contact the seller and even buying tips along with an easy search the store tool.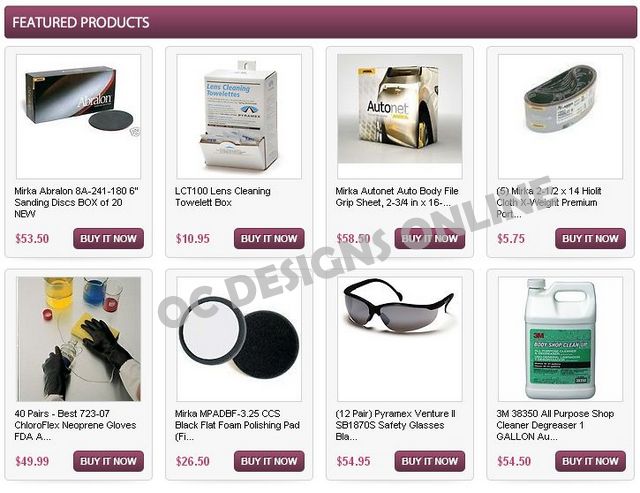 Beneath you are cordially welcomed into AB's Gloves and Abrasives with great product imagery in front of a matching purple background. Also included in the welcome section are important reasons to buy from this eBay retailer such as how they offer a satisfaction guarantee, a huge brand name inventory; friendly and knowledgeable staff on-hand and inform shoppers of their 25+ years of experience. Under that comes a banner of the brands they carry which helps builds shopper confidence.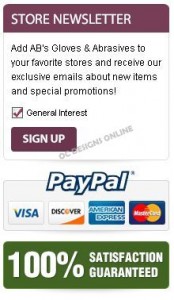 The left shopping sidebar offers the ability to quickly shop by category with sub-headings for everything they sell including their "Sweet Deals" offers. Popular categories and featured products are next, each with clickable boxes and product imagery. The left sidebar continues next to these boxes allowing shoppers to sign up for a free newsletter and a reminder that AB's Gloves and Abrasives offers a 100 percent satisfaction guarantee along with a listing of the types of payments they accept. The store is wrapped up with a mini store sitemap and a repeating corporate logo.
If you sell products dedicated to a certain audience or industry, it's important your eBay store design stands out above the rest. At OC Designs Online, we can revive your eBay store and turn it into a pleasing-to-the-eye, fun place to shop.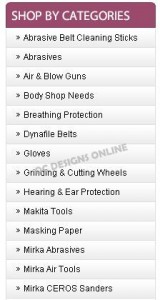 Let us show you what we can do to rejuvenate your eBay store design—simply request a quote and be sure to browse some of our other services like eBay storefront design and matching eBay listing templates or combo store solutions such as eBay and Volusion store designs—we can even build custom Facebook and Twitter pages!
Be sure to find us on Facebook and we can't wait to hear from you, dig in and make your eBay store design stunning!