Working at OCDesignsonline is dangerous because we have so many clients that sell amazing products. It can be hard not to shop! Especially when it comes to beautiful jewelry stores like these.
Today we are sharing with you the stunning design we created for Scarlet Jewelry. Scarlet Jewelry is a diamond jewelry seller that brings you rings and other jewelry items at a discount. They sell up to 75% off retail prices, a huge bargain!
We used a color palette that emphasizes the product sold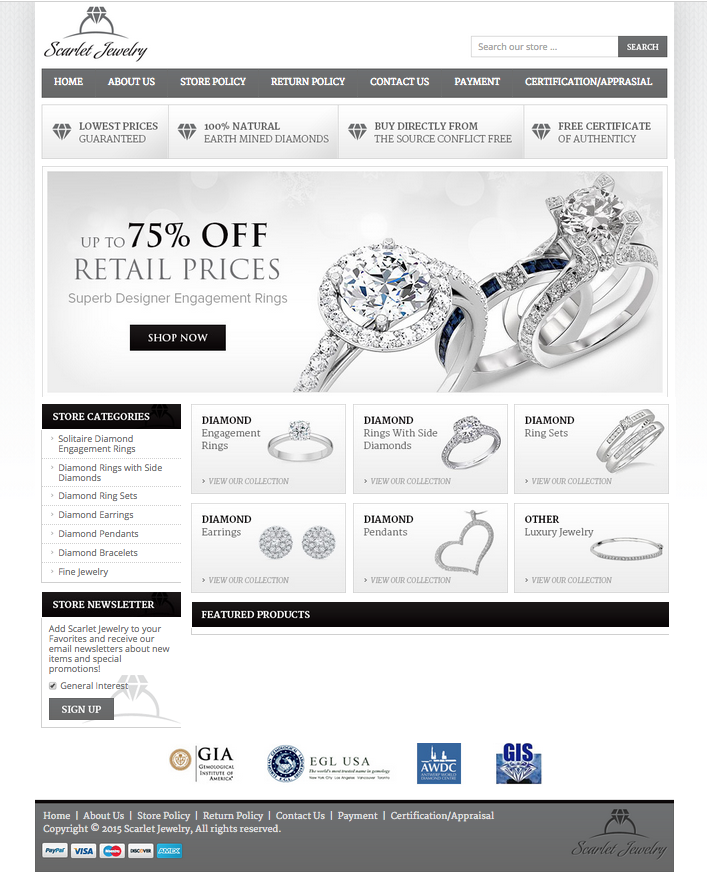 Many jewelry stores feature a simple white and grey design for a very important reason, they help the diamonds to sparkle. Can you image a bright red in this design? No. Color is very important when it comes to jewelry stores, it is all too easy to go with the wrong tone.
Then we created a value added proposition
Right below the store header, we added a few value added banners that shares some of the reasons why customers should shop with our client. Having these little banners help build trust with potential customers, turning a weary shopper into someone that will come back again and again.
And below that "Why shop with us?" value added area, we also created a welcome image that states that our client sells jewelry at up to 75% off retail price along with a call to action Shop Now button. Now that's motivating!
Featured products increases sales
We frequently hold a featured products section in the stores we design for because they help increase browsing and show a customer what kind of products our client has at a glance. These sections help boost sales in eBay storefront designs again and again. We know that when our client reopens their eBay store, they are going to rock their sales with this and all of the above features.
Contact us to get started with your new sales boosting design
OCDesignsonline has a wide array of eBay listing templates to choose from on the site. Take a moment to browse our portfolio and request a free quote. Also, don't forget to find us on Facebook, follow us on Twitter and check out our Google+ Page too!