At OCDesignsonline we love finding out about new industries through our clients. Recently we worked with E-Coin Show to design their new eBay store and custom listing page. E-Coin Show stands for electronic coin show, a store that sells modern and rare coins. It was fun for us to look into these products as we were designing their store.
Custom eBay store designs increase sales
Why is this true? Because having a professional looking store helps show to customers in a profound way that their business is being taken seriously. WIth E-Coin Show we did that by creating for them a design that really embodies the image they want customers to see.
We started with a coin background that fades into a simple cream. Coins can have a rigid look when in a pattern so fading them out this way helps keep the image soft. We also added greys and a deep red to the store to fill out the color palette.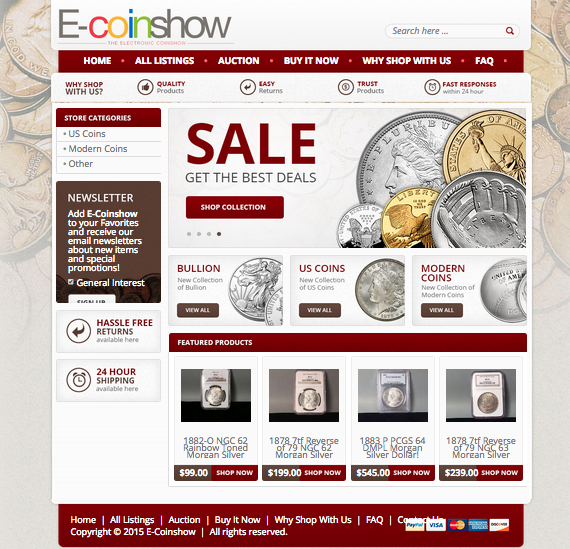 To encourage new customers to see the benefits of our client's store and become loyal to them, we created a header listing reasons why this store is the one you should be shopping at versus other similar coin stores. This adds value to their experience.

Then we created a custom listing page for them
eBay custom listing pages are an essential for any custom eBay store because it creates brand continuity and shows customers that have found you through search what you are all about. Most people are used to eBay users selling their own personal items, when they see a real store through your custom listing page – they are much more likely to convert.
Contact OCDesignsonline for a free quote today on your new eBay design
OCDesignsonline have a wide array of eBay listing templates to choose from on the site. Take a moment tobrowse our portfolio and request a free quote. Also, don't forget to find us on Facebook, follow us onTwitter and check out our Google+ Page too!