We at OCDesignsonline love working with established companies because then we can really see how well our eBay designs can impact sales. Redesigns can change everything, even in brands that already have a reliable customer base.
Talk about a success story
Fast Coin has sold over 1 billion coins since they opened so when we found that out, we knew we had to incorporate this happy business success statistic into their header. We added the "and counting" because saying "1 billion sold… and counting" is a lot more empowering than saying just "1 billion sold." Having this slogan under their logo, right where everyone can see it, helps create a trustworthy vibe for potential customers.
In addition to this slogan, we also added memberships that this coin company is part of towards the bottom of the page so that customers that have been looking at the different categories will be reminded again of the value that our client can provide for them.
We created a logo that mimics the products sold in a non-typical way
With a coin company it is easy for designers to turn an "o" into a coin but we didn't want to go for the obvious thing. So instead we created a stack of coins as the "I" in coin and added lines to mimic movement through the word "Fast." Having a logo that connotes the tone of the store encourages sales because it gives an accurate depiction of what customers should expect.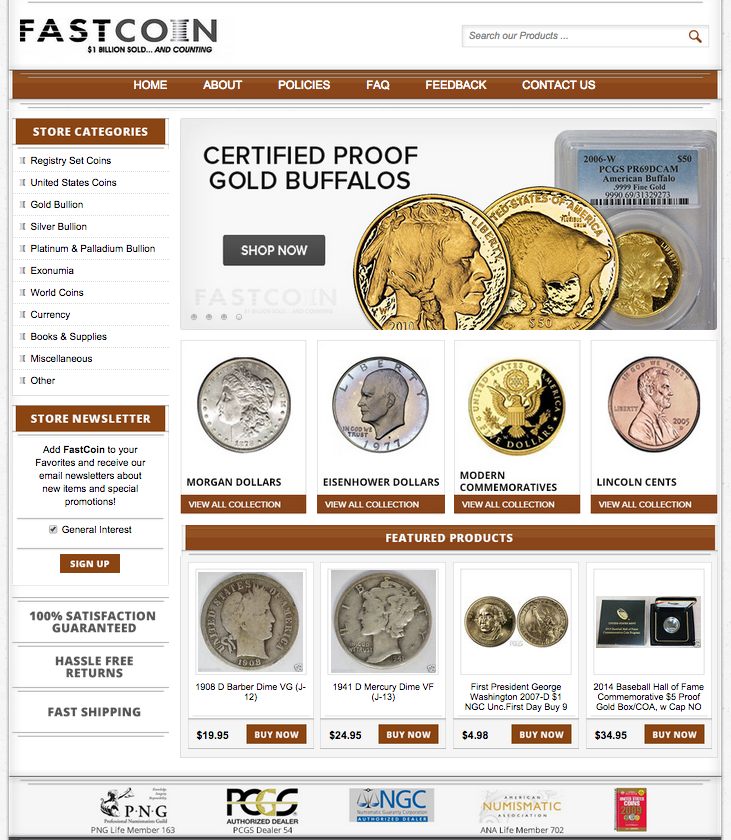 Beneath the slideshow images we also added individual coin collection images. This helps bring to the forefront particularly rare items or coins with a high resale value. Having categories brought out for more people to see also helps with sales because it helps customers, new and old, to browse. Encouraging browsing reallys helps with sales because the more a potential customers see, the more they add to their cart. We created many browsing opportunities in this design to help our client.
Contact OCDesignsonline for a free quote today on your new eBay design
OCDesignsonline have a wide array of eBay listing templates to choose from on the site. Take a moment to browse our portfolio and request a free quote. Also, don't forget to find us on Facebook, follow us on Twitter and check out our Google+ Page too!