BCBG, Betsy Johnson, Steve Madden, Kenneth Cole – all of these names are recognizable brand labels for designer goods. Many customers trust such brands because they are familiar with a reputation for quality and they want to participate in the latest trends. However, many don't have the cash flow to support designer habits. When Label Lust approached OCDesignsonline and asked us to help create a custom eBay store that would help them get designer brands to their intended customers, we were happy to help.
We used the company's logo – gold – as inspiration for the site. Throughout the custom eBay store design, we used gold, black, and gray as the main colors. By incorporating the gold throughout the site, we help to signal to our client's customers that the merchandise carried is high-quality and desirable.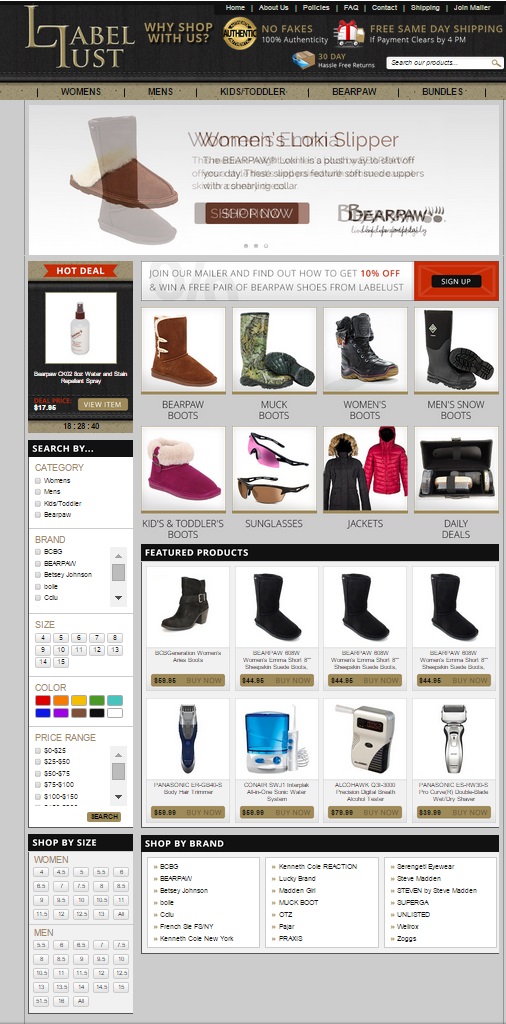 The store's header creates more desire for brands
We wanted customers arriving at the site to understand exactly what types of items items our client, Label Lust, was selling. The very top of the page features the store's logo, a 100% authenticity guarantee and other unique selling points, a menu directing customers to information about store policies, and a search bar. We then created a drop-down menu where customers can mouse-over to select different search filters. Finally, we included a slideshow header image featuring different designer products to help draw customers into the store.
We created a custom search sidebar and category images to help sell
The sidebar is custom-tailored to help customers with their search filters. This way, customers can really tailor their experiences on site. Whether a customer is looking for a particular brand, size, or style, it's easy to find products fitting the description. Category images help direct customers to the products they're searching for as well.
Custom category pages help brand this eBay store design
In addition to spending time on the landing page for our custom eBay store design, we made sure to pay attention to the category search pages. Customers will find the same helpful sidebar on each page, and they will be able to hop around the site using the dropdown menu as well. This creates a streamlined experience for our client's target market.
Deals of the day and featured items help boost impulse shopping
Finally, we created a "Hot Deal" box for our client and a space on the landing page for featured items. The hot deal box is viewable on the main page and all search pages. It allows our client to feature a special sale item for a limited time to lure customers in. By changing out the hot deal or featured items on a regular basis, our client can boost the store's bottom line.
Let OCDesignsonline create a custom eBay store design for your business
At OCDesignsonline, we have a large selection of eBay listing templates from which our clients can choose. Feel free to browse our portfolio, and when you see something you like, request a free quote. You can also follow us on your favorite social media site. We're on Facebook, Twitter, and Google+.