As the dead of winter approaches people start to wish for Spring to show its face. Lawns slowly go from brown to green and gardens start to show life again. Keeping up with the Joneses doesn't necessarily mean always having the biggest house or the most expensive car. It can be as simple as having the most beautiful lawn on the block. Sprinkler Supply Store aides in making lawns stay green and lush. Scrubs grow high and thick and flowers add a touch of color to the home. The store partnered up with OC Designs Online for a custom eBay store design and now watering around the house is a cinch.

The header of this eBay shop design takes a customized look to a new level! The store name can be found in a bold font in the left hand corner of the storefront. A sprinkler sprays water across the logo while watering the information panel made of grass. On the right hand side of the header a satisfaction guarantee and super fast delivery emblem are stamped into the light blue background resembling the sky. Meanwhile, the grassy information panel hosts tabs in a bold font so customers can become better acquainted with the store. Customers can review store policies, FAQs and have access to customer support all within first glance at the online shop.

The midsection of this eBay store design shows off brand names and store categories. Four large square tabs line up across the page with an image to represent the products. Visuals make it easier for customers to identify what they're looking for but the category panel on the left hand side provides a simple list for sorting through items. Beneath the category tabs customers can review top brands carried by the Sprinkler Supply Store. The shop has the largest available inventory and there's no shame in letting customers know they can to the right spot!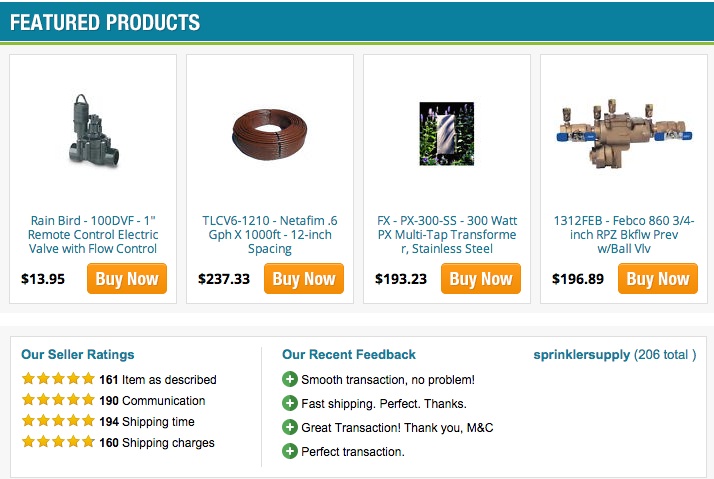 The footer of this eBay shop design throws specific products into the spotlight with a Featured Products section. Shoppers are more likely to purchase using the Buy Now tab when reviewing the previous customer feedback right below the product panel. The shop is no stranger to a 5 star rating and they're happy to prove it!
OC Designs Online has a variety of eBay templates for any occasion. You choose the layout and OC Designs Online finds an exciting presence to your shop. Take some time to browse our portfolio of store designs, and then request a free quote. If you have any questions feel free to ask!
Don't forget to find us on Facebook, follow us on Twitter and check out our Google+ Page!