As the winter temperatures drop, cars are heating up to take on the road and slick surfaces. Icy windows are defrosted, exhaust from the car mimics the driver's breathe in the cool temperatures and the engine heats up for a smooth and comfortable ride. It's at Target Automotive that customers find radiators to keep their automobile at the perfect temperature. The shop recently took on a custom eBay store design with the assistance of OC Designs Online. Shopping for cooling devices at Target Automotive is now simplified to the point where customers can find what they need with ease and speed!

The header of this eBay shop design suggests customers stay cool with an easy-to-use information panel and advanced search section. Customers can find information about the shop, FAQs and store policies in the top panel. However, for a quick overview of what the store has to offer make, year and model wise, customers can turn to the advance search section! Drop down menus make selecting the items easy! Simply hit the blue "Search" tab and results will come up in a matter of seconds!

The midsection of this eBay store design introduces customers to the shop and allows them to see customer support is a top priority for Target Automotive. A large, high resolution image takes up 2/3 of the screen to draw customers into the shop. The left hand panels have a neon blue title tab to make the subjects pop from the screen! Online shoppers can browse store categories and even stay in the loop with a store newsletter. It's easy to Stay Cool with the right radiator and Target Automotive will go out of their way to make sure customers leave with the correct product in the mail!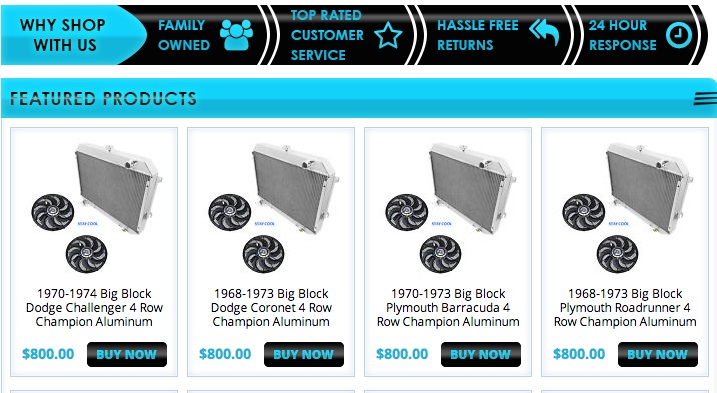 The footer of this eBay shop design is designed to keep products in front of the customer! Four individual tabs line the bottom of the storefront with each one hosting a high resolution image of the item up for sale, a brief description, a price and an option to purchase the product instantly! This section heats up with sales and afterwards customers will find it easy to cool down!
There's a variety of eBay templates to choose from and each layout comes with a custom look for the shop. OC Designs Online invite you to browse our expanding portfolio and request a quote to learn more. We customize each template and make it specific to your shop!
Don't forget to look us up on Facebook, follow us on Twitter and check out our Google+ Page, too!