Sometimes it's pretty difficult to remember dates. A trivia question may get you wondering what year the original Superman came out in theaters. A trip to your favorite Asian restaurant may have you wondering if 2014 is the Chinese year of the horse. It's at Volition Metals that the answers come on silver, copper and nickel. The store recently implemented a new customized eBay store design with the help of the graphic designers at OC Designs Online. Shopping for coins and collectables is easy and simple with their new classic storefront. 

Whether it's heads or tails someone is likely to win, but at Volition Metals the shop is winning with the above header in their new storefront. The eBay shop design has a header that glistens with all shades of silver.  The logo has a strong presence in the top left hand corner building a strong brand identity. Beneath the logo is an information panel that stretches across the page. Online shoppers can read up on the shop, their store categories and other miscellaneous information. If the customer knows exactly what they're looking for they can find a search tab in the far right corner. This often allows customers to cut to the chase and find the metal or coin for them!

The midsection of this eBay store design scrolls through four different images to alternate between topics and products. The above example highlights a 75th Anniversary Superman Series. The "Start Shopping" tab enables the customer to lift off to gain further information about that specific product!
On the left hand side of the midsection is a category column. Customers can browse gold, copper and world coins by simply clicking the category of their choice. The column is a simple solution for quick and easy browsing of the shop!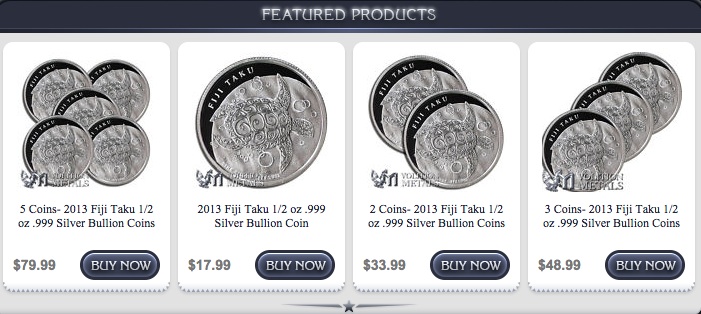 The footer, or shall we say 'tails' to this eBay shop design highlights individual products at the shop. This section is perfect for stores wanting to highlight discounted, sale or unique items within the store. Each tab comes with a clear visual, brief description and an tab to "Buy Now."
OC Designs Online has a variety of eBay templates for any occasion. You choose the layout and OC Designs Online brings a new exciting presence to your shop. Take some time to browse our portfolio of store designs, and then request a free quote. If you have any questions feel free to ask!
Don't forget to find us on Facebook, follow us on Twitter and check out our Google+ Page!