It's that time of the year. The time when the aroma of BBQ wafts through the summer breeze and neighbors peer over the fence to see what's cookin'! Grills get dusted off and come out from hibernation from the garage making every member of the family grin with delight. Hot summer days are about to get even hotter with Flame King's new eBay store design brought to you by the experts at OC Designs Online.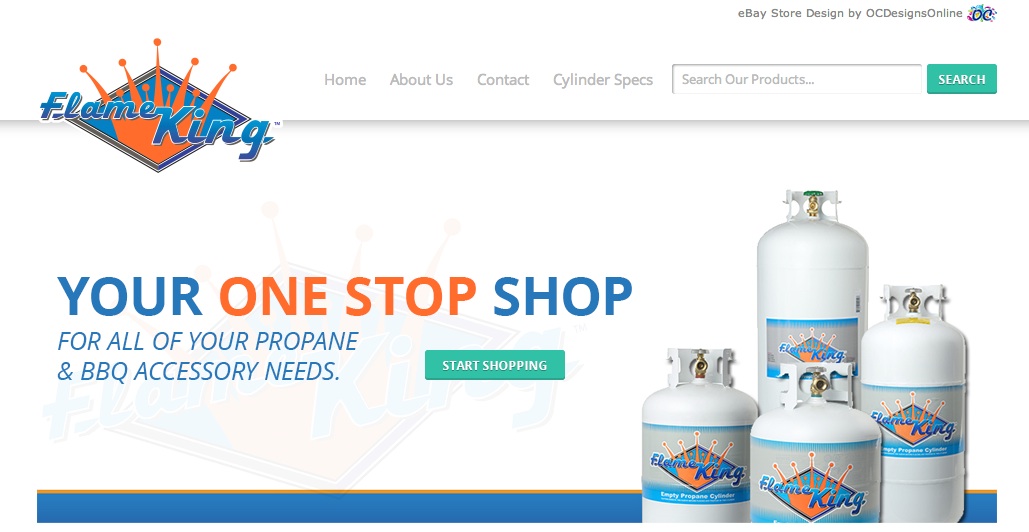 The welcome pane greets online shoppers instantly with the fiery crown logo in the top left hand corner of the page. In bold letters reads "Your One Stop Shop" letting every customer know they've reached a shop that can meet all of their propane and BBQ accessory needs. Directly to the right is a picture of 4 different propane tanks varying in size showing there's a tank for every occasion. This eBay template offers a green "Start Shopping" tab to take customers to propane and accessory products instantly for convenience.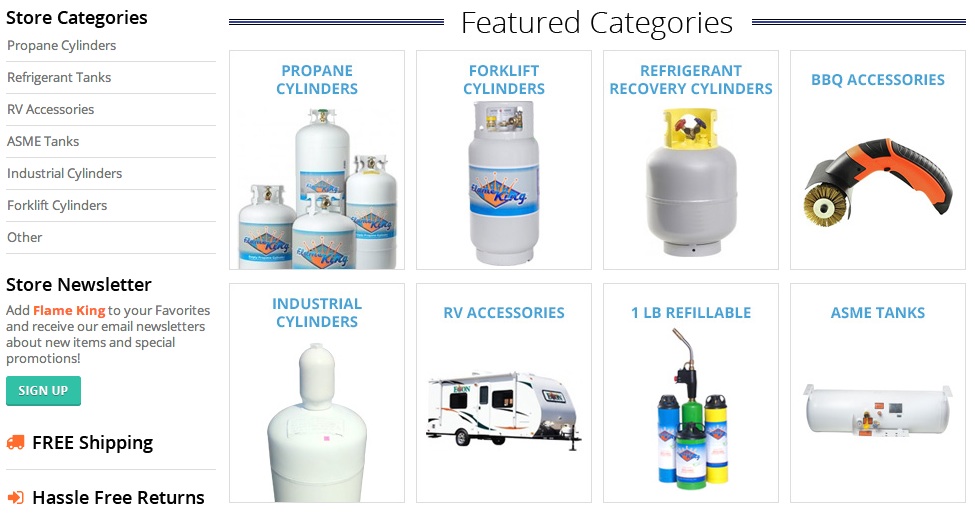 After scrolling down slightly customers reach the midsection of this eBay shop design. This area contains tabs for each category on the site. Online shoppers can scroll the panel on the left hand side which features categories such as propane cylinders, RV Accessories and industrial cylinders. This eBay template also contains more visual tabs slightly to the right. Each tab encompasses a picture along with the category labeled in a blue font for customers to click on for instant access to the products of their choice. This dual search midsection brings convenience and ease to customers and makes a specific search one click away.

Lastly, this eBay store design highlights "Featured Products" for Flame King. This area spotlights best sellers and products with the most views to introduce online shoppers to products in high demand. This feature can not only introduce customers to potential wants and needs but can also be convenient to customers who have their eyes set on that high demand product. Adding a product to the shopping cart is now as easy as viewing the main page for Flame King. Once the "Buy Now" tab is clicked, checking out and shipping options are only a page away.
Partner with OC Designs Online for a one-of-a-kind custom design that meets your needs as well as the needs of your shoppers. Take some time to browse our portfolio of dazzling store designs, and then request a free quote.
Don't forget to find us on Facebook, follow us on Twitter and check out our Google+ Page!