Click! The high definition resolution built into top quality cameras today lets the family reminisce on family vacations without having to worry about whether or not the moment was captured in its entirety. As technology evolves things only seem to get easier and matters just got simpler for Hot Deals Electronics! The eBay based store just partnered with OC Designs Online for a clean, sleek and simple look much like the products they offer on their online shop.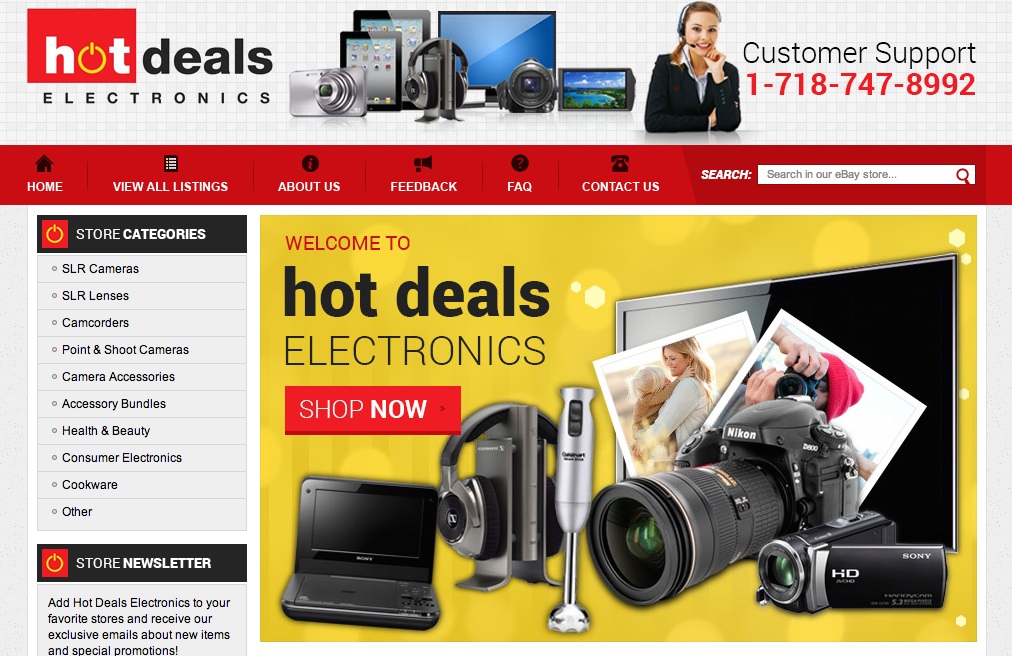 At first glance customers are greeted with the welcome pane which showcases the company logo to the left and customer support number on the right hand side. This eBay template enables customers to become familiar with the store while showing customers the company is upfront about top quality customer support. If a shopper has any questions or concerns all their inquiries can be answered by a representative without having to search for a number on the site.
Directly below the logo and customer support number on this eBay Shop Design is a red panel highlighting categories that introduce the customer more in-depth to Hot Deals Electronics. Tabs such as "About Us," "Feedback" and "FAQ" are readily available at the top of the screen which may eliminate the need for a call to the store's customer support line.
The large yellow panel on the welcome screen greets the customer and offers a glimpse into the wide array of products on the site. This eBay Store Design offers a convenient "Shop Now" button enabling customers to get directly to their search for their next hot deal.

This eBay Shop Design has a midsection that focuses on some of the top categories on the site. This allows online customers to start browsing their favorite electronics and enables them to skim over their options. The eBay template offers four categories to choose from and displays a picture of the product making each option clear and precise to the shopper.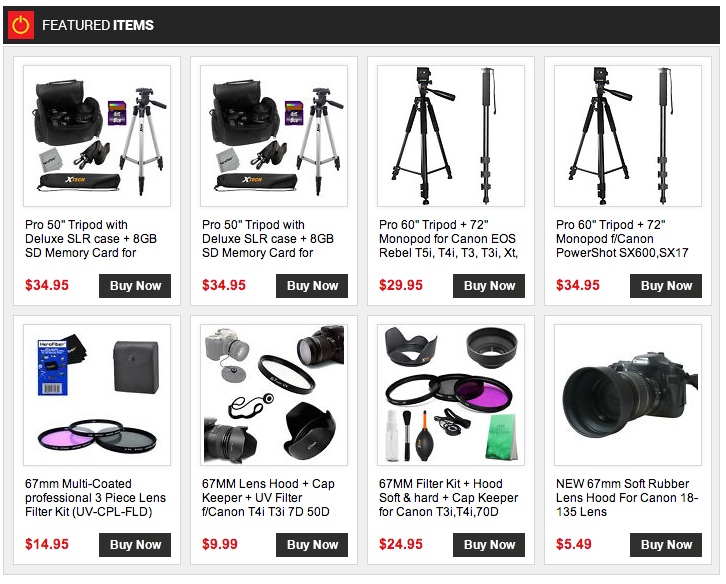 Nearing the end of the page the customer is introduced to the "Featured Items" section. This area spotlights products that are in high demand on the site and that have the most views. If the customer is on the market for a new tripod they can see which tripod is most popular with other online shoppers. If it seems like the perfect deal for them all they have to do is select the "Buy Now" tab in the lower right hand corner of the tab and the customer will be directed to the checkout screen.  This feature makes checking out and online purchase through the site seamless and convenient!
We invite you to browse our expanding portfolio of beautiful designs and request a quote to learn more. Don't forget to look us up on Facebook, follow us on Twitter and check out our Pinterest boards, too when you have a moment!