Music is one of the most universal experiences a person can have. Whether played or merely listened to, it can evoke a multitude of emotions that flood your mind with memories. How many times have you listened to a song and been instantly brought back to a time in your past, remembering everything you were thinking and feeling in that moment?
Total Music Source understands the powerful pull music has over us. By teaming with the web experts at OC Design Online, they are now able to bring their collection of musical instruments and accessories to a wide array of audiences with this custom eBay Store Design.

The storefront opens with a simulated concrete backdrop and monochromatic color scheme- perfect for something as cool as a music store! Our designers kept the housekeeping at the top, placing the main navigation bar above the custom logo. On either side, customers have the option to select specific brands which are listed in alphabetical order in the drop down menu, or type in keywords or phrases into the search bar.
Next, a red ribbon of instrument types and accessories sit atop reasons to shop with Total Music Source including its family owned and operated status, customer support from real musicians, same day shipping, and manufacturer authorization. A vertically moving ban of brands and logos draw shopper's eyes down.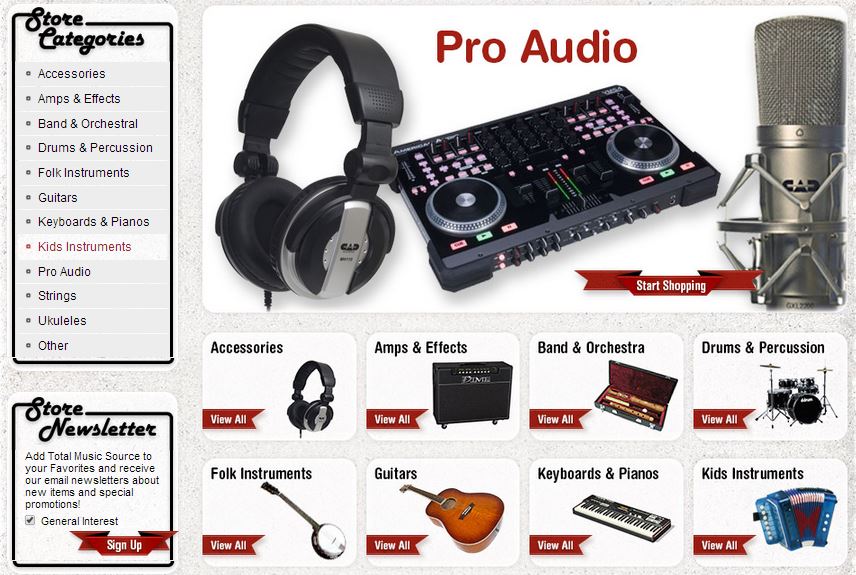 In the midsection, a list of vertical store categories in the left sidebar cover everything from amps to ukuleles before inviting customers to sign up for the store newsletter- a standard with our custom eBay Shop Designs.
Directly right, the welcome message screen automatically rolls through various collections of store merch, seamlessly advertising as shoppers browse their selections.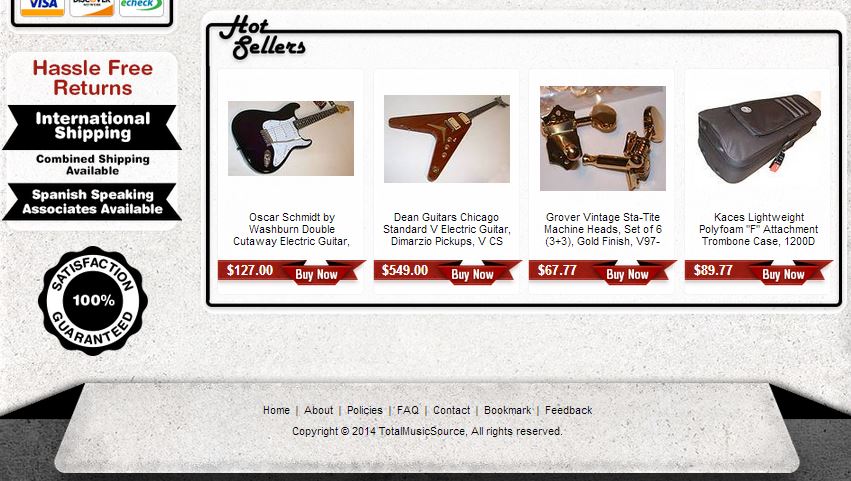 A list of 'hot sellers' is a great way to maximize specific listings. Here, our eBay Template includes a photo of the product for sale, a brief description and sale price.
The left sidebar closes by making sure shoppers know Spanish speaking associates are available upon request.
Let OC Designs Online show you what a carefully crafted eBay Store Design can do to boost your site traffic! We are experts in the template designs guaranteed to grow your online business and we invite you to browse our ever-growing portfolio.
Contact us about your eBay store design—it's easy to request a quote!
We invite you to like us on Facebook and don't forget to follow us on Twitter!