Although exercise is critical for health, running and high impact sports like soccer or basketball require special gear to keep the body from sustaining injury. Those that have active lives and strict workout regimens are in constant search of quality active wear that won't break the bank.  Or perhaps you're looking to get back in shape after a long hiatus?
No matter your reason, All Sportswear USA has the gear you need to support your active lifestyle. With a convenient and easy to navigate eBay Store Design, shopping online is simpler than ever. Check out what OC Designs Online has whipped up!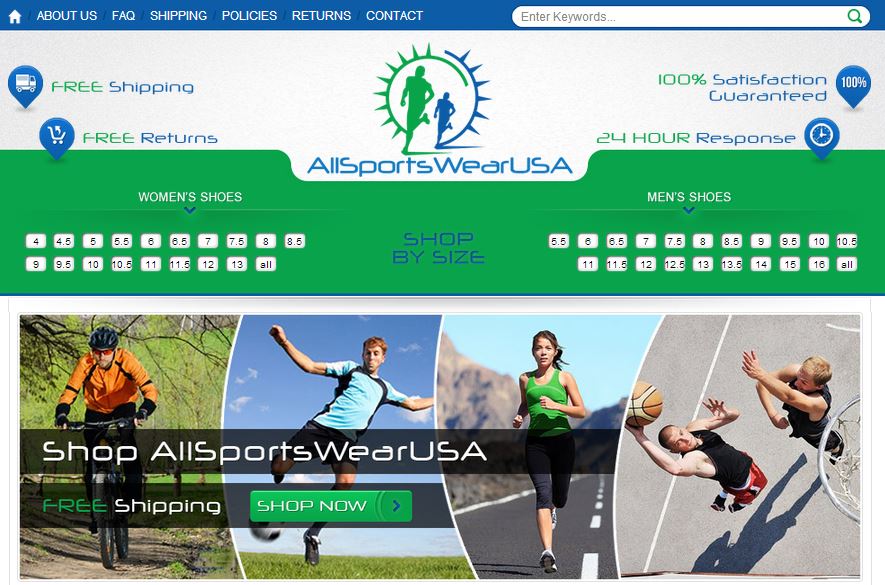 By placing the main navigation bar at the top of the shop, our designers left ample room for the great deals below. With a brief introduction to the company back story, frequently asked questions, shipping and return policies, as well as contact information shoppers have easy access to company essentials.
Directly right, a custom search bar makes it easy to seek out specific brands or items by entering a keyword into the field.
Next, a quadrant of graphics advertising the store's free shipping & returns, 100% satisfaction guarantee and 24 hour response surround the All Sports Wear USA logo.
After selecting your shoe size in the chart below, our custom eBay Shop Design continues with a wide angle shot of athletes buzzing around a green 'shop now' button.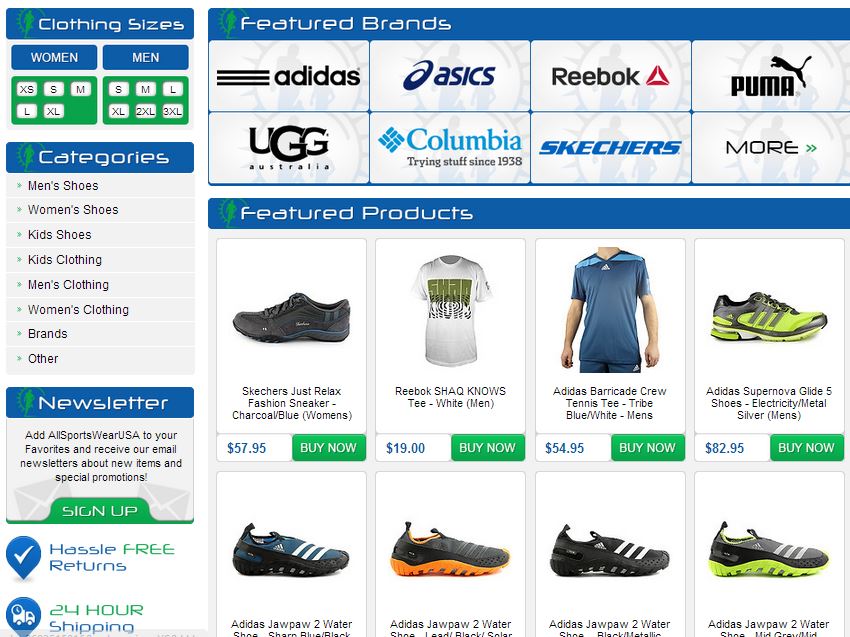 In the midsection, a cluster of featured brands boasts highly recognizable logos for sports giants such as Adidas, Reebok, Puma, and more, while an eight panel spread of featured products showcase some of the shop's best sellers.
The eBay Template continues along the left sidebar where shoppers can select clothing sizes or peruse store categories, before electing to sign up for the store newsletter.

Finally, our eBay Store Design comes to a close with a custom footer to round things out. Here, shoppers can easily see which payment methods are accepted and find key store information including FAQs, policies and contact information.
Are you ready to take your ecommerce site to the next level with a custom eBay Shop Design? OC Designs Online can help!
Be sure to browse our portfolio and then request a free quote to ensure you capture the audience you want and sell more than ever with our smart and effective storefronts.
Don't forget to follow us on Facebook and Google+ and be sure to check out our Pinterest page!