Accessories are powerful pieces that can help you change the entire look of an outfit. If done well, they can actually help you save money on clothes as they have the ability to dress an outfit up, down or anywhere in between and make it uniquely your own.
Perhaps the largest selection of accessories can be found online. With more and more people flocking to the internet to do their shopping, Lux Accessories recently hopped aboard the ecommerce wagon, entrusting the professionals at OC Designs Online to craft them a custom eBay Store Design.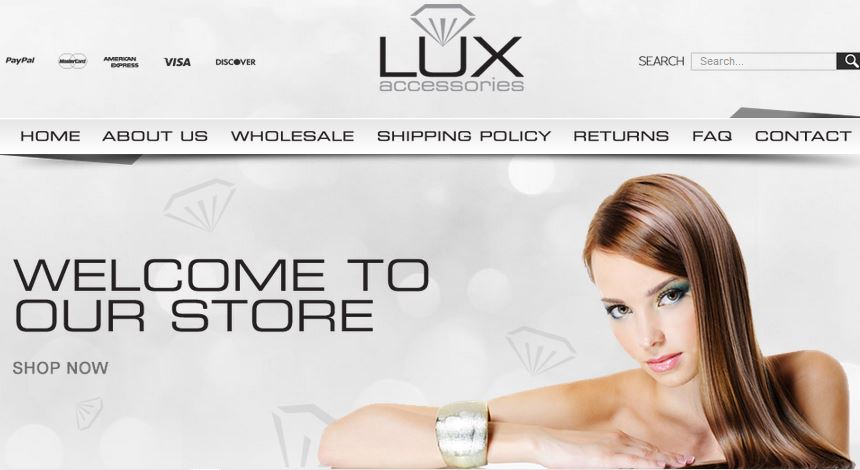 Upon entry, payment logos in the top left corner encourage shoppers to get the credit card of their choice ready to complete their haul. Centered at the top of the header is the Lux Accessories logo, with a custom search bar positioned directly right. Here, customers can single out items of their choosing with keywords or phrases.
The clean navigation bar below introduces shoppers to the company's story, lists options for wholesale merchandise, details the shipping and returns policy, covers FAQs and provides contact info.
Next, this custom eBay Store Design uses a high-res, wide angle shot to welcome buyers to the store with a dazzling model and jewelry ambassador, encouraging them to 'start shopping' my clicking anywhere on the feature.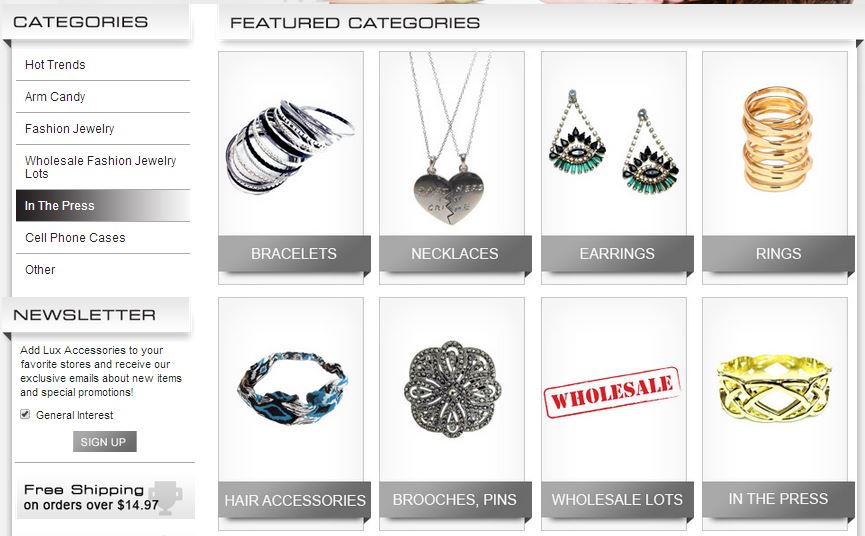 In the midsection, store categories are listed in a vertical space in the left sidebar. Along with specific types of jewelry, you can also see Lux Accessories' press. Below, our designers have included an invitation to join the newsletter in this custom eBay Template.
In a 4 X 2 spread of 'featured categories', listings for bracelets, necklaces, earrings, rings, hair accessories, brooches, and wholesale lots lead shoppers to the full inventory stock.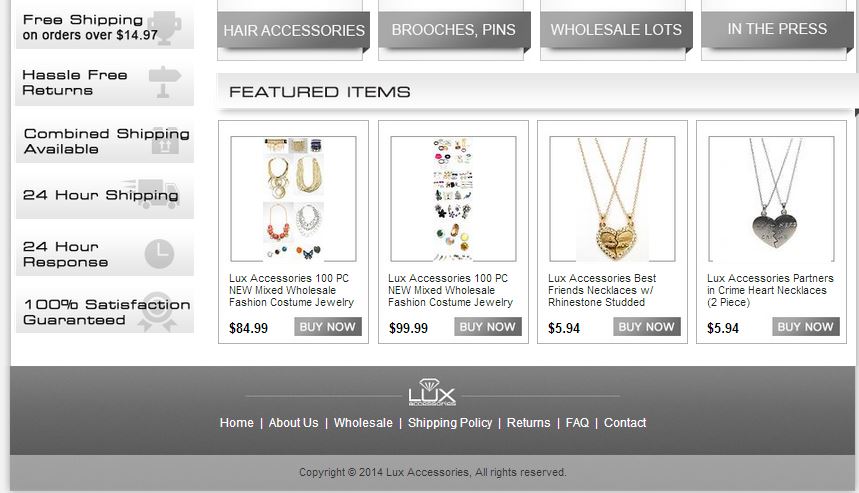 As a courtesy to shoppers, we've included reminders about the shop's top policies including free shipping, hassle free returns, combined shipping, 24 hour response and a 100% satisfaction guarantee.
The four remaining featured items showcase special finds and are posted complete with description, price and image of the item up for grabs. A custom footer brings the eBay store design to a close with a mini sitemap of key company info.
OC Designs Online enjoys the challenge of piecing together eBay shop designs with a big presence and even larger inventory.
Check out our portfolio for more samples of our work then request a quote. Stay connected to OC Designs Online and check us out on Twitter and follow us on Facebook—be sure to find us on Google+!