According to a 2012 study, Americans spend more than $25.4 billion per year on Professional Sports. Realizing the potential of this lucrative market All 4 The Sports Fan decided to take their wares to the web. Now, avid sports fans have an easy to navigate platform from which to support their favorite teams.
Our professional web experts at OC Designs Online customized the following eBay Store Design, now they're selling like never before- even during off season!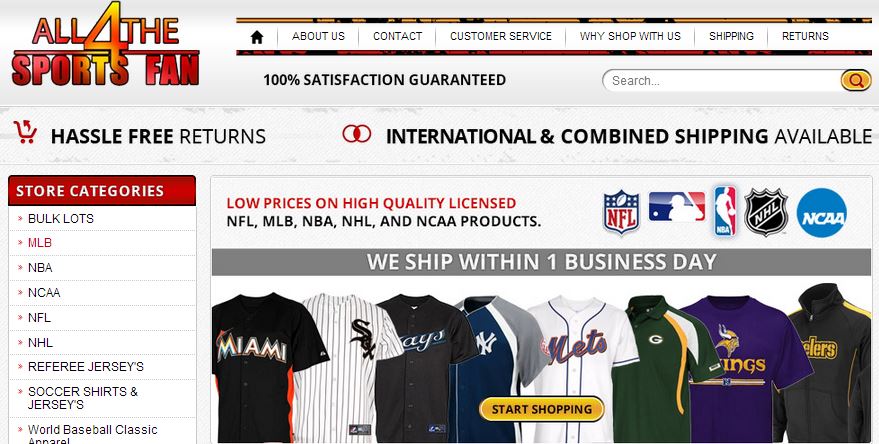 Kicking off this playful eBay Shop Design is a seven tab navigation bar with links to the company back story, contact info, customer service options, reasons to shop, as well as shipping and return policies. With a 100% satisfaction guarantee and a custom search bar, shoppers can make their way to all the inventory below.
Several store categories including sections for MLB, NBA, NCAA, NHL and more take up residence in the left sidebar. Directly right, our designers have highlighted their promise of low prices on high quality licensed products and have added their logos for added emphasis.
Knowing that products will be shipped within one business day, customers are invited to 'start shopping' against a backdrop of popular teams and jerseys.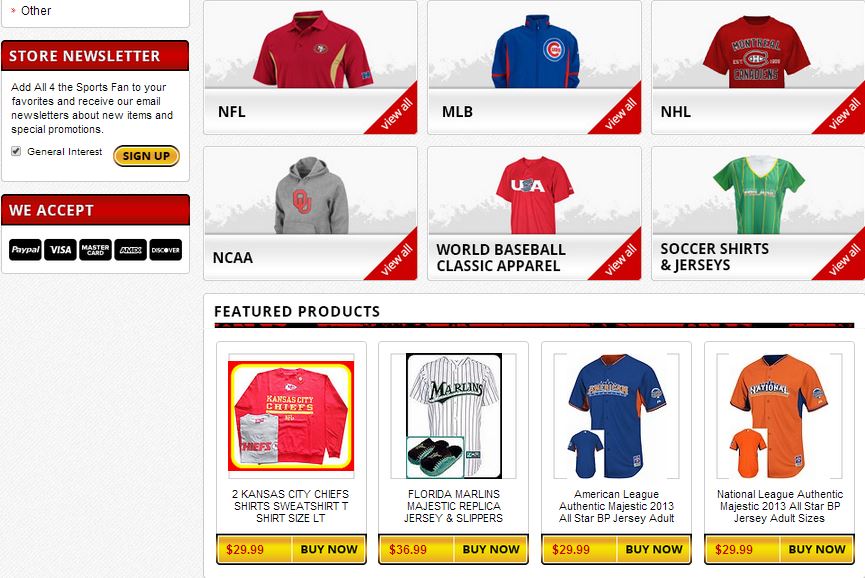 Store categories continue with a 3 X 2 panel of merchandise with the usual suspects along with world baseball classic apparel and soccer shirts & jerseys. By clicking anywhere on the field, shoppers will be transported to a host of inventory stock.
Below, four 'featured products' are showcased in a special section complete with detailed descriptions and a hi-res image of the item.
Back in the left sidebar, the section comes to a close with an invitation to join the store newsletter- a standard with our custom eBay Templates– and a list of accepted payment options.

Closing out All 4 The Sports Fan eBay Store Design is a custom footer. Here, we've included a mini sitemap with links to the home page, the company's story, contact information, customer service options, and store policies on shipping and returns. To solidify brand recognition, we've also utilized the colorful logo as the last piece the customer sees before leaving the storefront.
No matter what you sell on eBay, at OC Designs Online, we want you to dominate your market niche. That's why are our eBay store designs are so affordable. We also offer ecommerce store solutions with matching eBay listing templates.
Take your store to the next level and request a free quote from OC Designs Online, browse our portfolio where you can visit our store creations live and be sure to visit us on Facebook!