Electronics rule our world. With few exceptions its rare to go a day without encountering at least one, and likely several. From the time you wake up and shut your alarm off to the time you punch the clock and drive home tuning the radio or adjusting your ipod, they're constantly around us working for our benefit.
Recognizing the ubiquitous nature of our gadgets, Futuretech Liquidations decided to take their inventory stock to the web. With a custom eBay store design courtesy of OC Designs Online, everything from computers, to MP3 players, to scanners, digital cameras and beyond can be acquired with the click of a button.

With black and grey-scale background illuminated in copper modeled to imitate electronic wiring, the eBay shop design is themed to reflect all the products offered within.
A custom search bar is nestled between graphics promoting Futuretech as a trusted eBay seller since 2004, and highlighting its 1000's of parts. Underneath, a main navigation panel leads shoppers to company information, a tab housing all listings, FAQs, feedback and contact info.
A scrolling pane follows with a moving logo to display some of the most recognizable brands in the electronics world including dell, IBM and Sony, ensuring customers are dealing with only the most reputable of companies.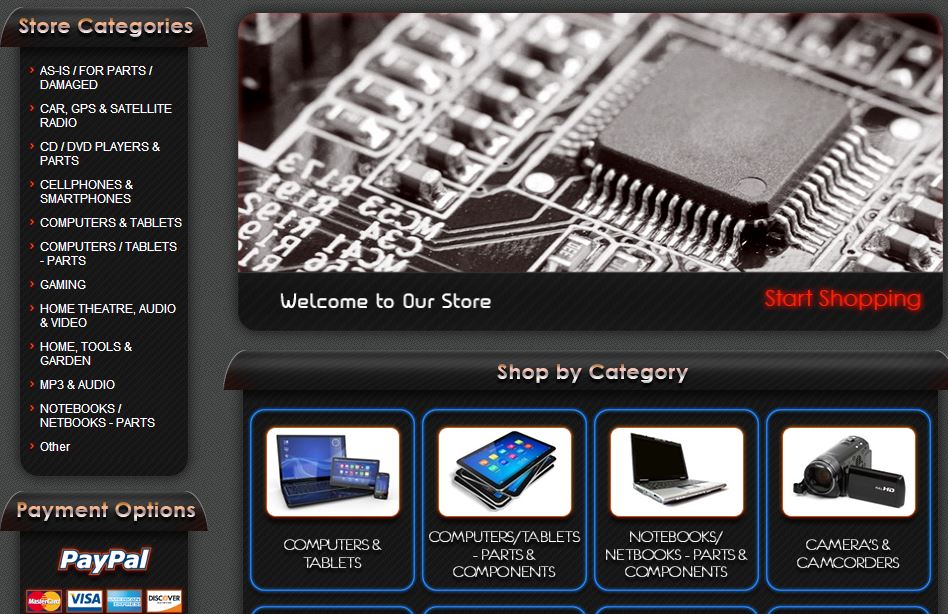 Next, our eBay template offers thorough and organized lists of store categories providing shoppers two ways to browse. The listed tabs in the left sidebar cover an extensive array of options all linking to expanded selections, while a 4 X 2 spread of hi-res images inform the more visually inclined buyer.
A list of payment options follow and include eBay affiliate, PayPal, making completing purchases a cinch.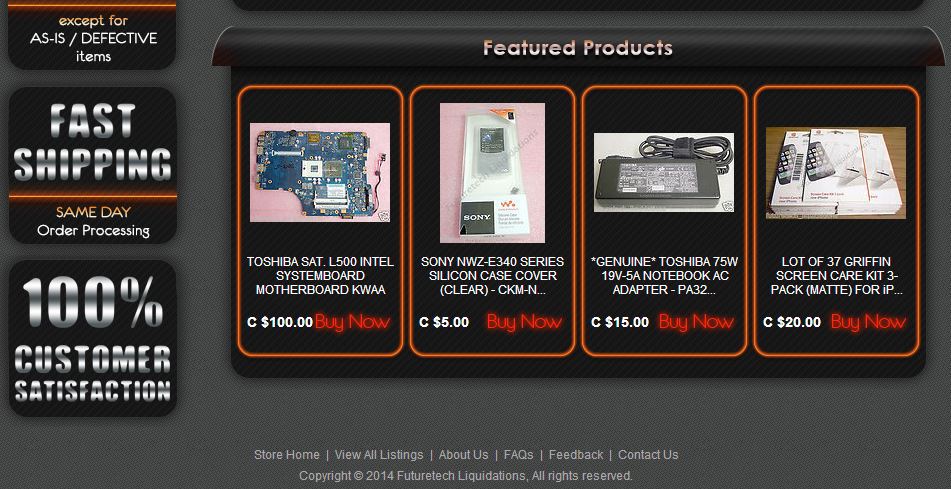 The left sidebar wraps with the promise of fast shipping and same day order processing along with a 100% customer satisfaction guarantee. And, with the exception of as-is or defective merchandise bought at a discount, any necessary returns are accepted hassle free.
A four-pane spread of featured products completes the eBay store's midsection, offering customers specialized products for a steal!
Your eBay shop deserves a storefront that is eye catching and one of a kind. Why not consider expertise from our web gurus at OC Designs Online? We invite you to browse our expanding portfolio of stunning designs and request a quote to learn more.
Don't forget to look us up on Facebook, follow us on Twitter and check out our Pinterest boards too!