It's a known fact that all work and no play make you dull boy…or girl. That's why Australia-based family manufacturing and retail business, Oz Lifestyle and Living, mobilized to bring work-life-balance down under with this eBay store design.

Don't let the cool, relaxed green and blue color pallet fool you. This storefront is chock-full of family fun. It's also got the 100% satisfaction guarantee to prove it.
Due right of this is a custom search bar for shoppers to target specific buys, a contact tab linking directly to your email and an invitation to add the eBay shop to your list of favorites. A rotating, hi-res image in the left corner sets the tone for the site, offering scenic depictions of life in Oz.
Closing out this section is the site's main navigation panel with tabs to cover all your queries including company information, feedback, why buys, FAQs, all listings, payment terms, policies and ways to contact.

A vertical list of store categories clearly display multiple options and product specifics for fun-seekers. Along side, the main feature highlights recently re-stocked merchandise and notable deals. By clicking the grey right/left arrows at the bottom, visitors can easily scroll through the three product panes.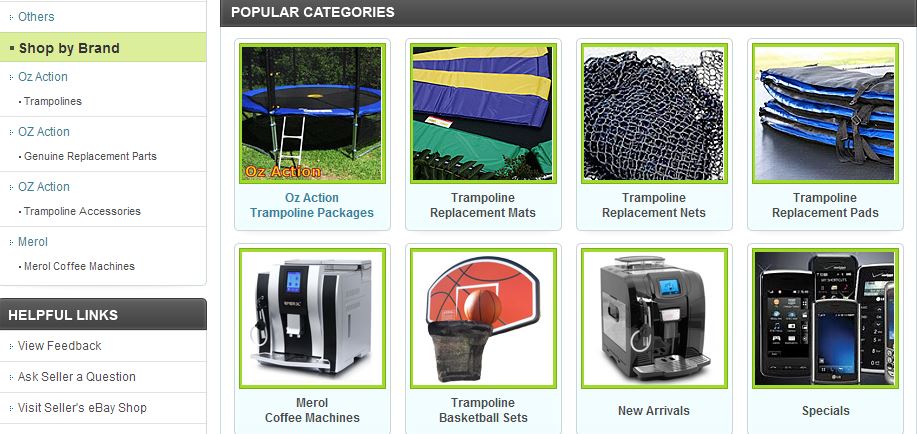 Those who prefer to online shop by brand may do so by accessing the tabs in the sidebar, while a helpful links section is available to anyone needing assistance or looking to review feedback.
As is customary with our eBay template designs, the 'popular categories' field organizes two rows of four product designations, including a section for new arrivals and specials.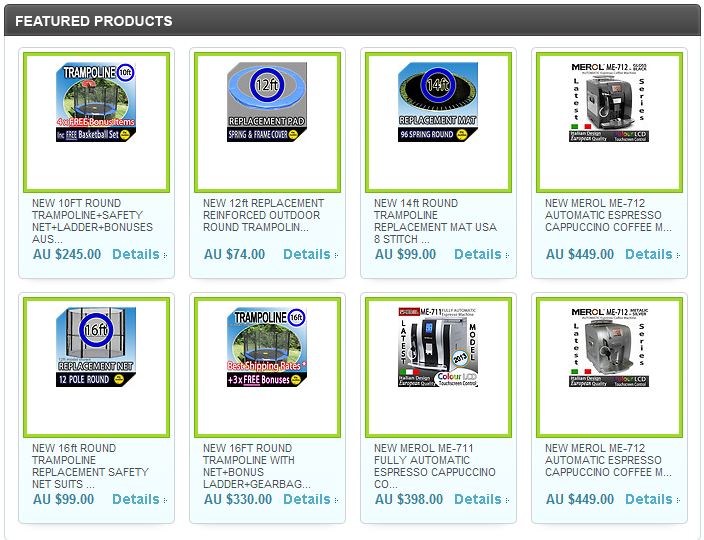 Below, this eBay store design's midsection is devoted to 'featured products' which can be easily changed out depending on the season or customer demand. Each includes the price and a short description with the option to view details by clicking the link in the bottom left.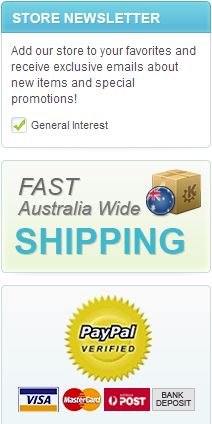 There is arguably no more effective tool than direct marketing.
That's why we are always sure to include the option for customers to sign up for the company newsletter and be the first to receive updates on deals or promotions.
Reinforcing the shipping policy is also key in letting your customers know they won't be kept waiting on their purchases!
Finally, a prominent PayPal verification logo leads the way, with acceptable payment options to follow.
Rounding out the site is a custom footer, bathed in pale blue. Repetition of the store logo helps solidify brand recognition, while a mini sitemap helps ease customer navigation issues.

Whether you are "Down Under" like Oz Lifestyle & Living or have a U.S. based eBay store, OC Designs Online can create the perfect  eBay shop design for you, too! Please browse our impressive portfolio of inspired designs and request a free quote to learn more.
Don't forget to look us up on Facebook, follow us on Twitter and check us out on Google+.