For over 10 years, customers all over the world have looked to Australia-based Ivory & Deene for quality housewares of all varieties. While the small family business operates through various traditional business channels they recently called on the experts at OC Designs Online to craft them a custom eBay store to better serve their customers.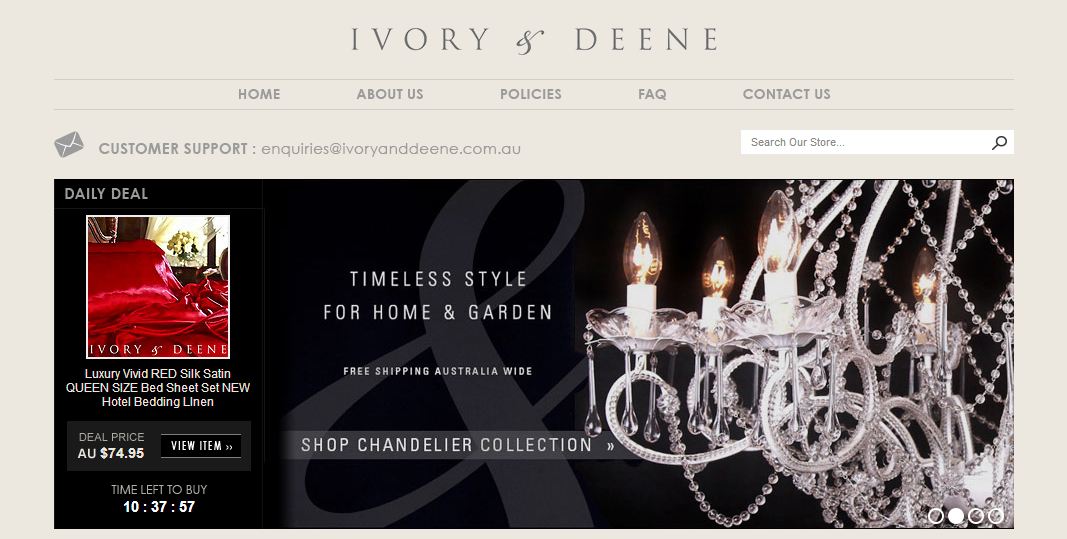 The overt sophistication of this eBay shop design is obvious upon entry. The simple, classic logo sits atop a beige navigation bar offering shoppers the ability to review the company's back story, its policies, FAQs, or contact information. A customer support email and target search bar reside just below, increasing the navigability of the storefront.
A daily deal feature boasts luxury products at a fraction of their normal price. With a clock counting backwards down to the special's expiry, buyers are such to mobilize under this sense of urgency.
Tactfully placed imagery of a chandelier effectively promotes "timeless style for home and garden" and free shipping Australia-wide.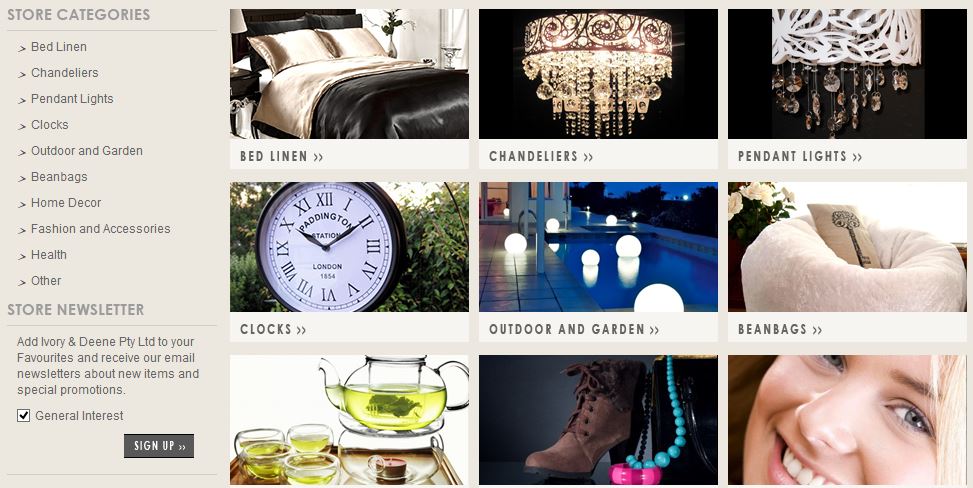 Next, the sleek eBay template displays store categories which are organized in two, easy-to-navigate ways. The first of which appears in a vertical panel of clickable category links in the right side bar. The second visually underscores products and housewares of all kinds including bed linens, chandeliers, pendant lights, clocks, outdoor/garden and more.
By inviting shoppers to sign up for the store's newsletter, sales and promotions will reach your most valued customers.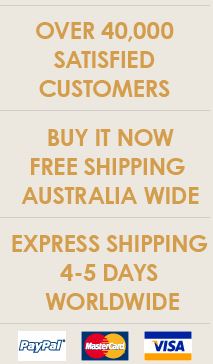 However, making sure buyers are clear what sets you apart from your competitors is equally vital in today's online market.
Here, we were sure to touch on the fact that over 40,000 customers have walked away satisfied.
And making sure buyers know that they won't be charged for shipping within Australia allows them to put their money towards their primary goal of decorating their home!

Maximizing the exposure of your featured products is easy with this four panel spread in the midsection of our eBay store designs.

Wrapping it all up is a cinch with our custom footers. A mini sitemap directs buyers to links which can answer their every query, while the classy logo drives brand recognition.
Whether you want an eBay shop design that is classy and elegant, tough and rugged or anywhere in between, OC Designs Online can help. Please look through our increasing portfolio of impressive designs and request a free quote to learn more.
Don't forget to look us up on Facebook, follow us on Twitter and find us on Google+ too!