All it takes for something to stop working is one part of the equation. A single piece or part and everything can fall out of whack. It's at HL Supply that chain saw and engine parts are up for purchase at remarkable deals. Fixing that pesky problem is a cinch now! The store has everything from oil pumps and lines to Honda GX Engine items. There's a clearance section too that's easy on the wallet. The store teamed up with OC Designs Online for a custom eBay store design that makes browsing for machinery and parts a breeze. The custom layout allows online shoppers to skim over categories, search by brand and review featured products all on the main page.

The custom eBay shop design ignites the desire to shop at HL Supply and look into information about the shop. The header hosts a blue information panel with individual tabs. It's here that shoppers can gain access to customer support, store policies and clearance items. The end of the blue panel stops at a grey tab that allows customers to shop for specific products as well. The custom search saves time and simplifies shopping!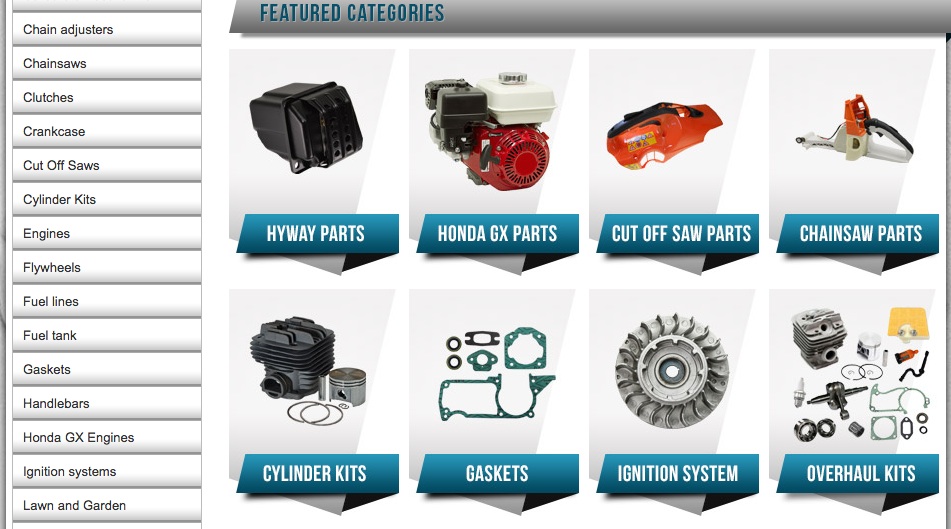 The midsection of this eBay store design is dedicated to store categories. The main portion of the midsection hosts tabs that contain visuals to make finding items easier. A blue banner that mimics the blue panel in the header lies at the bottom of each tab to title each category. OC Designs Online knows that online shoppers are visual shoppers and this section makes browsing for products more compelling! Those customers who like a simple list format can use the panel to the left. The store was designed for both types of customers!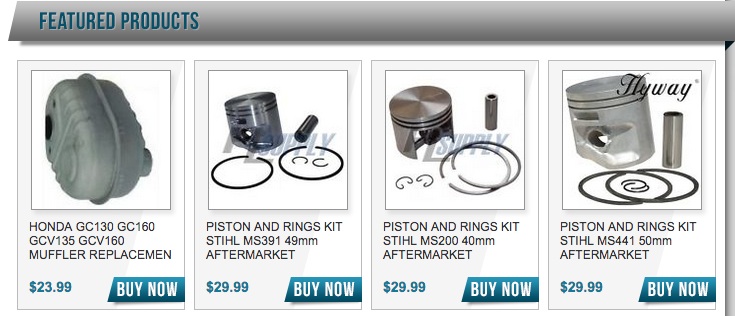 The footer of this eBay shop design has a custom featured product section for showcasing certain products for sale. Four tabs all contain a high resolution image of the product, brief description, price and option to buy the product instantly. The shop is able to highlight deals, items easily overlooked or simply show off new inventory in this area. Piston and ring kits and muffler replacements all fall under thirty dollars!
OC Designs Online have a wide array of eBay listing templates to choose from on the site. Take a moment to browse our portfolio and request a free quote. Also, don't forget to find us on Facebook, follow us on Twitter and check out our Google+ Page too!