With the holidays rapidly approaching, toy makers are working overtime. Whether the special little guy or gal in your life is taking another trip around the sun, celebrating holidays with loved ones or just needs to be rewarded for a good report card, Funstuff ie is your one-stop shop.
To expand their reach, our professional web crew at OC Designs Online crafted this custom eBay Store Design which is both a cinch to navigate and buckets of fun!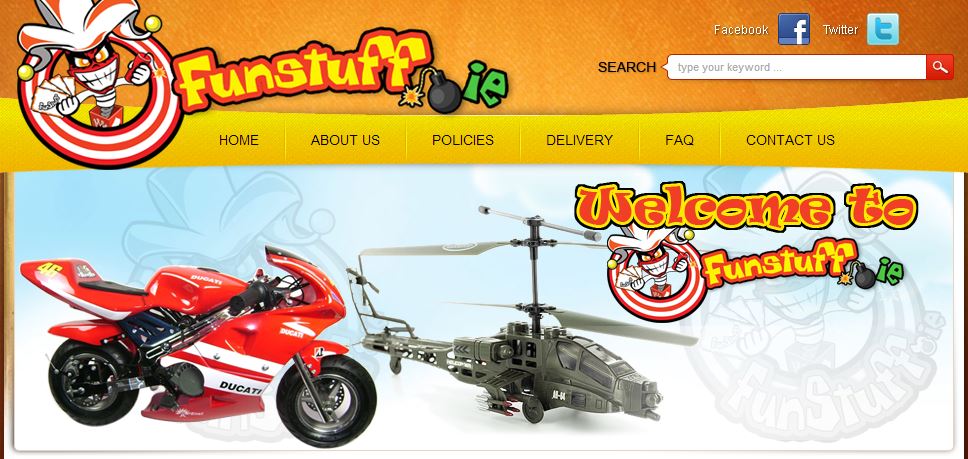 After a greeting from the high-energy logo, customers are invited to dive right into shopping by plugging in keywords or phrases into the search bar. Above, social media plug ins for Facebook and Twitter invite folks to stay connected long after their purchases have been made.
The golden navigation bar which follows offers shoppers access to company information including store policies, delivery specifics, a broad range of FAQs and ways to contact.
A sampling of vehicle replicas occupy prime real estate within this custom eBay Shop Design, giving shoppers a general idea of what they'll find in stock.
To help make the browsing and overall shopping experience as pleasant and stress-free as possible, inventory has been carefully sorted and grouped by category. In the 4 x 2 spread which appears front and center, store categories are underscored visually and are broken down based on type of moving vehicle model.
In the left sidebar, these store categories are repeated in an organized vertical tab just above promises of free shipping over $20, an invitation to sign up for the company newsletter and acceptable methods of payment.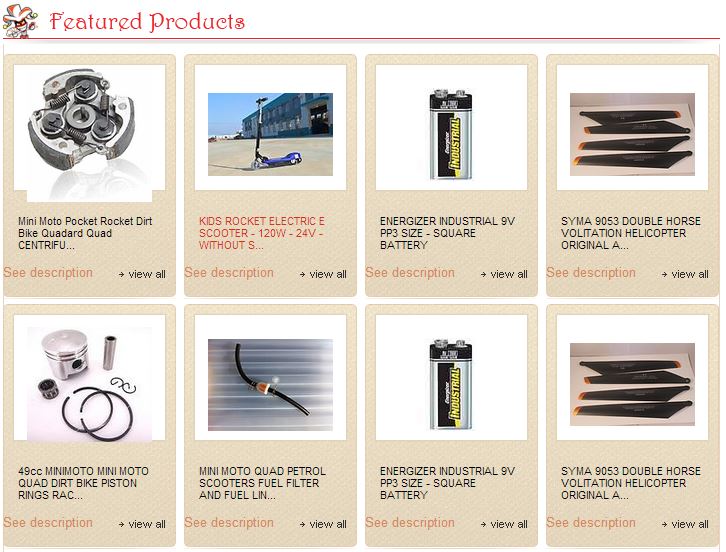 This custom eBay Template devotes its midsection to an eight-panel spread of featured products to help Funstuff maximize listings. Each are easily changed out and include a hi-res image, brief description and links to either see more information or view all products in this category.

With our custom eBay Store Designs we keep your storefront working for you all the way to the very end.
We've closed things out with a mini sitemap again directing shoppers to key company information and counterbalance the logo with a repetition of the mascot in the bottom right corner.
No matter what you sell on eBay, at OC Designs Online, we want you to dominate your market niche. That's why our eBay Shop Designs are so affordable.
Take your store to the next level and request a free quote from OC Designs Online, then browse our portfolio where you can visit our store creations live.
Don't forget to like us on Facebook and add us to your circles on Google+!