Though the time for new year's resolutions has long passed, at Vita-Buy, their online supply of nutritional supplements and vitamins can help you stay at your healthiest year-round!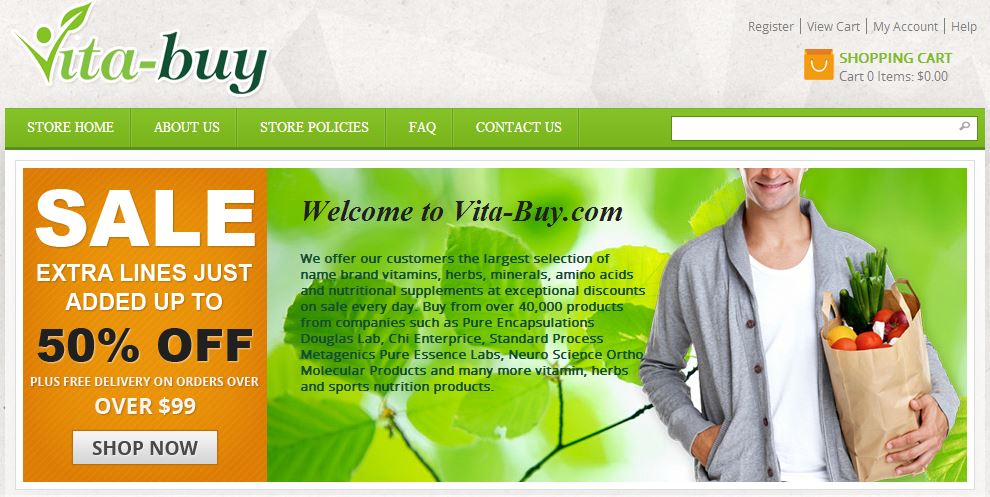 The current emphasis on healthy living has made for a competitive vitamin market. That's why Vita-Buy asked OC Designs Online to help them drive sales with a new Volusion store design!
Upon entry, customers are greeted by the crisp Vita-buy logo at the top left along with options to register, view the number of items and dollar amount in their carts, or check their accounts. A bright green navigation panel grants buyers access to pertinent company information including store policies, FAQs, and contact information. In the event customers know exactly what products or info they are in search of, they may type a keyword or phrase into the search bar, on the right.
A welcome message overlays and a hi-res, health-conscious image setting the site's holistic tone. Directly left, squared off in a high-contrast orange background, is a sale alert. With a promise of free delivery on orders over $99 and a conveniently placed 'shop now' button on bottom, it's a cinch for customers to get their supplemental needs at the right price.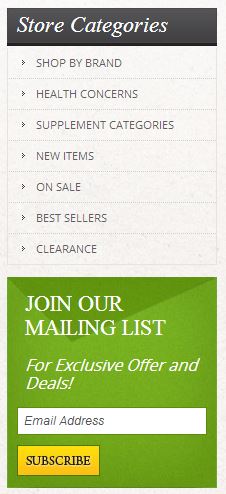 The left sidebar shows the product categories with sub-menus so shoppers can quickly find the items carried in their Volusion store. Sorting products by brand, health concerns, supplement categories, new items, sale items, best sellers and clearance, is key as shoppers are easily lead to the section best suited for their individual needs.
The bottom of this sections offers an important (and standard) feature, inviting shoppers to sign up for a free newsletter letting them know of exclusive offers and deals as they arise.
Three additional category sections are featured below the welcome box. All include compelling visual imagery and highly visible, orange 'shop now' link.

The midsection is devoted to the store's featured products. Each indicates a clear price and button to add these popular items to one's cart without needing to search. It also engages the customer to learn more about the products with a clearly marked link to "details" about their potential supplement purchase.
Other trust and brand building tools are included in the website's footer. This area includes the acceptable payment types, an AuthorizeNet Verification and Volusion SSL Security Certificate—a must to convey to customers their online purchases will be safe and secure.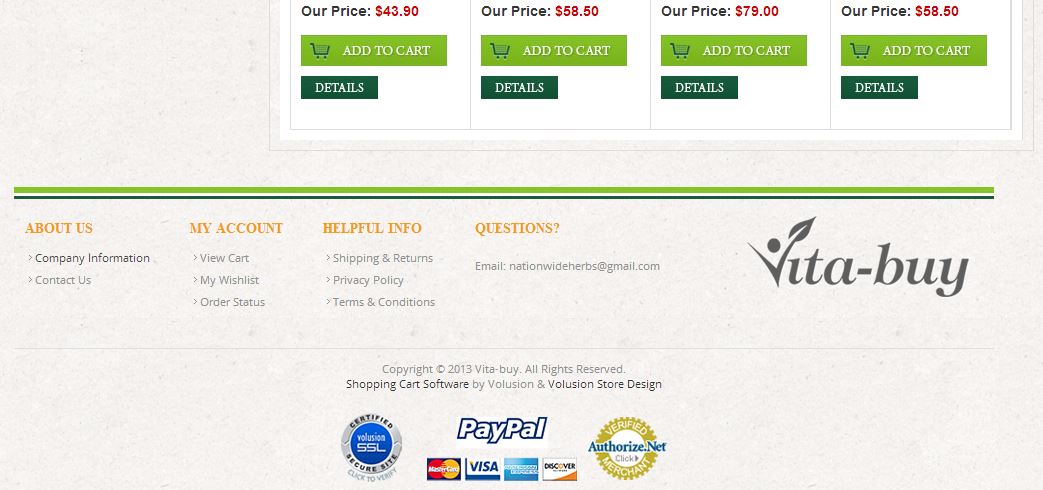 Selling to health conscious clientele is very competitive—especially when the products are natural. To really make a mark on any online platform, merchants will benefit from a custom Volusion store design. A custom and professional looking storefront helps to build trust and consumer confidence—and brand loyalty.
Let OC Designs Online show you how we can turn your Volusion store into something stunning and memorable.
Be sure to browse our Volusion store design samples in our portfolio and find us on Facebook. Follow us on Twitter to stay up-to-date on ecommerce trends!