Power Cellars has a new look for their eBay store design and its helping to boost their sales of iPhone and smartphone accessories!

For the iPhone, Power Cellars has tons of cases, skins and even purses designed specifically for your most treasured Apple device! And, if  you have any other type of smartphone, you can bet Power Cellars carries accessories for your make and model. Simply find your model in the category listing (and they offer a very long list!) and then find your phone and browse accessories!
iPhones and 4G smartphones are all the rage these days and online stores that cater to shoppers are in a highly competitive market. That's why Power Cellars asked OC Designs Online to help them with a custom eBay store design and we think this one is especially awesome.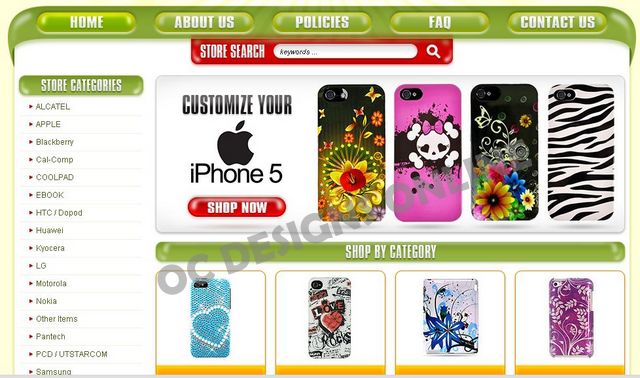 For the top of the store the Power Cellars lively logo punches off the screen as a super hero and shoppers instantly learn this eBay retailer offers free and fast shipping and a 100 percent satisfaction guarantee.
To complement the top logo and company name, a contrasting green and curved navigation bar was inserted allowing shoppers to learn more about Power Cellars, read FAQs and store policies or contact the seller. Beneath the navigation bar is a must-have search the store tool which stands out in red.

Along the left sidebar, shoppers can browse the store by category with easy model links for Apple, Blackberry, HTC, Motorola, Sony and more!
For the mid-section of this eBay store design, we included great imagery of iPhone accessories, a shop by category section and a featured listings area—all with clickable boxes trimmed in orange and green to match Power Cellars logo.
Scrolling down even further on the left sidebar offers shoppers a place to sign up for a free newsletter and read some important why buys. Why buys help to build brand identity and the why buys from Power Cellars include free shipping, the largest selection at the lowest price and that they are a top-rated seller.
Also on the side are the types of payments this eBay retailer accepts and at the bottom we included a mini sitemap and repeated their super hero logo.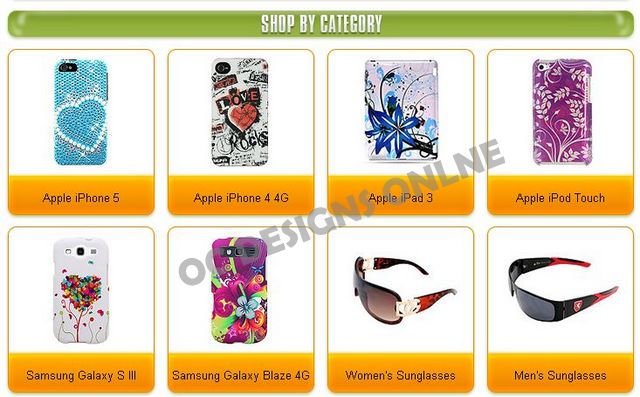 To stand out in a very competitive market, especially on eBay, sellers should look to OC Designs Online for a custom eBay store design. We also can help build even more of a brand identity with our custom Facebook and Twitter Pages.
Ready to turn you eBay store into a unique, one-of-a-kind online shopping experience? Contact us today!