With over 4,000 eBay transactions, Peter Suchy Jewelers is a top-rated seller with a message from Peter Suchy: "Every one of our clients is important to me. Without your interest, we would not be here." Even with the highest of ratings and jewelry from the fabulous to the unique, all ecommerce retailers will benefit from a custom eBay store design.

At OC Designs Online it is our goal to help all of our clients shine and compete by customizing their stores with colorful themes and imagery to build brand identity. That's exactly what we did for Peter Suchy Jewelers!

For 28 years, Peter Suchy Jewelers has been selling the best of the best in jewelry and their specialty areas lie in estate and antique jewelry. In fact, this eBay seller challenges shoppers to perform a Google search on their name to learn just how trustworthy they are! A jump to their About Us page on their eBay storefront and you'll learn this jeweler has received many awards such as Best in Estate Jewelry from CT Magazine and are members of many organizations including the Better Business Bureau, the National Federation of Independent Business Owners (NFIB) and are listed and rated by Dunn & Bradstreet.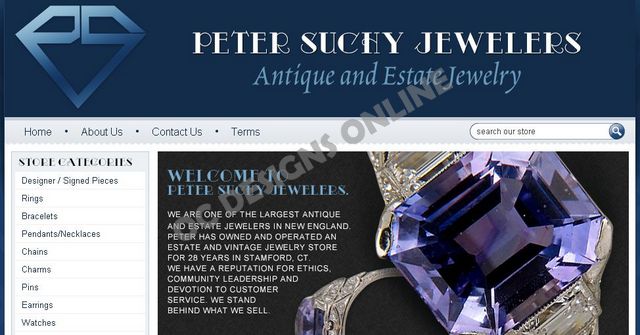 To make this jeweler really shine, we first started by inserting their logo and company name along with what they sell: estate and antique jewelry in front of an attractive blue background. Next, in a complimenting but lighter shade of blue is the store's navigation bar where shoppers can learn more about this seller, contact them and read their policies. We also included a must-have search the store tool.
The stunning welcome box is next where a sapphire ring and welcome text really draws the shoppers in and make them want to stay! To the left sidebar are the store categories with sub-headings so shoppers can easily find the type of antique or estate jewelry they are seeking including designer/signed pieces, watches, cufflinks, new arrivals, retro and jewelry by decade.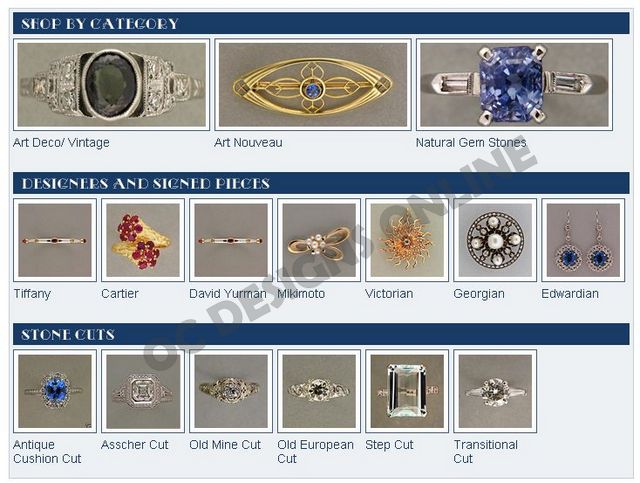 The mid-section of the store is especially enticing as it offers various options to choose from. Shoppers can browse by category, designer and signed pieces and stone cuts all with beautiful images and clickable boxes. Below these sections is a necessary must for all eBay store designs—the featured items section.
Finally, next to the featured items section shoppers can sign up for a free newsletter and learn that all orders over $1,000 qualify for a free shipping upgrade and that Peter Suchy Jewelers is also happy to help with free jewelry appraisals over $500 in value. The bottom of the store is wrapped up with a mini sitemap, the types of payments they accept and a repeating logo for brand building.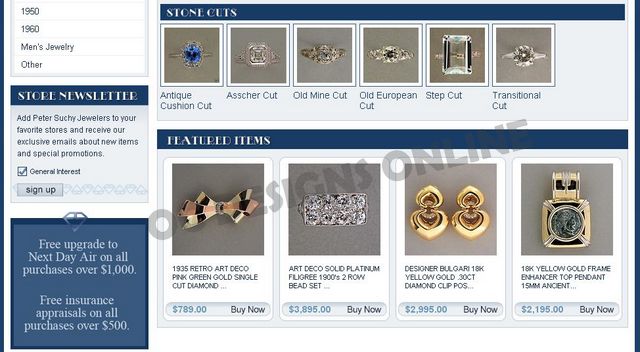 There are many jewelry sellers on eBay but to really stand out, a custom eBay store design that is attractive, accessible and keeps the shopper's interest is the very best way to reach your target market.
If you want to sell more of what you sell on eBay, contact us and remember we also offer eBay and other ecommerce platform combo store design packages and even Facebook and Twitter page designs.
Don't forget to follow us on Facebook!