Not that long ago, OC Designs Online was proud to create a custom 3DCart store design for IcyDeals and now this ecommerce retailer is gaining a larger audience with a complimenting eBay store design!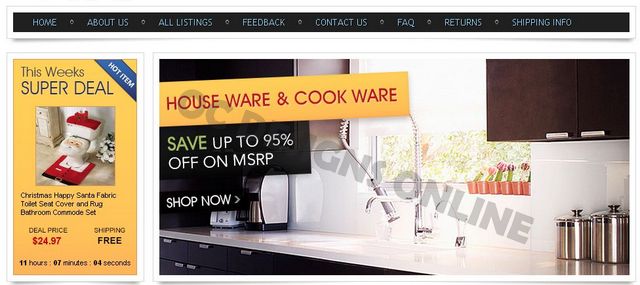 We encourage our clients to utilize our combo store offerings to not only save but also to achieve a larger audience of online shoppers and more shoppers means more sales!

With a 99%+ positive feedback, Icydeals has come a long way since they first starting selling DVDs online in 2007. Today's eBay and 3DCart stores are reaching thousands and now that they've jumped into the household and kitchen arena—along with many "As Seen on TV" items, IcyDeals can be considered a serious (and profitable) online retailer.
With a promise of best prices, fast shipping and great customer service, having matching stores on different ecommerce platforms is always a good idea and that's why they asked OC Designs Online to help them reach eBay shoppers everywhere!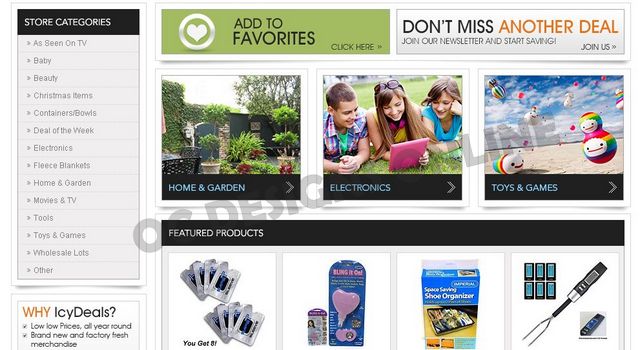 For this Southern California online retailer, we knew it was essential to include branding and matching elements from their 3DCart store into their eBay store design.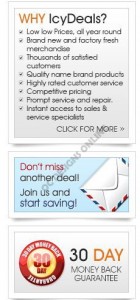 At the top, we inserted the corporate logo, their toll-free telephone number and an easy to use search the store tool. Next, is the navigation bar where shoppers can learn more about IceDeals, read the FAQ section, view all listings, read feedback, contact the seller and find out about their shipping and return policies.
Beneath the navigation bar and throughout this eBay store design, it was important to continue matching 3DCart store color themes—blues, blacks and oranges to ensure brand building. To do this effectively, we included their recognizable orange left side box which reveals each week's super deal. Beside that is also a matching image also featured in their 3DCart store where shoppers instantly learn they can find both house ware and cookware up to 85 percent off MSRP—along with a linked "shop now" tab.
Next to the left sidebar are IcyDeals' store category listings with sub-headings links to all their products. In this section, shoppers can also sign up for a free newsletter or add IcyDeals to their favorite seller list. Under this are popular categories with imagery and clickable boxes for home and garden, electronics and toys and games.

No eBay store design is complete without a featured products section which we inserted right in the middle of this eBay store and to the left we displayed those must-have why buys to catch the eye of every eBay shopper. Why buys are important to build consumer trust and confidence and for IcyDeals, this means informing shoppers there are lots of reasons to choose this eBay retailer from their low prices all year to their quality, brand name products to instant access to sales and service specialists.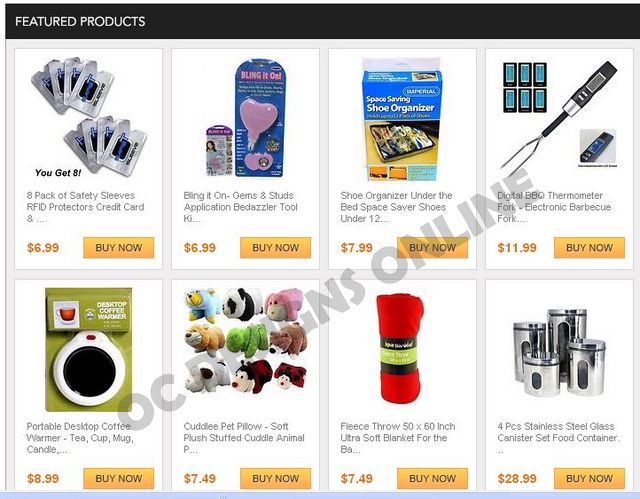 To top off this eBay store design, we prominently placed their 30-day money back guarantee badge, a weekly deal box and repeated their toll-free telephone number—great access for eBay shoppers. At the bottom of this store, we included a mini-sitemap and a repeating logo for even better brand building.
If you have an ecommerce store on one platform, we know if you choose our eBay combo matching store design package you'll start seeing more sales. We offer other store designs as well like Volusion, BigCommerce, ChannelAdvisor and more! We'd love to offer you a free quote and don't forget, we also offer custom Facebook and Twitter page design!
Don't forget to follow us on Facebook!