Often the dreams of small entrepreneurs come true and go beyond their expectations. That's exactly what happened to United Camera where over 40 years ago, Frank Sciacca opened a small camera repair shop in Chicago—now this camera repair e-commerce retailer has become a nationwide leader in the repair of cameras as well as camera and camcorder accessory sales. They are experts in digital camera sales and even offer accessories for iPod and iPad users!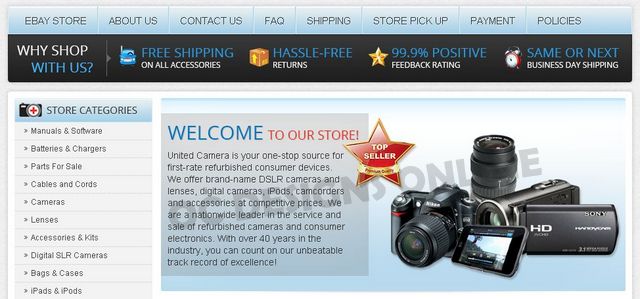 Today, United Camera is getting more exposure thanks to their renewed eBay store design. With millions of customers behind them and as a Top Rated eBay Seller, a custom store design is the very best way to continually build brand identity and company recognition on a consistent basis.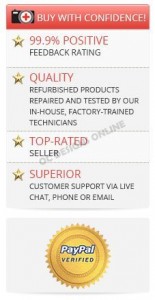 For this eBay store design, at the top we included United Camera's logo and underneath, their catchphrase—"A better repair experience." This instantly informs shoppers than not only can they buy cameras and accessories but also find expert repair service. Next, and a must-have, is a search the store tool at the top right—all complimented with blue, gray and black colors that work nicely together.
Next we installed a light blue eBay store navigation bar where shoppers can learn more about United Camera, browse FAQs, learn about shipping and payment policies and for those who want to pick up at their retail store location, there's a link for that too as well as a contact the seller tab.
The why buys are next and stand out on top of a bold black bar so shoppers can see United Camera  offers free shipping on accessories, hassle-free returns, a place to view their feedback rating and that same and next day shipping are available.

The engaging welcome box with text and imagery helps this camera eBay store design stand out especially with the top rated seller badge! To the left are store categories with sub-headings where shoppers can easily find and click on the items or accessories they are looking for. Right away shoppers learn United Camera is not just about repairs but also a place to find manuals and camera software, cables and accessories, bags and cases.
Also along the left sidebar are a place for shoppers to sign up for a free newsletter and must-have repeats of their why buys to build consumer trust. In the mid-section, shoppers can shop by category or browse featured products all in clickable boxes with great images.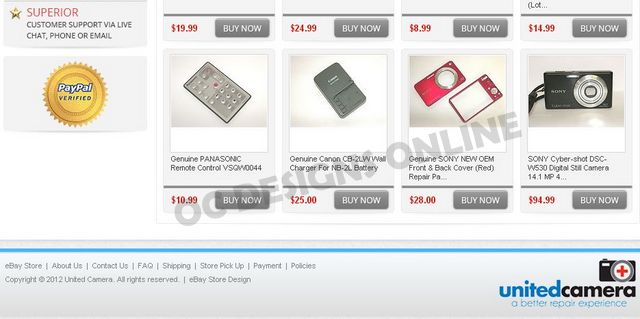 An exceptional feature of this eBay store design is in each category section the corporate "camera" logo was placed for easy navigation from section to section. At the bottom of this store we included a mini sitemap and a logo repeat for brand building.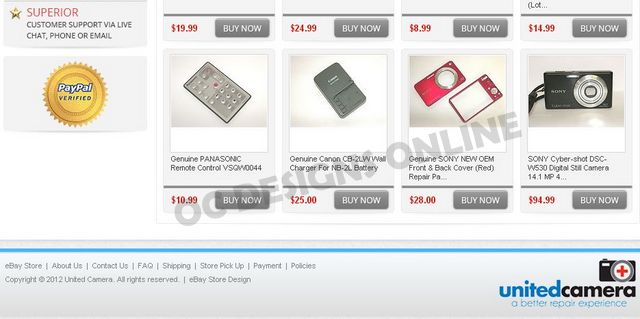 At OC Designs Online we enjoy and excel at helping even top-rated eBay sellers and that's why our store designs, custom listing templates, and ecommerce combo packages are so popular! We also offer a great social media package that includes customization for your business Facebook and Twitter pages.
Ready to turn your eBay store into something special? Contact us today for a quote!